Central Amazon Conservation Complex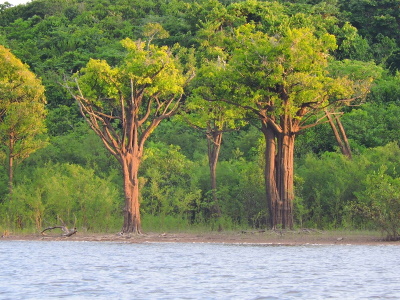 The Central Amazon Conservation Complex comprises four nature reserves in northwestern Brazil, which together represent the most important ecosystems of the Amazon.
These include várzea forest, which is seasonally flooded by silty river water, and blackwater rivers. Consisting of some 400 islands, Anavilhanas is the second-largest river archipelago in the world. The area is also known for its fish, many plant species, and endemic birds.
The site includes the following parks:
Jaú National Park
Amana Sustainable Development Reserve
Demonstration area of the Mamirauá Sustainable Development Reserve
Anavilhanas Ecological Station
Map of Central Amazon Conservation Complex
Load map
Community Reviews
---
3.00 Chinese-Canadian - 05-Jun-22 -
Amazon, heart of the planet, you'd think it's an instant 5 star visit... Not so much. The inscribed areas are rather poor, especially the ecological centers where they feed dolphins as a tourist attraction. To truly enter protected areas you will need to take a boat cruise into Jaú National Park. That means taking a 3h drive from Manaus, then traveling further in for at least a day and finally reach the ranger station.
The cruises are also super tourist driven, so I can't recommend them. Macaw watching, cayman catching, piranha fishing, visit to ruins (read: rubber baron remains, not exactly native) and shopping with a local tribe: Portuguese immigrants, not indigenous at all. To get anything more you will need to find a deep trekking tour instead and while I'm sure the Amazon is great, other places to see them are much better visits.
---
During carnival this year, unlike most Brazilians, I opted not to party, but, instead, to reach Central Amazon Conservation Complex, the WHS Brazil dedicated to its largest bioma.
First stop is Manaus, a large 2-million people city situated in the heart of Amazon forest. After that, with a rental car one must drive 200 km (paved roads in good condition) to a town called Novo Airão, from where you can easily visit the Anavilhanas National Park (it is no longer an Ecological Station since 2008). Anavilhanas comprises an average of 400 river islands and islets, depending on the dry or wet season. All of them are located within the Rio Negro (Black River), the largest blackwater river in the world and one of the most important tributary rivers of Amazon River.
Truly amazing! Rio Negro has pure and tepid waters, black-tea-like coloured, very good for bathing. If you have luck, one might sight a "boto rosa" (pink freshwater dolphin), one of the symbols of Amazon forest.
From Novo Airão, one can also reach another protected area of the WHS: Jaú National Park. It is the largest national park in Brazil and one of the largest in the world. Jaú has approximately the same size of Belgium.
3 hours in a boat are necessary to reach the park entrance and prior visiting authorisation is required. I opted not to sleep withing the forest - which is what some people do to have more time to visit the NP -, but still, I could have a good idea of this enourmous and virgin slice of the Amazon Forest.
I was truly overwhelmed by this WHS.
---
Site Info
Full Name

Central Amazon Conservation Complex

Unesco ID

Country

Inscribed

Type

Natural

Criteria

9

10

Categories

Link
Site History
2003

Extended

Extension of Jaú National Park, to include: the Amana Sustainable Development Reserve, the Demonstration area of the Mamirauá Sustainable Development Reserve and the Anavilhanas Ecological Station
2003

Name change

From "Jaú National Park" to "Central Amazon Conservation Complex"
Site Links
Unesco Website
Official Website
Visitors
44 Community Members have visited.