Atapuerca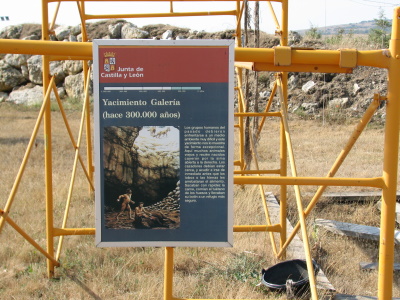 The Archaeological Site of Atapuerca is the finding place of fossils and stone tools of the earliest known hominids in Europe, dating to between 780,000 and 1 million years ago.
Several remains of the Homo heidelbergensis were found, the predecessor to the Neanderthal.
The site lies in the Sierra de Atapuerca, an ancient karstic region of Spain containing several caves. They were inhabited also during the Neolithic and Bronze Ages. Its people left paintings and engravings in the cave walls.
The sites in this area were found during the construction of a railway. Scientific exploration started in 1964.
Visit August 2009
Atapuerca is quite a hard site to grasp, as most early hominid WHS are. The remains were found in caves in the Sierra de Atapuerca, an ancient karst landscape. There's not much to see of that nowadays: the surroundings can be described as 'hilly' at the most. It is mainly flat and dry Spanish land. Lots of Santiago de Compostela-pilgrims on the road by the way!
Unfortunately I didn't have much time to spend in the area, so I opted for a guided tour through the archeological park. It's only a small area, and the tour is filled with (long!) explanations. The ranger shows how early man made tools from stone, and how to make fire.
If you've got a day to spare, there are several guided tours on offer from both the towns of Atapuerca and Ibeas de Juarros. They include 2-hour trips to the caves in Yacimiento. I would try to pre-book here. Despite the 'difficult' theme, it's quite a popular site. There's also a museum and a visitor center (and a café / restaurant or two).
Community Reviews
---
---
---
---
---
---
Community Rating
Community Rating 2.07. Based on 7 votes.
Your Rating
Site Info
Full name: The Archaeological Site of Atapuerca
Unesco ID: 989
Inscribed: 2000
Type: Cultural
Criteria: 3 5
Site Links
Unesco Website
Official Website
Related
In the News
Connections
The site has 12 connections. Show all
Visitors
68 community members have visited Atapuerca. Show all