Roman Walls of Lugo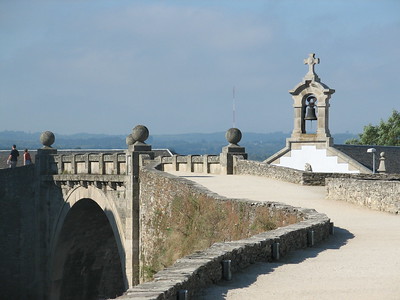 The Roman Walls of Lugo are the only complete and intact urban defensive walls surviving anywhere in the former Roman Empire.
Their circumference is 2.117 km. Five of the original gates, and 46 interval towers are still intact.
Lugo was called Lucus Augusti by the Romans. This regionally important colonial town was founded in 15-13 BCE. The walls however were only constructed between 263 and 276, when the fear for invasions became too high. The fortifications couldn't withstand outsiders for too long: Lugo was subsequently sacked by the Suevi, the Visigoths, the Moors and the Normans from the 5th century on.
Map of Roman Walls of Lugo
Legend
Visit August 2009
The city of Lugo is located in Galicia, on the route to Santiago de Compostela. I encountered a few pilgrimage cyclists on the way, but no hikers. Lugo's WHS status is for having the only Roman city walls that are both intact (i.e. authentic enough) and entirely complete. In this, they beat the similar ones in Carcassonne, Avila and Le Mans (according to the ICOMOS evaluation at inscription).
My goal for the day was to walk the entire circuit (2km). I accessed the ramparts from the Rua do Teatro. The most amazing thing at first sight is how broad this wall is! Four to seven meters wide apparently. It's just like a major road. The only comparison that directly came to my mind is the City Wall of Xi'an in China (it is newer, 14th century, but even wider). If I remember well, they even allow cyclists there.
It's a very fine stroll. It goes up and down slightly, the heights of the wall very between 8 and 12 m. You also get a good look at the city from all sides, although it's a kind of 'railway view' (in plain sight are not the best of houses). I encountered lots of joggers on my walk, some even twice. For a good exercise one has to round the circuit several times.
The entire walk took me about half an hour including photo stops. A quick site to visit! I didn't venture into the city center of Lugo, but made my way north to other Roman remains instead: the Torre de Hercules in A Coruna.
Community Reviews
---
---
---
---
---
---
---
Community Rating
Community Rating 2.44. Based on 9 votes.
Your Rating
Site Info
Full name: The Roman Walls of Lugo
Unesco ID: 987
Inscribed: 2000
Type: Cultural
Criteria: 4
Site Links
Unesco Website
Official Website
Related
Connections
The site has 8 connections.
Visitors
115 community members have visited Roman Walls of Lugo. Show all