Belfries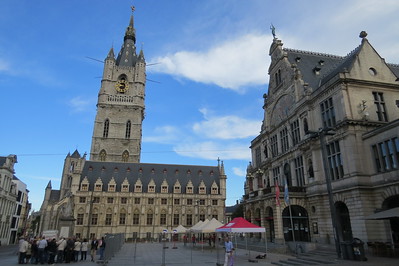 The Belfries of Belgium and France are 56 bell-towers, built between the 11th and 20th centuries.
They are mostly found in town centers, and connected to the local town hall or church. At their time, the Belfries represented the growing importance of cities instead of the feudal system in the Middle Ages.
After several fires, stone began to be used as building material instead of wood. Mainly square, robust towers were built in this period. Later, from the 14th to the 17th century when most of the still remaining belfries were built, the towers lose their defensive character. They become narrower, and the styles are influenced by Baroque. In the 19th and 20th centuries, newly created belfries had a more symbolic value of independence and prosperity.
Visit Jan 2001, Apr 2005, May 2006, September 2013
3.0
Of the numerous belfries in Belgium, I first visited the one in Lier. Lier is a picturesque small town near Antwerp. It also has an old Beguinage, part of another worldheritage. The tower in Lier distinguishes itself because of the 4 little towers. It's situated at a typical Flemish square, where a market for pigeon enthousiasts was going on when I was there.
The belfry in Leuven, another nice Flemish town, I visited four years later. It's part of St. Peter's church. This tower has a quite unusual shape because it was left unfinished.
My first French belfry I saw in Amiens. I had expected Amiens to be a lot more like those Belgian towns, but there isn't much left of its medieval history besides the city's two highlights: the Cathedral and this belfry.
The belfry in Gent was the first one that I climbed. Its stairs are narrow and winding, so it is not for all. I met an English speaking tourist on the way up, who had left his wife behind downstairs. It does reward one with a magnificent view of the skyline of Gent.
I visited during the festivities of its 700th birthday (1313-2013). The circuit let us also into the quarters of the St. Michaels guild (now a fencing club) in the Cloth Hall that is build against the belfry. With a good zoom lens you can also see the 4 guard statues that are placed on the corners of the belfry.
Community Reviews
---
July 2018 - Roadtrip through Belgium and northern France. We visited some of the Belfries. The most impressive one we visited in Lille, instead of all the medieval towers, this one is from the 1920s. Lille has another wonderful belfries, that doesnt belong to Unesco though.
However I visited other belfries in 2009, 2012, 2015 and 2016. 2009: Bruges (known from the movie), Mechelen (impressive from far away), Antwerpen (whole city amazing) and Ghent (whole city amazing as well), 2016: Charleroi (rest of city rather boring), 2018: Namur, Mons, Lille and Amiens. The WHS ist quite interesting, but as already stated, some belfries seem to be missing, some are not that impressive. I tkink its impossible and not necessary to visit all of them.
---
My visits to Flanders (Brussels and Brugge in 2016; Antwerp, Mechelen, and Ghent in 2018) were also visits to some spectacular towers called the Belfries. Many of the towers I saw are attached to other huge structures. Many of them support the carillon bells, which are played every hour providing a soundscape that brings everyone back in time. I learned from my arts studies class back in college that etymologically, belfries have nothing to do with bells. The word is derived from the Medieval French word berfrei that literally means tower in a fortress (or a castle). Sometimes, it is used to denote the high watchtower of a fortification of the Medieval era.
Today, belfry is used to refer to Gothic, Medieval and early Renaissance architecture dominant in Belgium and Northern France. They were once upon a time symbols of power and influence. Many of them were extensions of Medieval cathedrals such as the belfry in Mechelen (attached to St. Rumbold's Cathedral), in Ghent (attached to St. Bava's Cathedral) and in Antwerp (attached to the Cathedral of our Lady). Some are the primary motifs of town or city halls (as in Mechelen, Antwerp, and Brussels). It makes sense that these towers are adjacent to churches and city halls because the Medieval era is the era of the Church's authority. Once upon a time, the city halls were even owned by the Church.
During my travels to Flanders, I was able to explore the following belfries designated as WHS: The Belfry of Brugge (Brugge); The Belfry of St. Bava's Cathedral (Ghent); The Belfry of Antwerp City Hall (Antwerp); The Belfry of the Cathedral of our Lady (Antwerp); The Belfry of St. Rumbold's Cathedral (Mechelen); and The Belfry of Mechelen's City Hall (Mechelen).
The Belfry of Brussel's City Hall is also worth mentioning here because it is also a WHS. However, its inclusion is not within the designation of The Belfries of Belgium and France but as part of La Grand-Place, Brussels.
I have yet to see other belfries – in Leuven, in other Flemish cities, in Wallonia and even in France.
For more commentaries on the belfries of Belgium and France, please click here.
Read more from S. Anril Tiatco here.
---
With the wars that have been fought over Belgium and France, I am amazed that so many belfries are still standing or have been rebuilt. The Ypres Cloth Hall bell tower was one of those reconstructed after World War I, and I visited the tower as part of a visit to the In Flanders Field museum last month. The tower was rather plain, but it offered great views of the town and countryside. There was also an exhibit on the historical cat festival, during which a cat (thankfully now a stuffed animal) is tossed from the top of the tower for good fortune. From Ypres I continued to Bruges, and its bell tower, standing tall over the market square, was more impressive. It also afforded excellent views of the city environs. I visited two more belfries in Antwerp. The tower on the Antwerp town hall was covered in scaffolding, and did not seem particularly memorable, but the belfry on the Cathedral of Our Lady was exquisite. Unfortunately, it did not appear that tours were available for this tallest church tower in Belgium. I still am not certain why so many belfries in Belgium and France needed to be inscribed for this World Heritage Site -- it seems rather excessive. That said, I had a great time hunting for the towers with friends while in Belgium.
Logistics: These belfries are in major cities, and are accessible by train. Many other sites would seem to require either private transportation or advanced planning for public transportation.
---
So many belfries! My wife and I visited Belgium in August 2017, and decided to see a representative sample of the belfries on the list. In the end we saw two cathedral belfries (in Antwerp and Leuwen), a town hall belfry (Antwerp), two marketplace belfries (Bruges and Ypres), and two standalone belfries (Tournai and Mons).
Of these, I think Antwerp cathedral, Bruges and Tournai are the most impressive mainly due to their height and imposition on the surrounding area. And if you're going to climb one, don't make it the one in Bruges! It's 10 euros, while climbing in Tournai is 2 euros.
See below for my full Youtube review.
Read more from Joel Baldwin here.
---
I fondly remember a comment made by Ian in his review of Telc: In a country that has plenty of pretty town squares this one has to take the prize for the prettiest.. Those words rang very true at the time as I stood on the Telc town square and accompanied me along my travels in Czechia.
These words echoed again in my mind as I visited a few more of the Belfries on a short weekend trip to Belgium and Northern France. But... Instead of inscribing a representative subset of Belfries - let alone the single best one - it feels like the Belgian and French authorities went the opposite way: Put each and every Belfry on the list that there is. This includes rather simple examples such as the one in Kortrijk. Or very modern structures - looking at you, Lille - that are more of an architectural quote than an original Belfry. You also find reconstructions such as the one in Arras which was destroyed during World War 1. Finally, multiple places are WHS on their own or closely tied to one (Brugges, Tournai).
Still, I had a very pleasant time seeing yet more Belfries. Flanders is a blessed area of the world rich in culture and history. Drop me off in any Belgian city and I will enjoy myself. But this also holds true for most Czech cities of which not every one boasts a WHS market square. In the end, as much as I enjoyed the scavanger hunt, I feel the Czech approach is the proper one for WHS.
Where to go?
If I had to pick the best site, I would probably say Antwerp. In the end it's not really about the Belfries themselves, but what else the city has to offer. And Antwerp as a city is a clear favorite of mine. It also seems to be the city with the most inscribed locations for Belfries.
If you are looking at combining your Belfry visit with other WHS, you have plenty of options to do so:
Of the sites I have seen, I would single out Lille as being a terrible first visit. My parents went, couldn't find it at first, couldn't believe they had actually found it and then had good laugh. I get their point. It's fairly modern and not part of the old town. It is amusing to see, though, when you have seen some of the more classical ones before.
Personally, I still want to visit Gent. And having passed the city quite a few times by train, each time thinking how great the Belfry looks, I also want to see Mechelen.
Getting There and Around
Belgium and Northern France are blessed with splendid public transport options, most of these listed in google maps. The distances aren't that great either, so happy hunting.
---
I've visited several of the belfry sites from 2009 to 2017.
Each of the various belfries is usually the tallest structure in each town, built for defensive and civic purposes. Contrary to what most people might think, the belfries were mostly secular, with only a few of the structures being associated with churches.
Visiting any of the individual belfries isn't that hard, as it is just a matter of going to the particular town where the belfry is located. Getting to all 55 would just be a matter of determination.
Read more on my website about the Belfries of Belgium and France.
---
I have studied in the Lille area and I spent a lot of time traveling throughout French and Belgian countrysides.
So far, I have seen 55 of the belfries.
The most amazing ones were Ypres, Gand, Tournai, Bruges, Aalst, Arras, Armentières, Mons, Béthune, Douai, Calais and Rue.
---
This has to be one of the easiest WHS to tick off your list if you only intend to view one or a few of the 33 Belgian sites + 23 French sites in this entry. However, it is quite a task to visit all of them since they are scattered all over both countries. I have visited 16 sites in total (14 in Belgium and 2 in France) and climbed most of the belfries where this was possible. My favourite one is that of Tournai, adorning the square below and the cathedral nearby (another WHS), closely followed by the belfries of Antwerp and Bruges for their architectural beauty and importance.
---
Gene Mosher
My wife, Barbara and I were guests of Eddy Baeyens (of Buggenhout) in November of 2011. Eddy and I were schoolmates from Xaverius College (Borgerhout) in 65-66. Eddy had arranged for us to climb to the top of the Stadhuis Belfry in Dendermonde and to be given a hands on explanation of the Carillon and even a brief, unscheduled concert by the Carillon Master, Marc Van Boven. I was also given the opportunity to play a little tune on the Carillon myself! It was a very long 160 step trip to the top of the Belfry where the 49 bells are, even above the clock. There was just enough room for the three of us. A wonderful experience!
---
Visiting the belfries of northern France and Belgium involves travelling to many little-known towns that are well off the tourist trail. So on my visit to the region I covered some of the 56 included in the WHS, and found them to be all different - no two alike. It was quickly apparent that much of what I saw were copies, that the originals had been destroyed in WW1, WW11 or both:
Amiens - a short squat tower close to the cathedral (also a WHS)
Calais - a tall red brick tower attached to the town hall
Boulogne - square and grey, and now a war memorial
Hesdin - appears to poke out of the town hall roof, the lower part can be seen inside the tourist office
Rue - large squat tower
Abbeville - tall square tower
Loos - a tall red brick tower with corbels and turrets
Lille - very tall, slim red brick tower
Bethune - decrepit and grimy
Comines - red brick with onion dome roof
Gravellines - tall yellow brick tower
Dunkirk (St Eloi) - a tall square tower
Dunkirk (town hall) - red brick tower attached to the town hall
Bergues - tall yellow brick tower with onion dome roof
Bailleul - tall yellow brick tower with lantern roof
Armentiers - tall red brick tower with spire, attached to the town hall
Cambrai - tall grey stone, originally a church tower
Douai - grey stone tower attached to the town hall, with a brilliant 62 bell carillion
Arras - a yellow brick monument attached to the town hall
Tournai - elegant white stone tower
Roeslare - tall square tower attached to the town hall
Oudenaarde - a tall ornate tower, an integral part of the town hall
Kortrijk - a short red brick tower with turrets
Menen - octagonal red brick tower
Ypres - large and squat with turrets, attached to the cloth hall (near the Menen Gate, a huge WW1 memorial)
Mons - tall grey stone tower with onion dome roof
Charleroi - a tall slender tower
Gembloux - a brick tower with onion dome roof
Namur - a squat, circular tower
Binche - a tall brick tower with a tiered roof, attached to the town hall
Ghent - a stone tower with spire
Eeklo - a slender red brick tower overshadwed by a somber church tower nearby
Veurne - wedding cake style, overshadowed by a huge church behind
Dixmude - tall towerr attached to the town hall
Tielt - a cute brick tower with a lantern roof
Dendermonde - tall white brick tower attached to the town hall
Aalst - white brick tower with corbels and decorative panels
Bruges - a square and circular wedding cake tower of white stone
Tongeren - a large square tower attached to a church
Tienen - square tower attached to St Gemanicus' church
Mechlen - multi facetted tower of St Rombould's cathedral
Antwerp - tall spire attached to the OLV cathedral
Antwerp - squat tower attached to the town hall
Herentals - a slim circular brick tower on a triangular gable
Lier - a white tower with steeple, attached to the town hall.
---
Formerly known as the Belfries of Flanders and Wallonia and now called the Belfries of Belgium and France after 23 such buildings in the north of France were added to the 33 already on the List from Belgium, these make an easy site to visit, since you can go to almost any town in Belgium or northern France and see a belfry there that's probably on the List. Generally speaking, a belfry is a symbol of a city's freedom from some outside overlord (as opposed to a castle - symbol of the feudal lords - and a belltower - symbol of the church) and later came to signify a city's wealth and prosperity. The ones I have seen are the ones in Ghent (a huge building that used to function as a fortified watchtower, also the only one I have seen from the inside - there are lots of stairs and a lift to take you to the top to enjoy a great view over the city), Bruges (a symbol of the city known the world over, as evidenced by the Longfellow poem The Belfry of Bruges; by law, no building in the city may be higher than the belfry), Lier (attached to the Town Hall), Leuven (part of St. Peter's Church, but not well visible), the 2 in Antwerp (cathedral and town hall), the 2 in Mechelen (also cathedral - very impressive - and town hall - the belfry forms the middle part of the building and is quite low), and the one in Amiens in France (quite nice, but nothing outstanding).
---
I visited the town of Brugge in summer 2004 as I had to take a train from there back home so that I could subscribe for university just in time. I've been on vacation in northern France, directly behind the Belgian boarder and so used around six hours to visit this town. The Belfry of Brugge is really beautiful and it definately dominates the market square. I sat in a café at the market and had a lovely view to this amazing building which is really worth a visit.
---
William Sambrook
The beautiful belfry in Mons (Hainaut) is the only Baroque one in Belgium and symbolic of the city. It is located in the highest part of the town, built as the name Mons suggests, on a hill. The youth hostel is right next door. Mons is in the industrial Borinage region of Southwest Belgium and often overlooked in favour of the showcase cities of Flanders. There are, however more world heritage sites or parts of world heritage sites in Hainaut province (4) than in any other in Belgium.
---
I have now seen many of the Belfries inscribed, 15 I think. Perhaps the most impressive is the Belfry of Onze Lieve Vrowkathedraal in Antwerpen (pictured) which contains four major paintings by Rubens and is well worth a visit, it shares a square with the Stadhuis which is also inscribed. In the rest of Flanders, the one in Mechelen is massive, the one in Brugge seems to be too big for the area it inhabits, Gent has a very interesting one with statues of the former guards on it, and the one in Leuven is odd as it was never completed but is set in a fantastic city with much a more impressive neighbour in the shape of the Stadhuis. I also visited the Cloth-hall in Ypres when I was on a school trip to WWI battle sites, and surprisingly I remember it but not too much of the detail.
In Wallonia the most impressive Belfry was the one at Tournai which is right next to the Cathedral, it has some excellent multi-lingual exhibits inside that explain the role of the Belfries very well, I also managed to catch a look at the one in Mons on the way to the Flint mines at Spiennes.
Of the new ones added in France I have seen many from differing modes of transport and the one that sticks in my head is the one in Lille as it was big enough to make an impression from the Eurostar train. I did manage to stop and get a good look at the one in Calais lit up at night, which was surprisingly nice, as the city, to be polite, is not surprisingly nice!
It is defiantly enjoyable to visit these cities and there is normally much more to see than just the Belfries. In this corner of Western Europe you also have some of its best food and in Belgium especially its best beers to make the experience all the more enjoyable.
---
Site Info
Full Name

Belfries of Belgium and France

Unesco ID

Country

Inscribed

Type

Cultural

Criteria

2

4

Categories

Link
Site History
2005

Extended

To include belfries in France and another one in Belgium (Gembloux)
Site Links
Unesco Website
Official Website
Related
In the News
Visitors
419 Community Members have visited.