Shakhrisyabz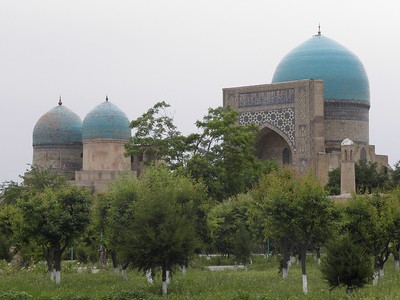 The Historic Centre of Shakhrisyabz contains fine monuments from the Timurid period (15th century).
It was the non-formal capital of the Timurid Empire, the family seat and a city of culture and knowledge.
"Shakhrisyabz" is Persian for "Green City", as it is located in a fertile valley. Unlike Samarkand, the town has preserved its original town plan. The master piece here is the Aq-Saray Palace. It was founded in 1379 when Timur captured Konya Urgench. Masters and builders from all over the empire were sent to work at the mosaics and construction of the palace. Its towers reached a height of 50 metres.
Other notable monuments include:
- Kok Gumbaz Mosque / Dorut Tilyovat Complex
- Hazrat-i Imam Complex (mausoleum and mosque)
- (empty) Tomb of Timur
- The Chor-su bazaar, caravanserai and the baths
Map of Shakhrisyabz
Legend
Visit May 2010
Shakhrisyabz originally was not included in my group tour of Uzbekistan, but of course I found my way there. I hired a taxi that took me to Timur's birth city in about 2 hours. It's a fine drive along papaver fields and across a mountain pass. Locals sell the ubiquituous Uzbek bread and rhubarb by the road side. The city itself is worthwhile not only for "completing" Uzbekistan's 4 WHS and the main Timur-sites, but it also presents them at a much more human scale than Soviet-style Samarkand.
Shakhrisyabz is quite small and the monuments are scattered along its main street. I started at the Aq Saray palace, the most iconic place in town. Behind a grand statue of Timur lie the remains of his former summer palace. Its two towers, the only large structures left, are enormous. Their blue glazed tiling looks weathered, but that also adds to the original/non-restored feel of the site. In front of it some floor mosaics have been uncovered.
At the center of the town, amidst modern structures, are a caravanserai and bazaar that also originate from Timurid times.
The main road then culminates into the complex of the Kok-Gumbaz mosque and Dorut Tilyovat. The interior walls here are not covered by mosaics but by frescoes. They are in quite a bad state, paint is peeling and parts of it look like reproduction wall paper. The motifs have a different colour scheme from what I had seen at Samarkand: here it is mainly blue on white. They are said to be inspired by Chinese porcelain.
Behind it is another large and half-restored complex: the tomb of Jehangir. It is remarkable to see that these 14/15th century buildings are much taller than the rest of the (new) town. In comparison they look like skyscrapers - a remembrance of the splendour Timur gave to Shakhrisyabz and the decay that followed.
Click
here
to see more of my photos of Shakhrisyabz
Community Reviews
---
---
---
---
---
Community Rating
Community Rating 2.58. Based on 12 votes.
Site Info
Full name: Historic Centre of Shakhrisyabz
Unesco ID: 885
Inscribed: 2000 In Danger
Type: Cultural
Criteria: 3 4
Site History
2016 - In Danger

Due to demolition of traditional housing areas

2000 - Inscribed

1999 - Deferred

Bureau - for buffer zone etc and material relating to its merits in comparison with other central Asian cities (Samarkand, Bukhara, Herat, etc.). At WHC the Uzbek rep expressed concern at this and was promised that it WOULD be looked next year!
Site Links
Unesco Website
Official Website
Related
Connections
The site has 13 connections. Show all
Visitors
64 community members have visited Shakhrisyabz. Show all