Karlskrona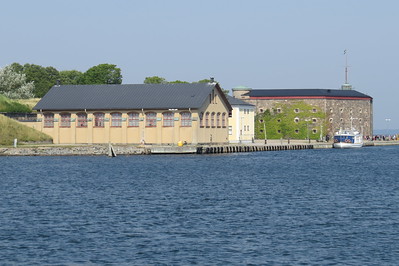 The Naval Port of Karlskrona is an exceptionally well preserved and complete example of a European naval base, built in the period when these were being established by several major maritime powers.
Karlskrona is a city in south-eastern Sweden, which was founded in 1680 when the Royal Swedish Navy was relocated there. It moved from the mainland to the island which had up until then been used chiefly for farming and grazing. At the time Sweden was the dominant military power in the Baltic sea region. The island had a very strategic position with short sailing distances to the German and Baltic provinces.
Most of the baroque buildings from this era are still standing, which is why the city centre is architecturally uniform. The shipyard in Karlskrona was established almost at the same time as the city. In 1711, the shipyard was Sweden's largest industrial employer with 1,100 workers. The oldest dock, the Polhem dock, is cut in the cliff itself and is still in use.
This is a serial nomination of 11 locations in and around the city of Karlskrona.
Visit August 2014
Somehow I think we don't do Karlskrona full justice on this website. I had a hard time captivating the story behind this WHS too. I spent two nights here, but was away for a full day during that period visiting the WHS of Southern Öland. I should have spent more time preparing, although the Karlskrona tourist office doesn't make things easier either. The guided tour to Kungsholmen which looks pretty interesting can only be pre-booked (they want to see your passport as it is still an active navy location), but the hours to do so are limited. And not many people would allow two days for this town of 35,000 inhabitants.
As with Frederik (see his review below), my view of the central square and its monumental buildings was spoiled. In this case, the large structures of a fair were in the way. And when I went back the day after, a cleaning operation was underway to get rid of all the mess the visitors had left behind. I roamed around the city center for an hour or so, map in hand to find the most interesting places. Most of the buildings are closed to visitors. A walking tour around town would have been nice. I did find a great Indian restaurant called PM in the main shopping street – went there twice, spicy food in a pleasant ambiance.
What I did enjoy was the harbour cruise by the Gåsefjärden ship. This is a regular 2 hour boat tour that leaves several times a day, and tickets can be bought at the point of departure at the Fishmarket. I was able to get a seat on the outside deck. The sea around Karlskrona is full of little islands, some are inhabited and others are or were in military cruise. After 1.5 hours I got off the boat at the Marine Museum (it's a kind of hop-on-hop-off boat) – the museum is modern but you have to love your ships to really like it.
On my drive back to The Bridge to Copenhagen I passed a sign for Skarva, a mansion that is part of the WHS too. Maybe a future reviewer could check this out?
Click
here
to see more of my photos of Karlskrona
Community Reviews
---
---
---
---
---
---
Community Rating
Community Rating 2.00. Based on 12 votes.
Site Info
Full name: Naval Port of Karlskrona
Unesco ID: 871
Inscribed: 1998
Type: Cultural
Criteria: 2 4
Site Links
Unesco Website
Official Website
Locations
The site has 11 locations. Show all
Karlskrona lies in the south of Sweden, and is connected by train or car from Malmö or Copenhagen. There's also a frequent (but slow) ferry to Gdynia in Poland. Not all locations are easy to reach: Skärva lies outside of the city in the surrounding countryside, while Kungsholmen and Drottningskärs Citadel can only be reached by boat.
Connections
The site has 25 connections. Show all
Visitors
102 community members have visited Karlskrona. Show all