Cocos Island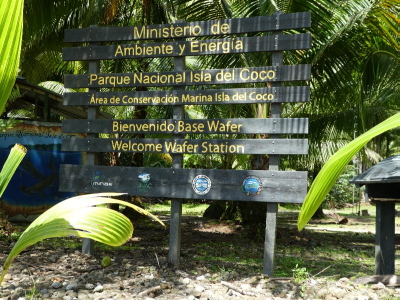 Cocos Island National Park covers primarily a marine ecosystem, globally significant for sharks.
The park consists of Cocos Island and its surrounding marine zone. It is located in the Pacific Ocean 550km off the coast of Costa Rica. It is the point of land nearest to the Galapagos Islands, which lie 630km to the south-west.
The marine area is considered a safe haven because commercial fishing is not allowed. 300 species of fish are found, including large species such as sharks, rays, tuna and dolphins. This also makes it one of the best scuba diving spots in the world.
Cocos Island is uninhabited except for park rangers. It differs from neighbouring islands because it is not dry and barren, but covered with a humid tropical forest. It is also mountainous and there are many waterfalls. Although its ecosystem has been severely damaged by introduced species like pigs and rats, it still contains many endemic species (for example three species of endemic land birds).
Community Reviews
---
5.00 Chinese-Canadian - 16-Aug-22 -
Cocos was my favorite liveaboard until I had dived even better locations after. Just reaching the island is a 36h boat ride from Costa Rica mainland and usually you'd think the boat entertains the visitors for the spare days but with the Aggressor it was just you relaxing with others or on your own.
You'll reach the island overnight and admire its beauty in the morning. Welcome to Jurassic Park! The steep cliffs, cloudy forests on the peaks and wonderful animal life passing by (birds, dolphins, sharks) is a good start. One might assume this is a dive only destination but you can take the same trip and get dropped off for hiking tours as much as you want - which isn't a bad idea in practice but the diving is so good you'll "waste" your day looking for birds in my opinion and it will cost you extra for each trip.
Lucky for me only one dive operator was working during my trip because the other was busy with National Geographic, and the second Aggressor boat left after a couple of days so the chances of you seeing another dive group underwater are almost zero. Some private charters came across renting gear but they tend to also not mix with the other groups. There are "only" a few worthy dive sites such as Dirty Rock, Alceon, Dos Amigos, Manuelita, Punta Maria, but each one is so worth it. You'll be told that seeing a shark is common during every dive and yeah they dont even point out anything for you. Hammerheads and Galapagos are everywhere, in fact only 1 dive I had none of those but instead I saw dolphins instead so can't complain.
There are two regular trips onto the island. One for a waterfall and a second to the ranger station (has wifi although Claro can get you basic data sometimes if you must be reachable), from which you'll go soaking in a river which may not be downhill a pig farm so honestly that could be skipped. The waterfall is much nicer.
While I understand the costs for a Cocos trip are more than the average liveaboard trip you'll get such a great experience with the marine life and it will stay with you for a long time. Basically I tell people they should rather save for Cocos then spend on several "lesser" trips like Thailand where you'll see little underwater but you got a dive out of it... Upgrade your dive to Cocos and you'll know what I mean. The crew of the Aggressor is lucky to go diving there so often.
---
Cocos is a difficult place to reach. It took us over 36 hours of cruising on a live aboard dive boat to reach. The island itself is I believe the "real life" inspiration for Jurassic park. Other than a couple of rangers who live on the shore the island is totally uninhabited....by humans. It is very mountainous and is covered in thick rain forest jungle with beautiful streams flowing into the ocean. Supposedly buried pirate treasure is to be found....forget about it as the jungle is for all practical purposes impenetrable. The real reason to come here is if you are an experienced diver. The waters around the island are filled with sea life including sharks, mantas, pilot whales, dolphins, tuna, etc. because of the lack of a human population. But if you want to see this life go soon because the Japanese, Chinese and other fishing fleets have been illegally raping the seas around the island. For example, for the sake of shark fin soup the shark population has been greatly diminished...the sharks are caught, the fin is cut off and the animal is thrown back to suffer and die. UNESCO designation means nothing to these modern day pirates.
---
Site Info
Full Name

Cocos Island National Park

Unesco ID

Country

Inscribed

Type

Natural

Criteria

9

10

Categories

Link
Site History
2002

Extended

Extension of marine zone
1986

Rejected

Does not meet criteria
Site Links
Unesco Website
Official Website
In the News
Visitors
8 Community Members have visited.