Aggtelek and Slovak Karst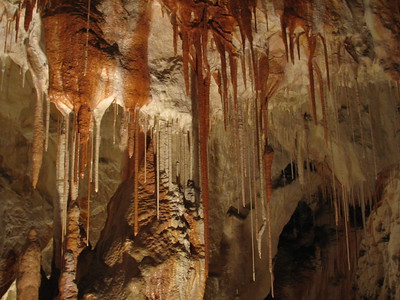 The Caves of the Aggtelek and Slovak Karst is a transboundary karst cave system, noted for its high concentration of caves and their great variety of cave types.
There are 712 caves in total. Features include the world's highest stalagmite and an ice-filled abyss. The site also covers Gombasecká Cave-Silicka Jadnica Ice Cave System and Dobšinská Ice Cave.
Map of Aggtelek and Slovak Karst
Load map
Community Reviews
---
I visited this WHS in 2022, first visiting the Baradla cave in the Hungarian Aggtelek National Park en route from Tokaj, then proceeding to the Domica cave and the Dobšinská ice cave in Slovakia. This was truly just a sample of the hundreds of caves in the region, inscribed and not inscribed, but I always wanted to visit especially the ice cave in Slovakia, so I simply made an extra effort to add a stopover to the other two sites which pale in comparison to at least visit one location from Hungary too.
I was surprised by the amount of people visiting most of the caves, even the less known ones. There are several facilities and free parking near many of them but do research the opening and closing days and times before visiting. Also most caves are closed during winter. Make sure to bring at least a jacket even in summer as the temperatures in the caves are always lower than 10 degrees in most caves. The Baradla cave in Hungary and the Domica cave in Slovakia are actually one cave system, nowadays with two separate entrances in both countries. Short guided tours (around 1 hour) and long guided tours (2 hours) to the Baradla cave are offered almost every two hours. The cave has a natural entrance at Aggtelek at the foot of a high white cliff. Just before the entrance there's a UNESCO WHS inscription stone marker.
The Baradla cave has been discovered as early as 1549 so it has a long history of research. It includes a 7 km long rock tunnel with a few giant caverns. A significant part of the cave has varied colors and shapes providing an unparalleled spectacle of speleothems and decorative stalactites. Subterranean river waters run through the main rock tunnel at times of flood. Traces of Neolithic occupation have been found in the Baradla-Domica cave system. The Baradla cave extends for more than 25.5 km and includes 5.3 km which are part of the Domica cave in Slovakia. The short tour only explores an easy trail of about 1 km in around 1 hour. The main focus of the tour are the multitude of dripstone formations such as stalactites, stalagmites and stalagmite columns which are certainly not a unique feature. The largest and most famous formations or caverns are given names such as the Mother-in-Law's Tongue, Santa Claus, the Tiger and the Columned Chamber and the most impressive are those near the Chinese Pagoda which reach the ceiling of the cave.
Although smalller in size overall, the short tour to the Domica cave in Slovakia covers 1.6 km with a short boat trip underground if there is enough water. Since I was almost out of camera battery when reaching Aggtelek, and I had already in mind to pay the extra cost for taking photos in the Dobsinska cave later on, I left my camera batteries recharge in a restaurant with my parents, and opted not to pay also for the high extra camera fee in the Domica cave to simply take crappy photos with my mobile. There were many sleeping bats on the cave walls, mostly Mediterranean Horseshoe bats, which I also spotted later on in the Dobsinska ice cave. The speleothem formations in the Domica cave were far more impressive than the ones in the Baradla cave, even though overall nothing truly unique on a global scale.
Last but certainly not least, I headed for a guided tour to the Dobsinska ice cave and as already mentioned also paid the expensive camera fee. You have to pay to park your car unless you decide to eat at one of the restaurants which seem to offer parking for free then. Also make sure to bring cash to pay for your tour. Unlike the other two caves I had already visited, this cave involves quite an uphill hike (15-30 minutes depending on your fitness level) on loose rocks in the Slovak Paradise National Park which I wasn't expecting, and which was quite uncomfortable in the heat with a jacket in hand. The Dobsinska ice cave is one of the longest and deepest ice caves in Europe and it is also the first electrically lit cave in Europe (way back in 1887). The total ice volume was estimated at 125,000 cubic metres, which makes it one of the most important ice caves in the world. The thickness of the ice reaches up to 26.5 metres. One of the interesting facts about the cave is that up to 1946 ice skating inside the cave was permitted all year round!
The guided tour begins on the northern slope of the Duca Hill at an elevation of 969,5 metres and lasts around 30 minutes. Tour groups seemed to be a bit too large for the space inside the cave but I understand that they try to accomodate as many people as possible in the limited timeframe from May to September. You will descend several tens of meters underground on metal steps. The tourist route covers around 515 metres. In the cave you will have a chance to admire magnificent places both filled with ice and without ice. Among them are the Great and Small Halls, Ruffiny's Corridor or Collapsed Dome, and of course the wonderful ice formations. Although the guides have torches, I would recommend bringing your own especially for better photos. Be aware though that the average temperature in the cave oscillates from -3,9 to -0,2 degrees Celsius with a chilling icy breeze so make sure to take warm clothes and sturdy boots. There's the coolest UNESCO WHS plaque of all etched in ice inside the cave too. If I ever drive close to this area of Hungary/Slovakia again, I'll surely put in more effort to visit more caves, especially the Ochtinská Aragonite Cave mentioned in Hubert's review.
---
Slovak and Aggtelek Karst belongs to landscapes that I had opportunity to explore several times, from both undergound and surface aspects. I visited not only 3 caves opened to public on Slovak side, but also explored karstic landscape of Slovak and Hungarian National Parks, mostly western and central parts. Well, it is written in the nomination text that only underground systems are inscribed and noting what is on the surface belongs to WHS, but both "worlds" are interconnected. Thus, one can recognize what is "down" also by picturesque karstic structures such as sinkholes and limestone pavements that are evenly scattered in the landscape of karstic plateaus. I found it also special and worth-visiting.
From inscribed caves, I visited Domica, Gombasek, and Ochtinská aragonitová caves. All of them are beautiful, and different to each other. However, after visiting of several/many caves of this and other regions, one can have a feeling that it is difficult to distinguish what cave is "more unique" than another - I can frankly say that I am not expert to recognize an uniqueness of stalagmite...
As concerns the structures visible on the surface, I found the karstic landscape of both Slovak and Aggtelek Karst National parks beautiful and quite easy to explore. There are many marked trails in the national parks. However, the area in the close vicinity around famous caves such as Domica, Ochtinska, Baradla or Gombasek is not very special - don´t be confused. One has to climb several hundred meters up to the plateaus such as Plešivská planina Plateau, which is covered by pastures with solitary trees and bushes, and dotted by numerous sinkholes. By the chance we found the "sink" of Zvonivá diera Chasm (photo) with the WHS plaque. The inside of the Chasm is accessible only to spoleologists with special permission. We met one who told us that this Chasm is exceptionaly beautiful inside. Silická planina Plateau is larger but not such picturesque as Plešivská, because several villages are included. There are also special places like Silická ladnica chasm, Bezodná ladnica chasm, etc. I liked the lanscape around village Kečovo with chasms, limestone pavements, etc. On the Hungarian side, the area is maybe not so wild, and it is evident that the buildings and visitors centers are not such abandoned and in decay as it is, sadly, on the Slovak side. In the eastern part of Aggtelek NP, we did a trip to Vecsem-bükki-szomboly Chasm. The typical feature of the karstic plateaus is that they are treacherous as concerns the orientation in the landscape, and one can be quite easily lost there... therefore it took 2 days for us to find this Chasm finding by coincidence one of the entrances to Meteor Cave (both Chasm and Cave also listed as particular WHS). Once again, what is seen on the surface is not very spectacular, and kids were a bit disappointed by the small hole, which is actually the sinkhole to this Chasm that is one of the deepest in the entire area. We also visited eastern parts of Slovak NP - Zádielsky gorge, which is not included to this WHS but proposed as TWHS together with a dramatic lanndscape of Slovenský Ráj (Slovak Paradise) National Park - Karts Valleys of Slovakia. We could see Zadiel even from distance, and this structure is really very impresive.
All in all, I liked the karstic landscape of this WHS, which is very diverse and picturesque. It deserves to be WHS.
---
To me, the caves of Aggtelek and Slovak Karst are the best WHS we have and I'm very proud of it. Depends of course on the cave you visit, but if you had been born, let's say in Eastern Slovakia, you would have visited most of them by the time you've finished your compulsory school attendance. Summer is the best time to visit, when there's a season. Most of the caves are closed off for winter, one or two are open. I would recommend visiting the Domica cave, either from Slovak or Hungarian part. Hungarians have it opened all year round and are much more accomodating than my compatriots are, I am sad to say. There's an underground river you can ride and you will cross border and the interior decorations are pretty. Another stunner is Dobsinska ice cave. Ochtinska Aragonite cave has beautiful decorations and colourings. If you manage to find yourself skiing in Jasna and the Demanovska Freedom cave is open, do see, it's also lovely.
---
The cave system of the Aggtelek and Slovak Karst was inscribed mainly because of the high number of caves in a relatively small area and the variety of geological morphology, but less because of the outstanding value of the individual caves. At the time of inscription 712 caves were registered, 23 are listed in the nomination files (see above), today more than 1000 are known, and seven or eight of them are show caves and open to the public.
We spent one day for this WHS, we have chosen three caves that cover the diversity of the cave types: the Dobšinská Ice Cave, the Ochtinská Aragonite Cave, and the Gombasecká cave.
First, we visited the Dobšinská Ice Cave. Ice caves with year-round ice formations are relatively rare, there must be sub-zero temperatures throughout the year, at least in parts of the cave. The main attractions in the Dobšinská Cave are the huge ice block that fills almost the whole first part of the cave, and the Great Hall, where the ice is up to 26 metres thick and where you can also see ice columns and ice stalagmites. I have previously visited two ice caves in Austria, the Dachstein Ice Cave (WHS Hallstatt-Dachstein) and the Werfen Eisriesenwelt (no WHS, near Salzburg). I have to admit, that I was more impressed by the ice formations in the Werfen Cave.
Next we went to the Ochtinská Aragonite Cave (photo), definitely the highlight of our cave tour. Aragonite is a crystalline form of calcium carbonate, a very common mineral. But in the Ochtinska Cave it creates a wonderful variety of shapes: thin needles, spirals, branched tufts, cones and a lot more. It's really unique, very different from the usual stalactites and stalagmites. The cave consists of ten small halls, the most impressive is the Milky Way Hall. It was named after a long crack in the ceiling, decorated with milky white bundles of aragonite. We all had a stiff neck after the guided tour.
The Gombasecká Cave is a dripstone cave, the special feature are the extremely thin stalactites, only a few millimetres in diameter, but sometimes up to three metres long. But there are also the usual stalactites and stalagmites. Nice to visit, but not really outstanding.
We travelled by car, so it was easy to visit the three caves in one day. Dobšinská is about 45 minutes from Ochtinská, and from there it is only 20 minutes to Gombasecká. Each tour takes about 40 to 45 minutes; there are hourly tours in the summer season. It would be possible to visit even more caves, the Baradla-Domica cave complex is only 20 kilometres from Gombasecká, but three were more than enough for one day. The entrance fee was five to eight euros (in August 2014), and photo permit costs ten (Dobšinská and Ochtinská) or seven euros (Gombasecká), respectively
Of course it is difficult to assess the value of an extensive cave system by visiting only a few caves, but I think we got a glimpse of the diversity of the site. We enjoyed our cave tour, and at least the Aragonite Cave was a unique and impressive experience.
---
I only managed to reach four of the listed caves, three in Slovakia and one in Hungary.
Dobsinska Ice Cave : similar to the Dachstein ice cave in Austria, but easier of access. Entry E6. Access by bus from Poprad-Tatry station.
Jasovska cave : featured splendid caramel coloured rock formations. Entry E5. Access by bus from Kosice.
Ochtinska cave : featured spaghetti-like stalactites. Entry E5. Access by bus from Kosice or Roznava, then 2km walk.
Kossuth Cave : found the entry, but was closed. Access by bus from Aggtelek-Josvafa station.
---
1.00 The Netherlands - 01-May-08 -
En route from Banska Stiavnica to Kosice, I passed the Slovak Karst area, half of this transboundary WHS near the border with Hungary. A number of caves open to visitors are located here, all well signposted off the main road. Some are still closed at this time of year (notably the Dobsinska Ice Cave). I decided to visit the Gombasecka cave, which is applauded in the Bradt guidebook as one of the most visually impressive.
I arrived at an almost empty parking area. The ticket booth seemed closed too, but when I appeared the window was opened. The entrance fee is 140SK (about 3 EUR) and you only get in with a guided tour. I had to wait an hour for that (Bradt didn't get the opening hours right).
At 1 pm it suddenly got very busy near the entrance. Tens of visitors arrived, mostly regional according to their car plates (Slovak, Czech, Polish, Hungarian). There were so many they even had to split the group into two 'smaller' groups of about 30.
The accessible part of this cave isn't very big, the whole tour takes about 40 minutes. Its key feature is the soda straws, very thin and hollow dripstones. It's certainly nice, but not different from other dripstone caves. I had to look hard for an accompanying picture where it doesn't look like it has been taken at Carlsbad Caverns. But a visit to one of these caves certainly is a nice enough break in the long drive from West to East Slovakia.
---
The only thing you really need to know about the Aggtelek Karst caves is that it is an absolutely fabulous place and a true masterwork of nature – just go there as soon as you can.
Once you've seen this place you feel like you want to return again and again and discover what's behind the next cave and the next. The beauty of the shapes, forms and sizes of the stalactites and stalagmites is mind-blowing and it's no wonder that many poets and painters have been inspired by its bizarre shapes and colours.
The caves are formed in 230 million year old Triassic limestone and about 2 million years ago, water started to get into the cracks, dissolving the limestone, widening the crevices and forming passages. Today there are over 1000 smaller and larger caves and you can visit the most spectacular ones on guided tours. I went for two tours and spent over four hours underground which was quite nice when the outside temperature was +35 and the caves holds a constant temperature of +9.
Aggtelek is not only caves but also a nature area and if you want to stay around for some time I can strongly recommend the Cseppkõ Hotel, run by the nice Mr Jorge, a former Hungarian border guard who knows the town and the area inside out.
---
Maarten J Vermeulen
I visited the Dobsinska ladova jaskyna in 2001. Since 1995 I've been in Slovakia about 30 times.
Now I found a terrible negative comment on the main page of WHS of Paul Tanner of the UK about the Dobsinska ladova jaskyna (Dobsinska Ica Cave)
If you know the ice pillars are ALWAYS there in this cave unlike other caves then it is special enough to call it a WHS. Ths has got nothing to do with politics.
The entrance fee nowadays is SK 150,- which equals EUR 3,95 or old DM7,90. So 15 years down the line and taking into account inflation the entrance fee is much lower now.
My opinion: it is an interesting site to visit on a nice walking distance from the railway station as well.
Regards,
Maarten J Vermeulen
Holandsko
---
I am afraid this is yet another example of a second rate "WHS " which adds little to other similar sites already inscribed and which, one feels, has probably been chosen mainly for political reasons (As a transnational site – "it is IUCN's opinion that this is the best and perhaps only prospect for a World Heritage site in Hungary and Slovakia). Its presence on the list typifies the gradual degradation of standards by UNESCO. The original evaluation is totally "underwhelming" in its enthusiasm for the site –
a. "CASK does not stand out on any particular natural feature. As one reviewer noted, other caves similar to those at Aggtelek exist elsewhere and, while the site is not considered unique, it is an excellent example. Although one of the better known cave areas in Europe it does not offer features in the "spectacular" category as are found in many other Karst areas".
b. "CASK is very different from the other two existing World Heritage caves. Mammoth Cave is notable for its enormous length, large level passages and jagged domepits. Skocjan is famous for its awesome river canyons and textbook portrayal of karst hydrogeology. CASK is distinguished by its great variety of cave types and speleothems and the array of typical temperate zone karst features. CASK also contains 712 known caves, a very high concentration, but none of these by itself rates on world lists of the deepest/largest or most decorated."
So don't expect too much! But don't get me wrong – if you are in the area, have a few spare hours and quite like visiting caves then by all means visit it but this isn't a "world class" site. Parts of it were made World Biosphere Reserves in the late 1970s and that recognition should have been enough to assist appropriate conservation. To tell the truth, experiences around the world have convinced us that too many caves are opened primarily as money-making "visitor attractions" - at least this is all state owned!
In 1991 we visited the "Dobsinska Ice Cave" in what was then southern Czechoslovakia but this wasn't included in the list of caves inscribed in 1995. WHS collectors should always keep an eye on "extensions" to existing sites however and, in 2000, the site was extended by adding just this cave and we could "count" the site! To quote - "The Committee approved the incorporation of the Dobsinská Ice Cave as part of the Caves of the Aggtelek Karst and Slovak Karst World Heritage site. Although this ice cave is a relatively small (6km2) and specialised feature, it does add variety to the existing site and its features relate to and complement the Caves of Aggtelek Karst and Slovak Karst."
Well the site certainly needed it – indeed it was perhaps surprising that Dobsinská wasn't included from the start as it is perhaps the most "noteworthy" of the caves in the area which are open for public visiting. Despite my generally negative review of it as a WHS it does contain a sight which, as far as I can remember, we haven't seen in any of the many other caves we have visited around the world - all year round "Ice Pillars". One of these is portrayed in my "photo" which shows of the front page of the brochure provided back in 1991 together with the entrance ticket. Note the rather steep (for those days) 10 Deutchmarks entrance fee – the Korun was unconvertible then and foreigners had to pay in hard currency! I wonder what its entrance price is now.
---
Site Info
Full Name

Caves of the Aggtelek and Slovak Karst

Unesco ID

Country

Inscribed

Type

Natural

Criteria

8

Categories

Link
Site History
2003

Name change

From "Caves of the Aggtelek Karst and Slovak Karst" to "Caves of Aggtelek Karst and Slovak Karst"
2000

Extended

To include Dobšinská Ice Cave
1998

Rejected

As Slovak Paradis and Dobsinska Ice Cave: Does not meet WHS criteria - Add Dobsinska to Aggtelek and Paradis to Spissky Castle?
Site Links
Unesco Website
Official Website
Visitors
170 Community Members have visited.