Rapa Nui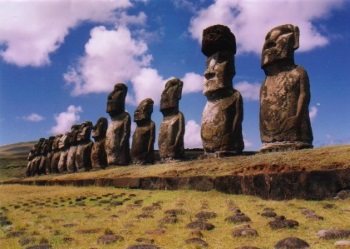 Rapa Nui National Park and its stone sculptures are testimony to an isolated cultural evolution.
Rapa Nui is the indigenous name of Easter Island. It's a volcanic island, with still two large craters: Rano Kau and Rano Raraku.
The most characteristic cultural feature of Rapa Nui are the huge moai, found all over the island. These figures were created to represent the important ancestors of each clan. As time went by, their forms became more stylized and they increased in size.
Rapa Nui is considered one of the most isolated inhabited places in the world. Almost 2000 km distant is Pitcairn, the closest inhabited island. Its 4100 km to Tahiti and 3700 km to the Chilean coast. Nevertheless, Rapa Nui belongs to Polynesia, a geographic area defined by an imaginery triangle whose verticles are New Zealand, Hawaii and Rapa Nui itself. All the islands have a common cultural tradition, whose roots extend back to the second millenium BC.
Around 400 AD, Rapa Nui was colonized by Polynesians. They arrived in big canoes, and took with them many cultural elements that had developed on the other Polynesian islands.
Visit March 2002
I spent 5 days on Easter Island - making a dream come true. Reading the books by Thor Heyerdahl as a child, I never imagined I would set foot on this remote island. But times have changed the last 15 years: travelling around the globe has become much easier and cheaper.
As has to be expected, I didn't find a lost paradise here. It's quite an expensive destination, geared to the wealthy western traveller. But I had a fine time here. I walked, cycled and drove around the island. From ahu with or without moai to petroglyph to vulcano. Rapa Nui is an open air museum in the best sense of the word.
The sight I probably liked best is Tongariki, the ahu with 15 moai in a row. Maybe that's because this was my reward after cycling 2,5 hours on Easter Island's roads that know no shade.
Community Reviews
---
---
---
---
---
---
---
---
---
Community Rating
Community Rating 4.93. Based on 7 votes.
Your Rating
Site Info
Full name: Rapa Nui National Park
Unesco ID: 715
Inscribed: 1995
Type: Cultural
Criteria: 1 3 5
Site Links
Unesco Website
Official Website
Related
In the News
Connections
The site has 44 connections. Show all
Visitors
63 community members have visited Rapa Nui. Show all