Los Katios National Park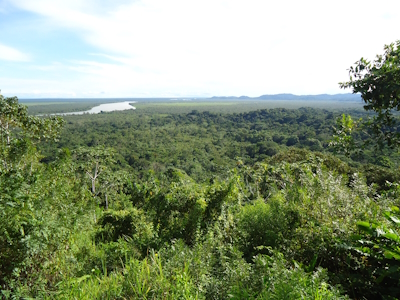 Los Katíos National Park is known for its high biodiversity and high regional endemism.
It lies in northwest Colombia and is contiguous to Darién National Park in Panama. Because of its location on the Darien isthmus, it filtered the interchange of flora and fauna between North and South America.
The park comprises two main regions:
the mountains of the Serranía del Darién
the floodplain of the Atrato river, with lowland swamp forests
Notable fauna species found in Los Katios include the giant anteater, tapir, jaguar, spectacled caiman and American manatee. More than 450 species of birds have been recorded.
Map of Los Katios National Park
Load map
Community Reviews
---
3.00 Chinese-Canadian - 01-Jan-23 -
So I am writing this review because it's been a while since the last one and unfortunately for you reader it doesn't have anything else to add than the previous one, only that it's been more recent (2019). The core area, and pretty much all of the national park, is closed for tourists and non-natives. This is actually good news for the environment. There is no logging problem, unsure about poaching etc but I always say leave nature alone and after all this is just a rainforest like you get so many - I don't think you'll know the difference aside from it being UNESCO designated.
As I was doing a roundtrip in Columbia and wanted to include this I left my car at Turbo and took the ferry to Riosucio along the Atrato river. It takes several long hours and on the way you see the sides of the jungle. As I said it won't be much different than other forests and it will maybe make you think it it was worth your time and money. I might not do this again now that I'm older but well, it's done. You can take the ferry back if you prefer staying in the jungle lodges somewhere but the collectivo is much faster than going against the current.
This is the ONLY way you get to see this place at the moment unless you are a researcher of sorts with serious connections.
I'll give this a 3 star because it's random rainforest, not because I actually know if it's great or not. Perhaps I shouldn't rate it at all...
---
Visited November, 2011. Oficially off limits to foreign tourists due to security reasons but you can try to get permit in Turbo (NP headquarters). There is base for scientists in Sautata (access by boat only) - very basic standard but at least you are on National Park premises ....
Unoficial and the only possibility to see at least some parts of National Park without any permits is to take a boat Turbo-Riosucio and in Riosucio take collectivo back to Turbo via bumpy road (the same day). During your boat trip there will be a chance to see Los Katios from Atrato river
---
Site Info
Site History
2015

Removed from Danger list
2009

In Danger

"To help mobilize international support for the preservation of the property which is threatened by, notably, deforestation in areas inside and around the property due to the illegal extraction of timber"
Site Links
Unesco Website
Official Website
Visitors
5 Community Members have visited.