Upper Svaneti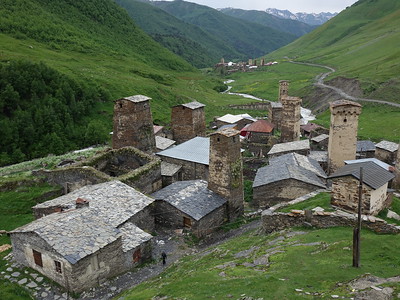 .
Upper Svaneti is known for its architectural treasures and picturesque landscapes.
The famous Svanetian towers erected mainly in the 9th-12th centuries, make the region's villages more attractive. In the province are dozens of Georgian Orthodox churches and various fortified buildings.
The region is inhabited by the Svans, an ethnographic group of the Georgian people.
Map of Upper Svaneti
Legend
Community Reviews
---
Tony H. Finland 08-Sep-16
I'm little surprised that Upper Svaneti is one of the least visited sites in Europe on this website. I'm surprised because it is not anymore these days hard place to visit. The WHS consists of small community of Ushguli which is made up from 4 very small villages located right next to each other. 3 of these villages with surrounding landscape form the buffer zone and the core zone is the village of Chazhashi.
Chazhashi is the only village which has solely original stone houses. However most of the houses have been abandoned and the roofs have collapsed. The village includes the local museum. The core zone also includes small hill with remains of one Svan tower and church from old fortress.
While traveling around Svaneti region you will already see many Svan towers but in Ushguli every house has them which gives this town an extra charm. However, the crown jewel of this place is the Shkhara mountain that towers over the landscape. It is the 3rd highest peak of Caucasus mountains, peaking at 5193 metres! Small Lamaria Church at the edge of Ushguli offers great photo opportunities against the mountain backdrop. The whole community is highly photogenic but electric wiring and some modern constructions ruin the authentic experience a little bit. There was even construction of new modern hotel going on! But in the end Ushguli was my highlight in Georgia and definitely the most interesting WHS in the country!
As I said already getting to Ushguli is easy. From Mestia you can take one of the marshrutkas that leave in the morning towards Ushguli or rent private car with driver if you're a group. The marshrutka ride takes about 3-4 hours and you get same amount of time to explore the villages. If you want to spend the night in Ushguli, there are many guest houses offering accommodation. Hiking from Mestia to Ushguli will take 4 days but on the way you will get to enjoy stunning landscapes and charming small villages.
---
Svaneti is an absolute must! It offers some of the most spectacular and dramatic landscapes imaginable - together with a mysterious and unique culture. I highly recommend a visit to Ushguli, probably Europe's highest village (take warm clothing). It feels like a Caucasian version of Middle Earth. Only a small part of the village, called Chazhashi, is actually part of the WH list but the whole area is breathtakingly beautiful and historically interesting. Unfortunately, as of 2013, there are no scheduled flights to/from Mestia! Except from expensive charter flights (in Cessna, from Natakhtari Airfield north of Tbilisi), the only way of public transport is by minibus. The road between Zugdidi and Mestia is in good condition, Mestia-Ushguli is being upgraded these days. However, travel time is still very long and may require transfer: Tbilisi-Mestia approx. 10-12 hours by minibus, Kutaisi-Mestia 5-6 hours, Zugdidi-Mestia 3-4 hours; Mestia-Ushguli was a whopping 3 hours for 48 km in 2013.
---
sandro aragona, Italy 05-Jun-08
I have travelled lots of places around the world but i have never seen something such a beatiful as SVANETI.
honestly, I can say that this is the Worlds Most Beatiful part. GO to Svaneti!!!
---
Community Rating
Community Rating 4.33. Based on 6 votes.
Your Rating
Site Info
Full name: Upper Svaneti
Unesco ID: 709
Inscribed: 1996
Type: Cultural
Criteria: 4 5
Site History
1996 - Inscribed

1994 - Deferred

Bureau - better definition of proposed area
Site Links
Unesco Website
Official Website
Related
In the News
Connections
The site has 10 connections.
Visitors
35 community members have visited Upper Svaneti. Show all