Route of Santiago de Compostela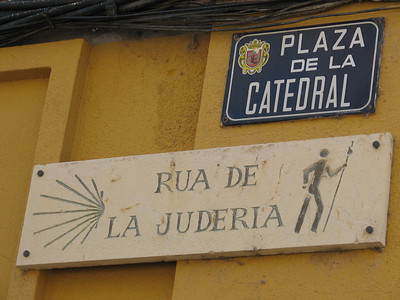 The Route of Santiago de Compostela comprises over 1800 historic buildings on the Christian pilgrimage route to the Cathedral of Santiago de Compostela. The Route starts from the French-Spanish border, at either Roncesvalles or Canfranc.
Legend has that the remains of the apostle Saint James the Great are buried in the Santiago cathedral. His tomb was discovered in the 9th century. Pilgrims from all over southern Europe started flocking there in the 10th century. The pilgrimage became so popular in the 12th that it even got its own guidebook, Book V of the Calixtine Codex.
The buildings on the Route consist of cathedrals, churches, monasteries, hospitals, inns and public works in 166 towns and villages.
Map of Route of Santiago de Compostela
Legend
Visit August 2009
One should only be allowed to tick this WHS off, if you've walked enough of the pilgrimage route to earn your compostela certificate! That is: having walked or rode horseback at least the last 100km, or cycled the last 200km. For my part, I have to admit that I haven't reached Santiago de Compostela. Even not by car. After having visited Las Médulas in the morning, I decided that it would be too far to drive on to Santiago. So I went to Astorga instead, one of the major stops on the Route.
Astorga has two very fine works of architecture: the Episcopal Palace designed by Gaudí, and the Gothic Cathedral. Both are named specifically in the AB evaluation, so I guess it's kosher to visit these buildings as representations of the works of faith and art that make up this WHS.
The Gaudí Palace looks like a church, and now has a museum inside. The exhibition didn't really do something for me, but it's also a fine way to admire the architecture of the building from the inside. It was inspired by the rooms full of arches in the Mezquita of Cordoba. It has the same red/white striped pillars, and stained glass windows.
I didn't get into the Cathedral (closed), but its façade is very much worth checking out. It is extremely flashy!
I did not encounter many 'pilgrims' in Astorga or on the road, certainly not on foot. I do wonder however what it is like to walk this Route. It does look very hot in July/August, and there also seem to be boring parts through industrial areas. And it is far, very far: 656 km from the French border to Santiago de Compostela. Maybe I have to read a detailed first hand account on it first, before I'll embark on this once-in-a-lifetime experience myself.
Community Reviews
---
---
---
---
---
---
---
Community Rating
Community Rating 3.17. Based on 15 votes.
Your Rating
Site Info
Full name: Routes of Santiago de Compostela: Camino Francés and Routes of Northern Spain
Unesco ID: 669
Inscribed: 1993
Type: Cultural
Criteria: 2 4 6
Site History
2015 - Extended

To include four Christian pilgrimage routes in northern Spain and 16 of the most culturally significant structures along these routes

2015 - Name change

From "Routes of Santiago de Compostela" to "Routes of Santiago de Compostela: Camino Francés and Routes of Northern Spain"

1993 - Inscribed

1993 - Revision

Includes now former TWHS Eunate - Iglesia de Sta Maria, Burgos - Monasterio de las Huelgos, Jaca - Cathedral of San Pedro Apostol, Torres Del Rio - Iglesia del Santo Seplucro, Burgos - Miraflores Charterhouse (Monastery), Najera - Sta Maria la Real (inc in Compos route), Leon - Basilica of San Isidoro, Leon - Catedral de Sta Maria (all 1995), Conjunto fortificado de Pamplona (1998)
Site Links
Unesco Website
Official Website
Related
Locations
The site has 20 locations. Show all
Connections
The site has 31 connections. Show all
Visitors
153 community members have visited Route of Santiago de Compostela. Show all