Spissky Hrad and Levoca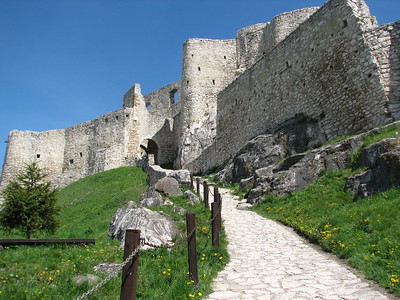 Levoca, Spissky and the Associated Cultural Monuments comprise a group of religious, military and civil medieval buildings that have integrally survived.
Spissky Hrad (Spis Castle) dates from the early 13th century and is the biggest surviving castle of Central and Eastern Europe. It is strategically located on a limestone hill and was originally built as a defence against Tatar invasions. In later centuries it has seen many additions and alterations. The castle has both Romanesque and Gothic elements. It burned down in 1780 and is now in ruins.
The 'surrounding monuments' that are also part of the designated world heritage, and date from roughly the same period as the castle, include:
- the town center of Spisske Podhradie
- the complex of religious buildings in Spisska Kapitula
- the Church of the Holy Spirit in Zehra
During the WHC session of 2009, the town of Levoca was also added to this WHS. It is particularly known for the polychromatic wooden masterpieces of Master Paul, which are characteristic of the Late Gothic. They include Europe's highest altar (dated ca. 1520).
Map of Spissky Hrad and Levoca
Legend
Visit May 2008
This for sure is the most popular tourist attraction in Slovakia. There's a large car park, a 135 SK entree fee, souvenir shops and you can get drinks and snacks at the inner castle courtyard. Be aware though that like many other sights in Slovakia it is closed between the months of November and April. You'll have to make do then with the majestic view of it from across the surrounding plains. Which possibly is the best part of the visit anyway.
For those who can get in it is wise to wear sensible shoes. First there's the uphill walk to the castle itself, and its interior isn't paved either. It's kind of a climbing experience because it's just all ruins. It is possible climb the remaining residential tower. Some of the best preserved rooms at the back hold a little museum with the usual medieval castle displays of canons, guns and armour. There's also an original chapel.
I didn't visit any of the towns inscribed together with the castle (bit fed up with churches), but chose Levoca instead. This city about 15kms away is currently proposed as an extension to the Spis WHS. Its central square has a definite Italian flair because of the many Renaissance buildings. But what I really came to see is its remarkable wrought-iron "Cage of Shame". This is were the local 16th century Protestants kept their women that wouldn't behave!
Community Reviews
---
---
---
---
---
---
---
---
---
---
---
---
---
Community Rating
Community Rating 3.15. Based on 13 votes.
Your Rating
Site Info
Full name: Levoca, Spissky and the Associated Cultural Monuments
Unesco ID: 620
Inscribed: 1993
Type: Cultural
Criteria: 4
Site History
2009 - Extended

Extended to include Levoca

2009 - Name change

From "Spissky Hrad and its Associated Cultural Monuments" to "Levoca, Spissky and the Associated Cultural Monuments"

1993 - Inscribed
Site Links
Unesco Website
Official Website
Related
Locations
The site has 2 locations.
Connections
The site has 23 connections. Show all
Visitors
116 community members have visited Spissky Hrad and Levoca. Show all