Sangiran Early Man Site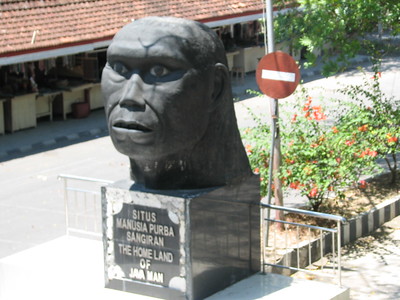 The Sangiran Early Man Site is one of the key sites for the study of human evolution.
A second occurence of "Java Man" was discovered here: first discovered in 1891 at Trinil by Dutchman Dubois, more skulls were found by an archeological party organized by German G.H.R. von Königswald at Sangiran (near Solo).
"Java Man" at the time was one of the first known human ancestors. He is now been reclassified as part of the species Homo erectus.
About 60 more fossils have since been found here, making it the most fruitful of the early hominid sites that have been named a WHS. The skull and bone pieces have been discovered by both archeologists and locals in quite a large area. This whole area (56 square km) has been designated a WHS.
Map of Sangiran Early Man Site
Legend
Visit October 2009
The entrance gate, car park and souvenir stalls are worthy of a monument à la the Taj Mahal. Sangiran clearly is proud of its WHS status. I arrived by taxi from Solo train station (18km). The station has 5 trains a day to Yogyakarta, so it's a good day trip from there. The Sangiran site consists of a museum, a huge building with a creative layout. However, there are only two exhibition rooms containing skulls, bones and tools.
Sangiran's story is that of 'Java Man", discovered in the fields here in the 1930s. It is part of the species Homo erectus, one in the chain of predecessors to the modern homo sapiens. At about 700,000 - 1,600,000 years old it is the oldest finding in Asia, but a lot younger than the African examples of early hominids. The site is also known for its animal fossils and neolithic stone tools.
I've seen a number of Early Hominid WHS now, and they all struggle to turn their historical fame into a good visiting experience. Sangiran unfortunately is no exception to this. I guess it's best to tick it off quickly, and spend the remaining part of the day in nearby Solo. This is a relaxed Javan town with two Royal Palaces and a couple of nice little restaurants.
Community Reviews
---
---
---
---
---
---
---
Community Rating
Community Rating 1.82. Based on 11 votes.
Site Info
Full name: Sangiran Early Man Site
Unesco ID: 593
Inscribed: 1996
Type: Cultural
Criteria: 3 6
Site Links
Unesco Website
Official Website
Related
Connections
The site has 5 connections.
Ecology
Fossils: ... illustrates the development of Homo sapiens sapiens from the Lower Pleistocene to the present through the outstanding fossil and artefactual material that it has produced. (OUV)
Visitors
53 community members have visited Sangiran Early Man Site. Show all