Morelia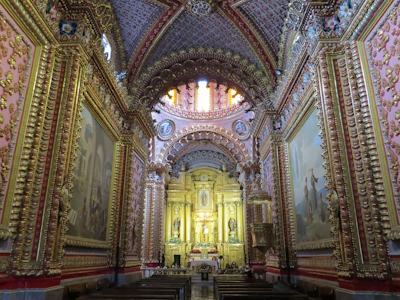 The Historic Centre of Morelia contains 249 historic buildings, all made out of characteristic pink stone.
The town started out in 1537 with a Franciscan monastery and has played an important part in various stages of Mexican history since. During the colonial period, a number of religious orders established themselves in the city, allowing it to take an important place in the history of art and culture in Mexico. Important architectural sites from the colonial period include the Catedral de Morelia, the Aqueduct, the Governor's Palace, the Palacio Clavijero, and numerous churches, convents, and houses. The Conservatorio de Música de las Rosas of Morelia was the first music conservatory in the Americas.
Visit January 2014
3.0
I repeated my parking trick from San Miguel de Allende, and left my car this time at an even bigger mall on the ring road of Morelia in the direction of Patzcuaro. This mall (Plaza de Morelia) has a couple of American franchise restaurants, and I ate a good salad at one of them for lunch.
Morelia is a large city, and the WHS area stretches a long way across town. There are two central areas to check out. The first center is the Cathedral area. I was the only tourist around, and people did look a little bemused when I took my camera out of my bag. There are some fine facades around here, and arcades that came right out of Spain. Worth a peek inside is the Colegio de San Nicolas de Hidalgo, formerly one of the most prestigious schools of colonial Mexico.
From that area, I walked to the second center which lies near the Aqueduct. The Aqueduct is… an aqueduct, what's more to say. In front of it stands the also very underwhelming Tarascas Fountain. The city is very busy with cars (as all Mexican cities are), and they speed past the fountain and the aqueduct.
I left the best for last: the Santuario de Guadelupe looks like a bland parish church from the outside. The interior is spectacular however: bright pink and light blue, it looks more like a Hindu temple. It also has 4 huge paintings on how the Spanish converted the poor indigenous Mexicans.
Community Reviews
---
I visited this WHS in January 2022. Of all the inscribed colonial cities and towns I visited, Morelia was the one I found least interesting and the easiest to cover in 1 day, so much so that I decided to curtail 1 night as initially planned and add it to Guanajuato instead. In the end it turned out to be a wise choice although I still think that Morelia had enough historic sites as an ensemble to justify its inscription on the WH list apart from the fact that Morelia was the birthplace of several important personalities of independent Mexico and has played a major role in the country's history. Most probably we were just beginning to suffer from "colonial town fatigue"; I kept trying to imagine covering all of Spain's WHS in a month or so for example and I think some sites would suffer lower ratings without any "fault" of their own.
On the whole, just outside of the city centre, Michcoacan's capital Morelia is quite modern and has large Western-standard indoor parking lots on both sides of town. We parked our car at the huge Puerta Morelia indoor parking lot with full amenities (a rarity in Mexico) including free clean toilets. It is very convenient to enter and exit Morelia avoiding the traffic jams, but it is quite a long walk away. We didn't mind and seized the opportunity to discover more historic buildings and churches before arriving at the cathedral area. Another parking option would be parking at the other end of town, towards the aqueduct, especially if you're in a hurry and have less time to allow than us.
Morelia's OUV lies in its excellently preserved urban planning and more 200 historic buildings in pinkish stone (mostly one or two storeys hight due to earthquakes). In a way it reminded me a lot of Salamanca, Spain, although Morelia doesn't have any really top iconic building other than its cathedral which isn't the best I've seen in Mexico either. In fact, I think that its top attraction overall is perhaps its quaint aqueduct (the same one depicted on the 50 pesos banknote!) which runs through the main road from Fuente de las Tarascas to a couple of hundred metres further from the Church of Santa Maria de Guadalupe which as Els suggests in her review should not be missed for its colourful over-the-top interior decoration. Opposite the aqueduct there is a lovely park (Bosque Cuauhtemoc) where you can relax while gazing at the architecture of the Museo de Arte Contemporaneo Alfredo Zalce (MACAZ).
Of all the historic buildings we visited, those that stood out for us, apart from those already mentioned above, were the Centro Cultural Clavijero (closed on Mondays), the Palacio de Gobierno (closed on weekends), the public library of the Universidad Michoacana (closed on weekends), the Palacio de Justicia (closed on weekends), the Conservatorio de las Rosas, the Templo de San Francisco, and the Templo del Carmen. For those who love Mexico's murals, there are plenty more to enjoy in Morelia. For those with a sweet tooth, Morelia will impress as they sell so many sweets that they even have a Museo del Dulce to visit. Make sure to try the local refreshing sweet "gaspacho" from Gaspachos El Güero de la Merced made with jicama, mango, pineapple, onions and local Cotija cheese.
---
I visited Mexico between February and April 2019. I visited most WH colonial towns around Mexico City and Morelia was the first one.
The historical center of Morelia is not a breathtaking place, but the city is beautiful and the feeling walking around was really enjoyable. With its pink stone facades, la Avenida Madero and la Plaza de Armas, the city looks unique among Mexican towns. The focal point of any visit to Morelia is without a doubt the cathedral. It is impressive, massive and harmoniously mixes many architectural styles. Make sure to look at the 4,600 pipes organ inside! The cathedral is also nicely illuminated at night.
Among other sites I've visited, it is worth mentioning el Santuario de Guadalupe. This spectacular baroque church is heavily decorated with golden and colored ornaments. It is located on the beautiful Plaza Morelos, from which you can take la Calzada Fray Antonio de San Miguel, a nice pedestrian street that leads to la Fuente Las Tarascas. El Acueducto, even being less impressive than Querétaro's one, is still beautiful and nice to walk along. La Plaza San Agustin, el Jardin de las Rosas, el Bosque Cuauhtémoc, la Biblioteca Publica de la Universidad Michoacana, and la Plaza de San Francisco are other nice sights.
Logistically, Morelia is a big city with plenty of transportation options. I reached it from Angangueo (Monarch butterfly sanctuaries) via Zitacuaro. There are also many buses from Mexico City. I then traveled west to Uruapan (no WHS heres, but you should check out Paricutin Volcano!) and then to Guadalajara. It is also possible to travel to Patzcuaro, Colima or directly to Guadalajara. Within Morelia, combis go everywhere for really cheap and you never need to wait for long. Morelia is a university town with lots of students around. The atmosphere is thus nice, there's a lot of bars and restaurants and they are cheap. Make sure to taste dulces morelianos while you are here. These candies are famous in the region and really good!
---
Planning our trip around central Mexico, I assumed there would come a stage where our interest in historic city centres would run out, well it did and Morelia was the place that fell victim.
We didn't do the city justice, we stopped for an early lunch on an overcast Sunday morning, meaning that many of the church interiors were out of bounds as they were being used by the large congregations. We had a stroll around the city centre, hunting out a cash machine, before sitting in a cafe to watch the locals ride bikes along the Zocalo which had been close to cars. The most impressive thing in the centre we saw was the governor's mansion, which was decorated with impressive murals. A really impressive undertaking, but amazingly it was par for the course for Mexican municipal buildings.
After a quick wizz through the convent turned folk art museum we headed out towards the aqueduct, and like Els were somewhat underwhelmed by it. We also managed to peek inside the glorious Santuario de Guadelupe before realising the service was going on and tried to leave the congregation in peace.
So that was about it, I can see that Morelia may reward a longer stay and that we didn't do it justice, however it really didn't grab us during our visit.
Site 4: Experience 3
---
TW. Coughlin
Morelia, is a romantic untouristed city of a million people that feels more like 100,000. Rich in color and history, you will feel safe exploring its "Cantera Rosa" (Pink Stone) downtown neighborhoods and central plaza. The Morelians are friendly educated people who adore their community. There is so much to do and see in this clean, beautiful city, I especially enjoyed the vibrant "Candy" market and variety of art galleries. I'm returning again in the Spring!
---
Among the somewhat excessive number of Mexican historic "colonial" town centres on the UNESCO list Morelia's special claim lies in is its very "Spanish" feeling/atmosphere. As the Rough Guide says "you might easily be in Salamanca or Valladolid" – and indeed the city had this latter name for almost 300 years until it was renamed after the local Independence hero (whose birthplace in the city centre is something of a shrine and worth a quick visit).
The city is pleasant enough and one certainly wouldn't say "Don't visit it" but it is difficult to put one's finger on any particular attraction. It has an enormous late 17th/early 18th century cathedral (photo 1) but this lost most of its riches to pay for Mexico's wars and now has a late 19th century interior. The inscription emphasises the overall unity of the centre in design and appearance and this has certainly been maintained everywhere in a slightly "blocky" way (photo 2). Our hotel, 2 blocks behind the main street, was not an old building but was faced with the ubiquitous reddish stone – from the back however it was grotty red brick! There are however many genuine old buildings built on a grid pattern which still follows the original plan – it is interesting to read on the tourist "plaques" the detailed instructions sent out by Philip II as to how "exactly" cities in the New World were to be laid out and the buildings designed – real micro management! The main street is wide with imposing colonnaded structures and huge squares. Behind, the streets are narrower and one comes across old convents and churches, pleasant squares, small gardens and fountains. The city has a population of over 1 million and a significant university – as such it has the "mass" to support a pleasant café culture, restaurants etc.
After an evening and a morning in Morelia we moved on to nearby Patzcuaro – a more indigenous and atmospheric town with adobe walls, cobbled streets and red tiled roofs. It is the antithesis of Morelia's grandeur, rigidity and "Spanishness". However, this Michelin *** town (as opposed to Morelia's **) is not UNESCO-inscribed nor on its Tentative list. For a tourist visiting Mexico I would suggest that it is by far the more interesting and beautiful and I wonder why it is being ignored "World Heritage-wise" whilst Mexico gets so many of its more "Spanish" colonial cities inscribed?
---
Site Info
Full Name

Historic Centre of Morelia

Unesco ID

Country

Inscribed

Type

Cultural

Criteria

2

4

6

Categories

Link
Site Links
Unesco Website
Official Website
Related
Visitors
97 Community Members have visited.