Whale Sanctuary of El Vizcaino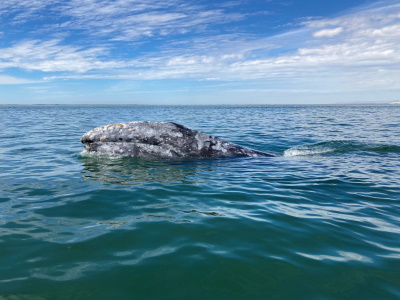 The Whale Sanctuary of El Vizcaino is a sanctuary for grey whales and other important species.
The Gray Whale is a whale that travels between feeding and breeding grounds yearly. A large population is travelling Pacific Ocean between the waters off Alaska and the Baja California.
In the fall, the California Gray Whale starts a 2-3 month, 8,000-11,000 km trip south along the west coast of the United States and Mexico. The animals travel in small groups. The destinations of the whales are the coastal waters of Baja California and the southern Gulf of California, where they breed and the young are born.
After several weeks, the return trip starts. This round trip of 16,000-22,000 km, at an average speed of 10 km/h, is believed to be the longest yearly migration of any mammal.
Map of Whale Sanctuary of El Vizcaino
Load map
Community Reviews
---
This is a site that I have visited 3 times, and, for animal lovers,  it does not disappoint.   I'm based in Southern California, so it's a long but do-able drive down the west side of Baja.  In 2017, we drove and enjoyed the incredible "super bloom" in the desert.   In March 2020, we flew from Los Angeles to Loreto, and were in the area precisely as the Covid Lockdown was occurring.  The lockdown altered the last few days of our trip only.   
Unfortunately, the Baja area can be challenging to find accommodations.   There are no chain hotels in the central area, such as San Ignacio, which is the most centrally located for whale watching.  There are some bigger places in Guerrero Negro that might be perfect for people driving down.    We booked a small house through hotels.com in San Ignacio.  Internet was very sketchy there and the accommodations are very basic.    Also it can be difficult to plan the boating trips in advance.   This can limit the pre-trip enthusiasm, because it's a long drive in from either the West or East Baja coast, and people prefer to know with certainty that they'll be getting on a boat once they get there.   Somehow, it's always worked out for us.  
It's a fairly long (30-45 minutes) drive to the dock from San Igancio, and about the same if  you're going to the Guerrero Negro sites.   The roads are dirt.  There's little or no traffic.   It's marked but not often.  
The boats, small "panga" fishing boats, hold about 8-12 passengers.   The boats leave from the dock twice a day.  Mornings are usually calmer.   Your captain may or may not speak English.  Many are Spanish speaking only.  There is no educational narrative.   You'll take the boat out of the docking area and into the deeper part of the bay.   If you go in the heart of calving season, and before they head north, there will be whales everywhere.   A fin here, tails there, spouts or breeching there.  Some will be very near the boat, some (most) off in the distance.  Your captain will try to get you close to as many whales as he can.    Ideally, you'll find some whales that are curious about the boat, and hang around or swim slowly nearby.   The very curious ones might come up and hang around the boat for a while... a few minutes to half an hour or more... and come up to have a close look at you.   It's incredible to look eye to eye with a whale that's come up to your boat to have a peek at you.   People will reach out and touch them if they get that close.   
For anyone interested in whales, it's a trip worth doing.  
---
In February 2011, I took the bus from Loreto to San Ignacio, where I spent two nights at Ignacio Springs (www.ignaciosprings.com) and visited the two nearby UNESCO World Heritage Sites. On my first full day, I traveled to San Ignacio Lagoon, the only undeveloped nursery and breeding ground of the Pacific gray whale and part of the Whale Sanctuary of El Vizcaino UNESCO World Heritage Site (http://www.kuyima.com). We spent nearly two hours on the lagoon, and saw dozens of gray whales, often several at one time, some within a few feet of the panga (boat). On my second day, I visited the El Palmarito Caves, part of the Rock Paintings of Sierra de San Francisco UNESCO World Heritage Site. The trip started with a two-hour drive, mostly through an unimproved wash bed, to Rancho Santa Marta, followed by a one-hour hike and 30-minute climb up a rocky incline to the stunning cave -- due to its remoteness and difficult access the cave is not as frequently visited as some of the more accessible caves in the region, and I was the only visitor at the cave. I ended my trip in Loreto, where I stayed at La Damiana Inn, built in the 1930s (www.ladamianainn.com).
---
This place is truly an off the beaten path treat! Although it is a bit difficult to reach, it can be easily seen along with The Rock art of San Francisco. This reserve is the winter home of more than 12,000 grey whales. They migrate here from the arctic ocean to give birth and enjoy the winter weather.
Vizcaino biosphere is best visited from Guerrero Negro, a small town about 450 miles south of San Diego in California. You can drive the entire distance on a good 2-lane highway.
The whales enter the salt lagoons in January and remain until Mid-March. The lagoons have a very high salt content (in fact, parts are a Japanese owned salt works that UNESCO worked hard to prevent expansion.) Females have their babies here because of a boost in floatation due to the saltiness. Entrance to the lagoons is strictly controlled but you can take a boat out into the lagoons for about 49 US dollars per person for 3 hours. Lots or tours are offered but you can just show up and join a small boat trip.
The boats quickly find the whales who are seemingly everywhere you look. They come right up to the boats and sometimes nudge them. The moms and babies swim together and you will assuredly see them jumping (breeching), diving, and generally playing.
There are about 7 or 8 modest hotels (don't expect much) and some great Mexican seafood restaurants in Guerrero Negro.
---
Site Info
Full Name

Whale Sanctuary of El Vizcaino

Unesco ID

Country

Inscribed

Type

Natural

Criteria

10

Categories

Link
Site History
1990

Deferred

Only a part might be of Universal Value -rest should be Biosphere reserve. Possible adding a cultural dimension to criteria??
Site Links
Unesco Website
Official Website
Related
In the News
Visitors
31 Community Members have visited.