Sinharaja Forest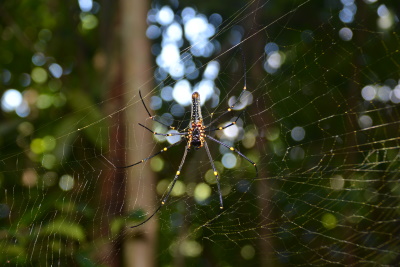 The Sinharaja Forest Reserve is a hilly virgin rainforest. It is a treasure trove of endemic species, including trees, insects, amphibians, reptiles, birds and mammals.
Because of the dense vegetation, wildlife is not easily seen here. The commonest larger mammal is the endemic Purple-faced Langur.
An interesting phenomenon is that birds tend to move in mixed feeding flocks, invariably led by the fearless Greater Racket-tailed Drongo and the noisy Orange-billed Babbler. Of Sri Lanka's 26 endemic birds, the 20 rainforest species all occur here, including the elusive Red-faced Malkoha, Green-billed Coucal and Sri Lanka Blue Magpie.
Community Reviews
---
Betty Gee
We arrived via two local buses and a tuk tuk from Deniyaya where we stayed at the comfortable but negotiably priced (we were quoted muchly on-line compared to non bookers)Rainforest Lodge. Local buses are around 60rps and tuk tuk was 400 but we still had a 2km walk on rutted muddy tracks to get to the ticket office which was unmanned. The entry fee was supposed to be 550rps each. We thought to pay at the information centre but 200m along the riverside track, we were held up literally by two hostile fellows abusing us for no paying and demanding we return to the ticket office which was now occupied by a self-righteous woman saying she just stepped out to the toilet and we should have waited. The guide from the Rest House near our accomodation back in Deniyaya threatened us with police action for breaking the law by entering a park without paying. We glady offered to pay and attempted a self-defence of no-one there to take our money but the abuse continued and they insisted we return and pay also for a guide for 1100rps additional to the 1100rps entry fee for two. We did not want the guide who spoke not a word of English nor did we feel the track to the information office was so hard to navigate we needed someone to take us there. We had no intention of going deeper into the forest to the waterfall. I had researched the park and there was little to see we had not seen elsewhere in greater splendour aka Mulu in Borneo and knew spotting endemic species would be hit and miss mostly miss (we saw same on village roads in any case including leeches). More monkeys and wildlife around the town than in parks. For tourists this is not worth the trouble getting here for what you see and have to put up with beaurocratically and terrible roads and rough paths. In any case, the entry points should be navigable by transport to conserve much needed energy in the heat to get deeper into the forest on foot.
---
Switzerland/Peru - 25-Nov-11 -
Sinharaja Rain Forest is possible to visit as a daytrip from Galle. We rented a motor bike for 8 USD. Alternatively you can get a car with driver for around 80 USD. Each way took about 3h (access via Deniaya). The road until Deniaya is good, but traffic in Sri Lanka is a challenge (Buses, Tuktuks, etc.). The road to the entrance is a real adventure, due to bad condition. But with a motor bike you can drive to the entrance and avoid the 2km walk. The forest itself is pleasant, but don't expect to see too many animals (in fact I think I saw more animals along the streets and in the cities) but at least some lizards, snakes and the occasional monkey should be possible. I am sure the inscription is justified, but as visitor I cannot distinguish the difference between Sinharaja and other rainforests (Mexico, Malaysia) I visited, that aren't on the list.
---
I thoroughly enjoyed my visit to Singharaja. We were lucky enough to be guided by Pal of the Singharaja Rest House. He turned out to be an excellent and highly knowledgeable guide that helped us get the most out of our visit.
---
Prabodha Elangasinha
I visited Sinharaja in April 2005, the rainy season had just started and as expected, we experienced a fair amount of leeches. We approached Sinharaja from the Ratnapura end, I think there are several areas where one can enter, and this was the region closest to us from where we were staying in Avissawella.
It took around an hour and a half to get there by road on a holiday, just one day before the Sinhala / Tamil New Year. I'm not sure how long it will take to reach there with traffic on a normal day. We arrived there around 8:30am after leaving our base in Gettahetha, Avissawella at around 7am.
All of us were Sri Lankans and the rate we have to pay to enter was lower than what a foreigner would have to pay. We paid for our tickets and picked up our guide and headed towards the entrance in our hired vehicle. The road leading up to the entrance was rather bad and it took a bit of time to get there as we had to travel at a slow pace avoiding all the potholes.
Upon entering Sinharaja, we hiked about 1 and a half kilometers and climbed about 350 meters to reach a mountain summit from where we could see all the surrounding hills and valleys, it was really a remarkable sight. I took my video camera along and recorded every aspect of our journey. It took us around 2 hours to get there and another 2 hours to descend. We were all quite exhausted but the guide didn't seem to even break a sweat. There were many leeches that latched themselves onto our shoes and socks along the way, and if your alert and check yourself every now and then will notice them before they can bite you. I managed to dust off several on our way up and basically managed to get back unscathed right until the very end of our journey, where I slacked a little, didn't pay attention and finally noticed one on my socks drinking away, right through it.
Basically it cost me about Rs. 275 to get permission to video tape my experience. It will cost double for foreigners. The van we hired cost about Rs. 30 per km and with the call up charge (Rs. 650) we had to pay since we ordered it through a friend in Colombo it cost us a total of around Rs. 6,000. The entrance ticket price was very low, around Rs. 30 for locals. The guide cost around Rs. 400 and we gave him a tip of around Rs. 500 as we really enjoyed our experience. Getting a pair of leech socks is a must if you want to prevent leech bites. Tuck your jeans or trousers into these and you're ready to go.
---
There is a category of WHS which, whilst being "important" in terms of the criteria leading to inscription, doesn't actually "repay" a great deal to those who go to see them and I have to place Sinharaja in that group.
At the best of times tropical "rain forests" require time and knowledge if they are to be fully appreciated. Insofar as they contain animals and birds these are usually rather difficult to see – the birds either creep around in the undergrowth or flutter in the canopy giving the observer a cricked neck! Such forests are located where the climate is hot and humid. Often the fact that they have survived is a result of their being sited precipitously or remotely. They are not "comfortable" places to visit! I have been "lucky" enough to visit such forests in the Americas, Africa and Asia. Unfortunately for me Sinharaja added little to the experiences already gained and did not really repay the time and effort even though I have no doubt about its significance in terms of being a threatened and unique ecosystem.
If you are in Sri Lanka and have not previously visited such a forest then it could be "worth a visit" but the logistics of getting there are not really suited for a "quick visit"! It will probably take you at least an overnight and a morning even to get inside it. Most people prepared to overcome the difficulties are likely to have more specific Flora/Fauna requirements than a general interest in seeing a "tropical humid rainforest of the Indo-Malayan realm" and will be prepared to stay a couple of days to really get to grips with the forest ecology and/or see the endemic Bird species for which the park is noted (18 out of Sri Lanka's 20 have been recorded there).
There are 2 main entrance points to this park which is set astride a mountain ridge – from the north or south (there are no roads "across" the park and all access is on foot). Neither entrance is convenient for a quick visit however
a. The Northern at Kudawa. The surfaced road ends some kilometres away at Waddagala and you are likely to need to pay for a 4WD or face a long walk in. There is a rest house still 4kms outside the park or a research centre inside the boundaries
b. The Southern at Mederatpitiya. We took this entrance. The surfaced road goes closer but is still 16kms on from the nearest "bus-head" at Deniyaya (where the nearest rest house is located) and there is still a c2km walk to the ticket office from the road head. On the basis of our experience and reports of birdwatching visits which I have read there seems no doubt that the northern entrance is the better for seeing the endemic species.
The park is less costly to visit than many of the Sri Lankan Parks and WHS. – As of Mar 2005 a mere $6 pp plus the need to hire a compulsory guide either at the ticket office ($3 for 1-3 persons plus the ubiquitous "tip") or via your hotel outside the park (more expensive but probably better attuned to explaining the sights in English). In order to see the birds we arrived at the entrance by 6.30 (already a bit late really) from our hotel over 40kms away. We had our guide with us but found the entrance unmanned and paid on the way out. I presume we could have entered without a guide but don't know if we would have had to pay for 1 anyway. In any case a guide is really essential to appreciate the place – and to reach the most likely bird spots.
The forest is wet – you will see leeches and could even have the chance to experience donating blood to them! Beyond this, in a few hours hot walking (we gave the park a morning until 11.30 am by which time it is really too hot anyway), you will probably see a variety of insects, some snakes, the occasional mammal – most likely the giant squirrel (forget the Leopard!) and a few birds – plus lots of trees/plants. There are waterfalls and these require muddy climbs but otherwise "scenery" is not really "on the menu" among all the trees!
---
Site Info
Site History
1987

Deferred

Sri Lanka to pass better protection legislation
1982

Deferred

At Bureau - Needs better protection
Site Links
Unesco Website
Official Website
Related
In the News
Visitors
81 Community Members have visited.