Keoladeo National Park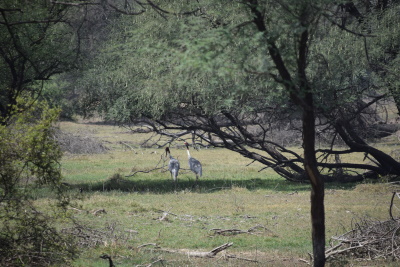 Keoladeo National Park is famous for its (water)birds. 375 species can be found here, among them the rare Siberian crane.
The park is an important wintering place for birds from colder countries in the North, like Siberia and China.
During colonial times, the area was used as a duck hunting ground. Since 1981 it is a national park.
Keoladeo Park is situated in the town of Bharatpur, 55 kilometers from Agra. It is best visited during the monsoon, when the park comes alive and the birds start courting and nesting.
Community Reviews
---
When you hunt for WHS there are sites you pick up along the road, but that you didn't really plan for. Keoladeo and nearby Fatipur Sikri to a lesser extent were such sites for me.
The principal town of the area, Agra, featured high on my travel bucked list for India: As every other tourist to India, I wanted to see the Taj Mahal. With this fix point set it followed that I should also visit the sites of the area, including a national park renown for birds.
Now, I am not much of a birder, rather the opposite. And India tends to be highly settled with very little original nature left. In this case even more so, as the wetland that forms the national park is an artificial creation by the English to attract birds for... hunting. So what to make of this national park?
The hunting is over, but the birds still stop here during their migration to and from the Himalayas. And plenty of birds there were. All trees were lined with them. Add to this that the national park was covered in fog, so my visit had a mystic quality to it. Personally, I enjoyed Keoladeo more than the Taj. But dont' listen to me.
As a final, sad note, I have to state that the park is in danger. The water feeding the wetland is scarce and it may dry up. In addition, on my walk I found several protected areas that were subject to logging activities.
Getting There
I stayed in Agra and visited both Keoladeo and Fatipur Sikri as a day trip. In the morning I took a bus to Bharatpur for Keoladeo. In Keoladeo I managed everything on foot. Alternative would have been to take a rikscha, but I think visiting on foot was nice.
After my visit, I caught another bus back to Agra. I got off at the junction for Fatepur Sikri and walked to the site.
While You Are There
While Agra is a miserable place, the area has four WHS, the most popular being the Taj Mahal. From Agra you can travel to Jaipur or Delhi by train.
---
I visited this WHS in January 2012. This sanctuary is a birdwatcher's paradise. I spotted several birds such as rollers, kingfishers, herons, treepies, owls, barbets, babblers, crested serpent eagles, painted stork, etc. I was also lucky to see hyaenas, marsh deer, nilgai, grass snakes, etc. A real nature haven!
---
Malcolm Lewis
A wonderful relaxing place to visit on the Agra / Fattpur Sikri road. Stop off, bring your binoculars, and see the wonderful variety of birdlife in the quiet enviorns of the park. The park is a manageable size, and any but the most avid birder (they prefer that name rather than twitcher) will have seen their fill in a few hours. The wetalnds and the tree lined paths can make this a cooler respite from the heat of travellign around Rajastan.
---
sandeep
Well the visit to the Keoladeo Bird Sanctuary was the most exciting event that had happened to my life in the recent past. the spottings were numerous and i even saw a live python at an arms lenght.This park has got so many fragile ecosystems which are at peril b'cos of the lack of water in the wetlands. Hope at least this monsoons would be kind to this bird paradise.
---
Site Info
Site Links
Unesco Website
Official Website
In the News
Drought-ridden Indian bird park loses its birds: Years of poor monsoon rains have left most of this World Heritage site near Bharatpur in the desert state of Rajasthan dry and cracked, while local farmers insist on getting most of what little rain water is dammed to irrigate their fields.This has forced most of the thousands of migratory birds that would once spectacularly descend on Keoladeo every year for the winter to make alternative arrangements elsewhere. (2007.02.26)
Visitors
104 Community Members have visited.