Altamira Cave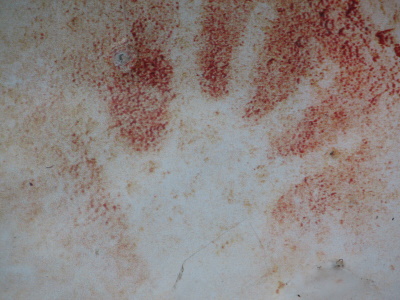 The 'Cave of Altamira and Paleolithic Cave Art of Northern Spain' feature drawings and polychrome rock paintings of wild mammals and human hands.
The site consists of the famous Altamira Cave, with its Chamber of the paintings ('Sistine Chapel of Prehistory'), and 17 other caves in Northern Spain.
During the 1960s and 1970s, the paintings in the Altamira Cave were being damaged by the damp breath of large numbers of visitors. Altamira was completely closed to the public in 1977, and reopened to limited access in 1982. Very few visitors were allowed in per day, resulting in a three-year waiting list. At the present time, a study is being made of the conservation conditions inside the Cave of Altamira, so it is NOT possible to visit it. A replica cave and museum were built nearby.
Map of Altamira Cave
Legend
Visit August 2009
When I first became aware that there exists such a thing as 'World Heritage', the Altamira Cave rose quickly to the very top on my list to visit. Such a magnificent, but also exclusive, site. You had to pre-book a visit 3 years before! One day I'll go there, I thought. I'll just reserve a spot, and travel there to see this work of art. But what happened? The cave got closed to the general public entirely in 2001!
Years and years (and many WHS) later, I stayed for a couple of days in Llanes, a town close enough for a trip to Altamira. One can visit only a replica nowadays, and since 2008 other palaeolithic caves in the area have been added to this particular WHS. So the Altimara Cave isn't so unique anymore. However I noticed at the official Altamira website that it is even possible / recommended to pre-book your visit to the replica cave too!
On a Saturday in August, I decided to take my chances and just show up. I arrived at 9.50, early enough to beat most of the Spanish who don't seem to get going before 11 a.m. Buying a ticket was no problem then. Entrance to the museum is free, and you pay 3 EUR for visiting the replica cave. You're only allowed into this what they call 'New Cave' at a fixed timeslot, in groups of about 40-50 in a 10 minute interval. They do build up the expectations with a large door that opens up and a video. But what a disappointment the rest is! It is fake and it looks like it. The famous Chamber of the paintings has been reduced to a corner in a museum setting. I seriously thought that the 'replica cave' still had to come, when I saw the Salida (Exit) sign.
To wash away the dirty taste, I decided to go and visit another cave in the inscribed area. A lot of the others are either closed to the public too, or have strict limits on visitor numbers so you'll have to pre-book or be early. I had done some research beforehand, and had decided upon El Castillo which didn't appear to have these limitations. The El Castillo cave system is located just outside Puente Viesgo (20 min from Altamira).
And fortunately: Yes, this is a cave as it ought to be. The interior is cold, dark and slippery. It is quite a large cave system and dripstone has formed abundantly. For 3 EUR you get a 45 minute tour by a guide in a small group of about 15 people. The guide points out the paintings with a light. Bisons in various sizes and postures. Symbols. And hands, lots of hands. I thought these only existed in the Cueva de los Manos in Argentina but they are quite common among palaeolithic cave paintings. I'm glad I got to see those.
P.S.: I'd love to read a review of this WHS by someone who has been into the "real" Altamira cave (before 2001)!
Community Reviews
---
---
---
---
---
---
---
---
Community Rating
Community Rating 3.65. Based on 10 votes.
Your Rating
Site Info
Full name: Cave of Altamira and Paleolithic Cave Art of Northern Spain
Unesco ID: 310
Inscribed: 1985
Type: Cultural
Criteria: 1 3
Site History
2008 - Extended

To include seventeen decorated caves of the Paleolithic age

1985 - Inscribed
Site Links
Unesco Website
Official Website
Related
In the News
Locations
The site has 18 locations. Show all
Connections
The site has 15 connections. Show all
Visitors
97 community members have visited Altamira Cave. Show all