Rio Platano Biosphere Reserve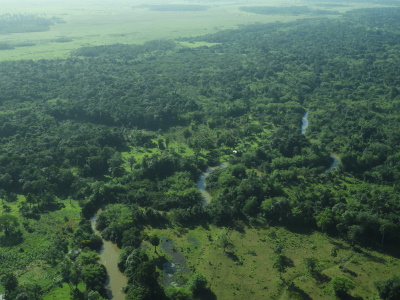 The Río Plátano Biosphere Reserve encompasses both mountainous and lowland tropical rainforest, full of diverse wildlife and plant life.
Endangered animals like the Giant Anteater, Ocelot and Jaguar can be found here.
The Reserve is located on the Río Plátano in the La Mosquitia region on the Caribbean coast of Honduras. Miskito and Paya Indians still live in the forests. They are responsible for stone inscriptions and petroglyphs.
Map of Rio Platano Biosphere Reserve
Load map
Community Reviews
---
Robert Hyman
Paradise in Peril Film Description
The Río Platáno Biosphere Reserve, Honduras – home to the highest level of tropical biodiversity in Central America, homeland of the Pech and Miskito Indians, and keeper of hundreds of unexplored archeological sites – is in danger. Non-indians are invading the Reserve from all sides, poaching endangered wildlife and fish, slashing and burning ancient forests to sow pastures, and forcing indigenous inhabitants off their ancestral lands. Paradise in Peril follows an expedition organized to document the destruction of this UNESCO World Heritage Site and collect testimony from the native peoples who rely on the Río Platáno for survival. Fewer than 400 individuals have ever completed this strenuous expedition from the rivers headwaters to the Miskito coast of Honduras.
Please go to http://skyshipfilms.com/paradise-in-peril or http://vimeo.com/skyshipfilms/paradise-in-peril to see this short documentary. Note: this film was shot in High Definition and should be watched on a computer with a high speed connection for best results. You may also see a short clip on You Tube at http://www.youtube.com/watch?v=cF0-TbOXjsI
Thanks, Robert E. Hyman
---
Robert Hyman
Washington, DC USA - 30-Mar-11 -
I have just returned from my second complete descent of the Rio Platano from the headwaters to the coast. This time i brought along a great cinematographer to capture on film what is really going on in this remote and beautiful place. We are going to produce some footage that shows the uncontrolled invasion of the reserve by settlers and cattle ranchers. Poaching of animals and clear cutting the forest is having a dramatic effect on the local population that is being threatened off their traditional lands.
Robert The Explorer
---
Robert Hyman
Washington, DC USA - 16-Jan-11 -
Hi everyone, I did a 10 day complete raft descent of the Rio Platano in April of 2010 with a guided group. I am a world explorer and this supposedly protected Biosphere Reserve is an amazing experience to say the least! However, to our dismay we witnessed and found evidence of uncontrolled encroachment! Illegal fishing camps harvesting and salting thousands of fish to be taken out bu horse to be sold. Clear cutting slash and burn of flat areas for cattle and remains of animals killed poachers. Our group of concerned scientists and conservationists is trying to bring attention to this "Paradise in Peril". We are advocating for more protection of this wonderful place. Thanks for the forum to reach out. Robert
---
Jakey
The Rio Platano Biosphere Reserve has become my favorite natural (and one of my favorite cultural) areas in all of Central America, surpassing that of more known countries, in particular Costa Rica.
The deep parts of the reserve are amazing untouched, and even where there are larger groups of indigenous people, there hasn't been too much deforestation. The wildlife was amazing (I saw 2 tapir, howler monkeys, spider monkeys, sloths, tree anteaters, white-faced monkeys, an ocelot, jaguarundi, crocodiles and caimans, several snakes and lizards, insects, and encountered several fresh jaguar tracks).
The indigenous culture (Miskito, Pech, and Garifuna) is also amazing. It's expensive to explore the reserve, but it's a priceless experience.
---
Site Info
Site History
2011

In Danger

threatened by illegal activities
2007

Removed from Danger list

Significant progress
1996

In Danger

agricultural intrusion and the implementation of land reform programmes
Site Links
Unesco Website
Official Website
Related
In the News
Visitors
11 Community Members have visited.