Cyrene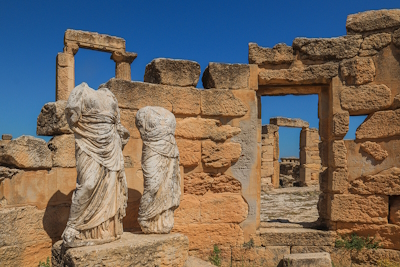 The Archaeological Site of Cyrene represents a Greek colony that was one of the principal cities in the Hellenic world.
It was founded in 630 BC by Greeks from Thera (Santorini). From 74 B.C. it went on to prosper as a Roman province.
The site comprises of: the sanctuary of Apollo, the Acropolis, and the Agora. There are also other ruins, such as a partially unexcavated Temple to Zeus and a large necropolis approximately 10 km between Cyrene and its ancient port of Apollonia.
The rediscovery of its ruins in 1705-1706 has been very influential on the development of Neoclassicism.
Community Reviews
---
If you are really keen on ruins then your trip to Libya should include the long journey along the coast from the province of Tripolitania to that of Cyrenaica. There you will have left the ruins of Roman cities behind and moved into the territory of Greek ones! (Incidentally when Libya became an independent country after a period of UN trusteeship following WWII, serious consideration was given to these 2 provinces being made separate countries – they really are a long way apart with nothing much between them)
Although only the ancient Greek city of Cyrene has been inscribed by UNESCO it exists as a pair with Apollonia, its port situated some 15 kms away down from the hills (though that is certainly less interesting or impressive). Its hillside location helps give Cyrene a very pleasant situation. It is spread out over several levels and a walk down from the top gives attractive views both of what you are about to see and all the way down to the sea. You can read guide books on the details of the sights – it is very spread out and you could spend a long time wandering. The attached photo is of the "Forum of Proculus". Looking back on it, our visit to Cyrene was perhaps carried out in a spirit of "travel duty" without any great enthusiasm or wonderful memories having been generated! It is an important and "world famous" site which one feels one ought to visit. In all honesty however it is the never ending roadside pictures of Gaddafi as General, as Arab Chieftan, as "Father" of the Children of Libya, as conceiver of the "Great Man Made River" …… etc etc etc which I remember most from our stay in the nearby town of Al-Bayda and our drives around the Jebel Akhdar!! Oh, and an interesting little nearby Byzantine church at Gasr Libya with a magnificent set of 42 6th century mosaics (no photography allowed unfortunately). You will have to make your own decision on how much you want to see Cyrene!
---
Site Info
Full Name

Archaeological Site of Cyrene

Unesco ID

Country

Inscribed

Type

Cultural

Criteria

2

3

6

Categories

Link
Site History
2016

In Danger

Simultaneously with the four other World Heritage sites of Libya "because of damage caused by the conflict affecting the country and the threat of further damage it poses".
Site Links
Unesco Website
Official Website
Related
In the News
Visitors
21 Community Members have visited.