Speyer Cathedral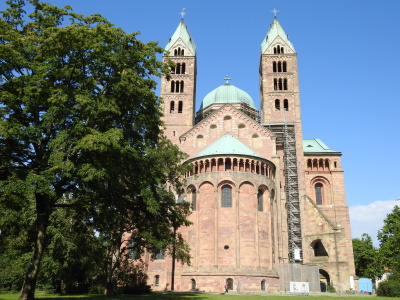 Speyer Cathedral is one of the most important Romanesque monuments from the time of the Holy Roman Empire.
The cathedral (Dom in German) was inaugurated in 1061. Thirty years before, Emperor Koenraad II gave the order to build it. He wanted to honor a city of his choice with the biggest church of its time. This way Speyer was given the prestige of a real Royal Residence.
In 1689 the cathedral was almost totally destructed. Until today renovations are under way to save the building and reconstruct the interior in the original Romanesque style. Its architecture is a combination of eastern and western influences. The total length of the building is 134 meters, the highest point is 72 meters.
The Crypt is still the original, and harbors the graves of no less than 8 medieval German emperors and kings. They were buried there between 1039 and 1309. It includes also the grave of Emperor Koenraad II, who had to be buried elsewhere the first 2 years after he had died because the crypt was not yet finished at the time of his death.
Visit March 2000
3.0
The stones of the Cathedral in Speyer have very striking colors: yellowish and several kinds of red. This, and the extraordinary shape of the building, make it a remarkable sight.
The underground part of the cathedral is also worth visiting. There are the graves of Emperor Koenraad II and lots of other medieval Kings and Queens. You would not expect all this in a small German town, but it is really special.
---
---
---
---
---
---
---
---
---
---
---
---
---
---
---
---
Site Info
Site Links
Unesco Website
Official Website
Related
Visitors
290 Community Members have visited.