Himā Cultural area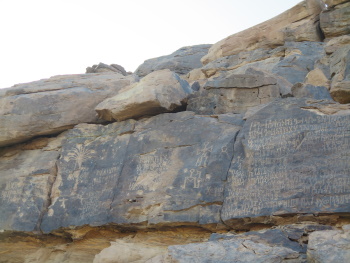 Ḥimā Cultural area comprises 6 collections of rock art in an arid area.
The Hima wells were on the ancient caravan trade routes and carvings on its rocks provide a record of those who passed the time here. The engravings include human figures, animals and texts in different languages. The oldest are said to date back to 7,000 years ago.
Community Reviews
---
2.50 Chinese-Canadian - 27-Sep-19 -
It is hard to figure out where these rock art sites really are. The only place I found was the Hima wells area and nearby the well was one, fenced off, with a sign stating tourist visits should be arranged with some phone number. Well, too bad. I noticed there is an opening to the right of that place and it was clearly used by others before. Not much climbing required. I don't want to promote breaking rules, especially in the KSA where you can get into deeeeeeep problems for doing this, but it is the only easy way to actually see them close up. Okay so you don't need to break the law if you have binoculars or a zoom lens. What I saw wasn't impressive either and there are a staggering 7 "similar sites" listed on the document alone, showing not just me that there are enough of rock arts like this. Sure, it's not the same, yes, it does show there was someone here before and lived in the area - but, hello, that's not enough for me looking at the site.
So I did some checking online and the rock art could potentially be impressive if it's open for us to visit. The Mediterranean rock art is open to visit while still being fenced off so we should be able to look at it without a 60m barrier around it that also protects sand. There is a lot of pre-Islamic rock art in the country and I couldn't pinpoint which pictures match to the Najran area. Sad really but I have to give it thumbs down. I really liked the rock art in the north of the country.
---
Site Info
Full Name

Ḥimā Cultural Area

Unesco ID

Country

Inscribed

Type

Cultural

Criteria

3

Categories

Link
Site History
2021

Name change

Upon inscription, on suggestion by ICOMOS: from "Cultural Rock Arts in Himã Najrãn " to "Ḥimā Cultural area"
2021

Advisory Body overruled

From Referral to Inscription
Visitors
14 Community Members have visited.