Mozu-Furuichi Kofungun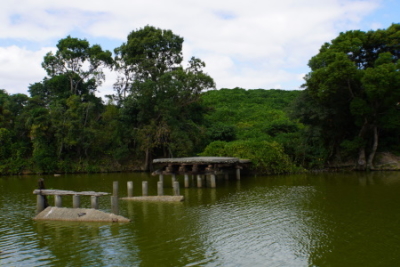 The Mozu-Furuichi Kofun Group comprises 49 distinctive, often keyhole-shaped earthen burial mounds.
They were the stage for funerary rituals of kings and can be up to 500m in length. The kofun date from the late 4th and early 5th century.
Community Reviews
---
Japan / USA / Poland - 15-Jun-17 -
In 2014 I visited the centerpiece of this nomination, the Daisen Kofun, which is considered to be the grave of Emperor Nintoku and is the single largest grave in the world by area.
It is so large that the best way to view it is perhaps to take off or land at the Kansai (Osaka) International Airport.
The photo shows the Shinto Torii Gate in the middle, behind which lies the widest of the three moats that surround the all important keyhole-shaped grave.
I believe it'll be surprising if this site gets a go at getting on the WH list, simply because, no matter what the nomination dossier says, nobody is certain that the Daisen Kofun is really the grave for the Emperor. This absurdity comes from the fact that the belief that the grave belongs to an Emperor means it is managed by the Imperial Household Agency, an ultra conservative entity that wouldn't allow anyone to visit such a holy site, let alone to dig it, resulting in the uncertainty. (Remember that the Japanese Imperial Family is considered to be the descendants of Amaterasu, the Sun Goddess, in the Japanese mythology.) I was told by a man who managed this property on site that the Ministry of Culture, which takes care of the World Cultural Heritage in Japan, had been unsuccessfully battling it out with the Imperial Household Agency, which takes care of the past and present living deity!
But this nomination is not just about the Daisen Kofun, but about the whole group. Numbers count.
Read more from Tsunami here.
---
Site Info
Site Links
Unesco Website
In the News
Visitors
23 Community Members have visited.