Old City of Jerusalem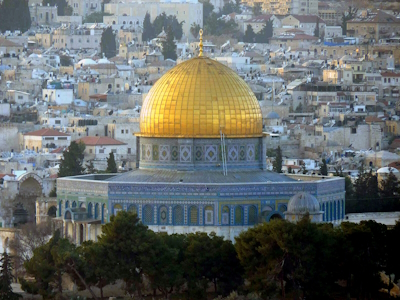 The Old City of Jerusalem and its Walls has high religious value as a holy city for Judaism, Christianity and Islam.
The UNESCO needed an extraordinary session to discuss this entry. The proposal to put Jerusalem on the list was made by Jordan (Israel was no member at the time), and the accompanying letter claimed that Jordan is not using this Committee or your deliberations as a vehicle for political claims. Jordan wanted Jerusalem on the list for the value that Jerusalem represents for the three religions of Judaism, Christianity and Islam.
Old quarters and city walls is a general description for 226 monuments from all 3 major religions. Most important monument for the Jews is the Western Wall, for the Christians it is the Church of the Holy Sepulchre and for the Muslims the Dome of the Rock.
In 1982, the site was put on the List of Worldheritages in Danger. Besides political and religious violence, the site is also threatened by the rapid urbanization of its surroundings and the daily visits of masses of tourists.
Visit August 2000
4.5
All was relatively quiet then, that week in August when I visited this magnificent site. Highlights were the Dome of the Rock, the Armenian quarter including St. James Cathedral and the weird Church of the Holy Sepulchre.
The hundreds of bigger and smaller historical and religious remains are piled up in an area with a size of only 1 square km. That means that sometimes you have to look very well for something your travelguide names as a top attraction. And maybe you discover something much more beautiful on your way ...
Community Reviews
---
O Jerusalem -- a city revered and fought over through the centuries by armies from three faiths, and which struggles today to find peace and stability amongst its diverse residents. This is a holy city, a city of pilgrimage, and it was one I had longed to visit since I was young. I finally had my opportunity in February 2015, and it was all I hoped it would be. As I think back on it now, I remember Jerusalem in a series of vignettes. An Orthodox Jew with a long grey beard praying as he walked down a narrow staircase in the Old City. Two older Arab men playing chess in front of the Dome of the Rock, ignoring background vocal protests. Crowds of pilgrims lined up inside the Church of the Holy Sepulchre, a building maintained by several denominations. Israeli soldiers carrying supplies out through the Zion Gate. The views of the old city from the Mount of Olives after a storm. The quiet, reflective sites of the Garden of Gethsemane and the Garden Tomb, the latter frequented by Protestants. The lively underground markets in the well-preserved Roman Cardo. The well-secured and sobering Wailing Wall. There is so much to see in Jerusalem, and I wish I'd had more than two days, but I am glad for the time I had, and would love to return.
Logistics: The Old City of Jerusalem is easy to walk around; however, there are security checkpoints, and some sites may temporarily close depending on current events.
---
Dr Michael Kirche
Sydney Australia - 02-Nov-13 -
I have lived there when there wher no roads and many buildings that are there in this beautiful city where not there, i was back there this year from 10th Sept 2013 to 10 Oct 2013 and today it is a thriving city with so much to see and do, it makes you proud to be a Jew when you visit your routes, as i said i have beenthere many times and it never ceases to thrill me.
Would recommend the night life there especially Darna Restaurant and Ben Yahuda Street on a Saturday night. you will love it.
---
So many historical and religious sites to visit but my thoughts and prayers went to those who are really suffering because of the disgraceful concrete walls in the West Bank and Gaza Strip. I promised myself I won't be visiting these WHS again before these wall are demolished once and for all.
---
Jerusalem is too damn holy for it's own good. I'm not saying everyone who lives there is nuts, that's obviously not the case, but it just seems that way. But then, I mostly hung out with tourists. They're definitely nuts.
When I was last there a short time ago, I stayed in a youth hostel near the Jaffa Gate, and the first person I met after the people at the reception desk was a guy who claimed to be Jesus Christ. I later learned that he wasn't the first guest that month to have made that claim. But one has to expect that sort of thing.
It's called "Jerusalem syndrome." You think you're God, or Jesus or Moses or angels are telling you to convert the Catholics to Christianity or something like that.
There are two Jerusalems: the first is the capitol of Israel. This isn't a particularly interesting place. Some decent bars and restaurants, and aside from the big museums, there's nothing really there, but then for the most part nobody goes to see this Jerusalem, there's no reason to unless you're a lobbyist or a film fan. Everybody comes to see the other one, that place where religion lives. Holyland-land.
Holyland-land, or more properly, the Old City is not really a city at all, but a tiny walled village about one kilometer square. Going all the way around the city walls will take no more than half an hour at most, and within one will find just souvenir shops, churches and synagogues…. and those two huge and decorous mosques that denominate everything.
Had Jesus been French all these people would be in Paris. But no, Jesus was Jewish and this is Holyland-land, where all things religious took place thousands of years ago, even though you can still feel it. That's what drives people mad. Why only the other day a bunch of monks got into a fistfight in the Church of the Holy Sepulcher, Each wanted a better place in a procession. Some things will never change.
---
Kenneth B Jackson
I visited and indeed lived and worked in Israel off and on between 1996 and 2000. The one thing I have always recommended to those going to Israel is to spend a few days walking around the Old City. Take in the smells, sights and sounds as you wander around, particularly the busy Arab Quarter. One one of caution and it's a personal view but the "rejuvenated" Jewish quarter has, in my opinion, lost much of its character and is far too sanitised in comparison with the other parts.
---
Scarlett Hayes
I have been to Israel 2 times and i love the country
and especially the Old City. I would invite anyone to
go there....its a wonderful experience to visit there.
and to visit with the people, very kind and helpful..
The only plane i would travel there would be from
New York to Israel would be El El.........its the safest
and they check everything and make sure everyone is safe
if i would go again , and again....someday i would love
to live there......wonderful and beautiful City. AMEN!
---
The Old City of Jerusalem is truly exceptional, not only for its history and architecture, but also (and for me mainly) for its unique mixture of people incomparable to anywhere elso in the world. Numerous Jewish, Christian and Muslim groups have their share in Jerusalem. The number of languages you hear on the street is puzzling (exclduing those spoken by tourists). Among the tradtional inhabitants are Palestinians, Jews, Gypsies, African Muslims from Sudan and Chad, Armenians and Greeks.
Visiting Jerusalem is not a simple matter since many of its attractions are hidden and not well adopted for tourism.
An interesting fact about Jerusalem's sacral monuments is that most of them are surprisingly quite new. Within its walls there are as far as I know only four old mosques (Al Aqsa, Dome of the Rock, Umar and the Tankasiyya Madrasa), four old churches (The Holy Sepulcher, Armenian Cathedral, Syriac church and St. Anna) and two old synagogues (Ramban and Karaite Synagogue). The rest is mostly from the time 1850-1930, which is remarkable for such an old city. All of these sacral buidlings are possible to visit with the exception of Umar. Many of the secular houses, however, are much older (a fine example is the Tunshuq Palace).
The Armenian Cathedral has very limited visiting times (15-15.30 daily). In order to enter the Ramban synagogue you more or less need to pretend you are about to pray there but then you can just take a fast glimpse of the building and disappear. Nearby you can find the Hurva Synagogue which is now being restored. At St Anna Church you can also visit some Roman archaeological excavations just outside the church. Not all of the above mentioned sacral monuments are found on the official maps so try to find out ahead where you would like to go.
There are several interesting archaeological museums and sites in the old city most of which situated in the Jewish Quarter or around it and are closed on Saturdays: the Burnt House (only with a guide - come till 1600), Wohl Museum - Herodian Quarter (until 1600 too), the Western Wall Tunnels (reservation required), City of David - Siluan, Davidson Archaeological Park (the Ophel) - Robinson's Arch, the Cardo (always open), the Israelite Tower (now under reconstruction), The Tower of David and the remains of Jerusalem from the time of the First Temple (always open). Just outside the old city be sure to visit the Rockefeller Museum, Zidkiya Cave and the Tomb of the Kings (in possession of France - reservation required). The Khadiyya Library is unfortunately closed for visitors at the moment but will probably be reopened next year. The historical markets are impressive (the Cotton Market and Muristan are among the most beautiful ones). Don't miss them. Some interesting monuments are located on the slopes of Mount of Olives (Kidron Valley) including Yad Avshalom and Rehabam's Tomb which is exceptionally beautiful. They are well worth a visit.
Jerusalem is known for its political tentions so make sure you look like tourists when visiting the city. Don't hang around on your own in the darkness or in small isolated alleys with noone around you. Don't go where policemen tell you not to go.
The centre of Arab Jerusalem is just outside the Damascus Gate. For the centre of Jewish Jerusalem go to Nahlat Shivaa. Don't miss the Chagall Windows at the Ein Karem Hospital, the Knesset, Yad VaShem Holocaust Memorial Museum and Israel Museum with the Shrine of the Book where th Dead Sea Scrolls are exhibited. Most monasteries in Jerusalem are not open to visitors. The Monastery of the Cross which was built by the Georgians in the Middle Ages is an exception and it feauteres some nice murals.
---
Jerusalem is amazing. superb, fantastic, incredible. none of these words accurately describe just how great Jerusalem is. one of the most important cities on the planet (holy to three religions), Jerusalem is also 3500 years old. the walls that currently encircle Jerusalem were built in the time of the ottoman turks; however, there has been a wall around Jerusalem since it began. as well as the old city; which is a maze of narrow alleys, with overhead arches, and old beautifully, stone buildings mostly in , what i believe is, Romanesque and Islamic styles, there are a wealth of archaeological sites around Jerusalem's old city. i visited the city of David, one of the oldest parts of the Jerusalem. this is a great archaeological site, and very interesting, it where King David built his city, 3000 years ago. pillars, houses, stairs; are the remains which one will find here.
although many people consider Jerusalem unsafe due to terrorists, as long as you don't take the bus, you will probably be fine. The terrorists generally don't target tourists.
in conclusion Jerusalem is worth a journey of a thousand miles, or more. it is the greatest site in Israel, and an absolute, no excuses, must see when you are in that country.
NOTE: i recommend the bagels and spice that are sold everywhere by street vendors it Jerusalem. they area very tasty snack.
---
The magnificent Jerusalem - for many years the centre point of the world, and for many people it still is. As a town, equally important for the Christians, Muslims and Jews it is actually a miracle that it still stands, despite its history of destruction and violence and different leaderships throughout its history.
To those just remotely interested in history and religion it must be mine and any other traveller's strongest recommendation to take your time with this city. Allow at least a week to visit the different parts of the old town - the Christian, Jewish and Muslim areas as well as the neighbouring areas, Mount Zion and Mount of Olives as well as the modern town of Jerusalem. There is so much to see and one must also allow time to just wonder around the Old Town with it's bazaars, shops, cafés and restaurants.
It its also worth mentioning that the layout of Jerusalem is not a walk in the park. There are many steep hills and ups and downs so a taxi could sometimes come in handy if you need to cross over one of the many valleys.
Jerusalem was a true experience, maybe only comparable to Rome or any other major historic city that provides you with a piece of world history at any corner you turn…
---
The Old City of Jerusalem holds special memories for me – not for religious reasons but as my first non European/N American travel destination as long ago as 1964. Those with long memories or knowledge of history will remember that the city was "part" of Jordan in those pre "6 Day War" days. I had crossed the Med on a Turkish passenger boat from Naples to Beirut, hitched to Jerusalem via Damascus and would hitch back all the way home to the UK via Turkey - a "travel apprenticeship"!
My diary lists a few "important" (semi!) Arabic phrases like "La Feloose" ("No money")! It also contains a few scribbled names and addresses from Arab "friends" made along the way – I wonder how the troubles of the intervening years have treated them? The diary notes a trip up to the Temple Mount and also a visit to the Mandelbaum Gate – the only crossing between the 2 parts of the divided city and that only for UN officials, diplomats and certain "1 way only" transfers.
My second visit was in 1982 – this time I approached from Tel Aviv. The Mandelbaum Gate was no more – totally demolished as the hated symbol of a previously divided city. Significant parts of the old city (i.e. people's houses) had been cleared to open up the Wailing Wall. Yet again I visited the Temple Mount. Perhaps 1982 was a relatively relaxed time to visit as I remember no great issues of security other than those to get on an El Al plane.
Those 41 years cannot be said to have treated the region kindly. I take no sides on the matters and remember friendliness from all I met, whether the site was in Israel or Jordan. But I have no wish to return for a third visit. Partly I suppose for personal security reasons but also because there just seems too much hatred around now and even visiting the Temple Mount is tied up with bureaucracy and security. Indeed I wonder if some religious sites are just too "potent" to be inscribed as WHS (viz the current disputes in India over inscription of the Golden Temple in Amritsar).
---
I visited at a time of relative peace, though security was high and we happened to leave the West Bank the same night as the Israeli army. Regardless, Jerusalem reflects its cultural and religious history in every building, and whatever your persuasion, its hard avoid feeling a chill or two as you regard the sights seen by Abraham, David, and Jesus himself. Take out the technology and you'll almost feel like you could bump into any one of them in the narrow streets and charming bazaars.
---
Site Info
Full Name

Old City of Jerusalem and its Walls (Site proposed by Jordan)

Unesco ID

Country

Inscribed

Type

Cultural

Criteria

2

3

6

Categories

Link
Site History
2007

Reinforced Monitoring
1982

In Danger

severe destruction followed by a rapid urbanization
1980

Deferred

Committee decided a speical approach was needed
Visitors
334 Community Members have visited.