Xinjiang Tianshan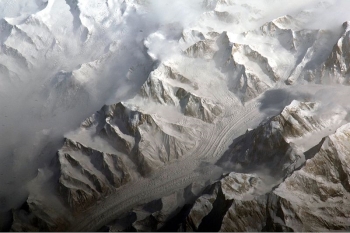 Xinjiang Tianshan is a mountain range that holds glaciers, snowcapped peaks, alpine meadows, lakes and canyons.
These mountains are in stark contrast with the surrounding six deserts, of which part of the Taklamakan Desert is within the WH area borders.
This site covers the Chinese part of the Tianshan mountains, which extend into Kazakhstan, Uzbekistan and Kyrgyzstan. Tomur is its highest peak at 7,443m.
The site has 4 components:
Tomur
Kalajun-Kuerderning
Bayinbuluke
Bogda
Community Reviews
---
2.50 Chinese-Canadian - 06-Dec-21 -
Tianshan is a huge mountain range stretching across Xinjiang. You cannot miss it when you visit the main areas around Urumqi, Tulpan and Hami. The mountain range brings water to these towns, a la oasis, for the famous Hami Melons, super juicy grapes and whatever Urumqi has - because that's the least interesting of all towns in all of Xinjiang. Basically Urumqi exists because it's got the water supply and is this whole hub where people go to find jobs, snowball effects kick in and suddenly you have a huge city. But anyhow, while not related to much to the mountains these all wouldn't exit if not for the water they supply.
The northwestern areas of Tianshan are pretty hard to reach on your own. Seeing that foreigners, even with residence permits will have a hard time accessing the place you may want to forget renting a car. Getting out there will be on a long tour, sanitation facilities aren't exactly great and while I wouldn't call it unsafe it just doesn't seem worth going unless you are hardcore hiker. There aren't any hiking trails so you'd be backcountry hiking like Canadians which...is GREAT but maybe not in Xinjiang in my opinion So unfortunately the best way to see it is to visit Tianchi just west of Urumqi. It's more or less Lake Louise of Tianshan but it's nowhere near as gorgeous. I wouldn't call it crappy like Pirin National Park (Google is for the lousy pictures) and a daytrip isn't too much to ask to visit. However, this isn't Banff so that's the ONLY thing you will see in the area and the rest is just dirt roads and police checks.
To get to Tianchi you can either take a special bus from Urumqi People Square (check if it still runs though because it didn't for me), several in the morning from the Central Bus Depot (same as the highspeed railroad) and if you miss those then you can take an indirect bus but I don't recommend that for time wasting and having to pay extra again when you transfer. I mean, the last bus on the schedule was 11am so I think you shouldn't have an issue.
Tianchi is super touristy. It reeks tourism from the parking lot and it's so crowded you may wish you had never gone when you see it. There are tons of people trying to take pics and squeezing through the small wooden plank paths going around the side of the lake. You can choose to go all the way around it and it's gonna be nice and empty but the best views are from the front as seen in the picture. I spent 2 hours walking left to a boat dock, then then turned back and past the main arrival point to the other side but it was all the same thing in the end - plank walks, trash thrown away by tourists, weeds growing along the path and the hot sun backing wannabe hikers. You can also take a boat trip around the lake if that makes you happy - it's not cheap and won't get you much closer to the mountains seen in the picture.
So you've entered the core zone and got some of the "beauty" out of it, but you'll see no wildlife and none of the things that Tianshan got inscribed for. A quick read shows it's for the debatable "exceptional beauty" - a criteria I hate because it's so subjective and biased from the state party's own view, and evolution? Well, that's great but you can't find this while visiting and you'll have to take their word for it - or maybe really go backcountry hiking! I can see how the mountain range between two desert zones can lead to a more isolated evolution process but you'd have to have a guide point all this out on the hike or be a real expert on the topic.
Average visit but unfortunately a "must do" in Urumqi.
---
2.00 Philippines/China - 21-Jun-19 -
Xinjiang Tianshan [Visited May 2019]
Ah, Xinjiang. Mere mention of this place even to local Chinese elicits caution and to some degree fear. These are heightened by selective local media and racial profiling. Yet for us foreigners, Xinjiang, at of the crossroads between east and west and a key node of the silk road, is place for mystery and adventure.
Safety and convenience are at the top of everyone's concern when planning to visit Xinjiang. As of writing, foreigners don't need a special visit permit. But once you landed at the airport, you will start to feel the enhanced security. Police will get your details and put to their system. They will also ask you for your itinerary. This heightened security will be the norm within your stay in the region where police checks are on every corner and xray machines welcome you at each hotel. "Big Brother" surveillance is also rampant but I will leave out geo-political discussion out of this review.
The most accessible component of Tianshan is Bogda mountain, a day trip from Urumqi. Hiring a car for a day is just 300 RMB. There is also one tourist bus going the Tianchi Scenic Area in front of Urumqi People Square at 09:00 and comes back at 17:00 for 60 RMB return trip. The ride to the site is nothing scenic and took 2 hours to the visitors entrance. If you miss the tourist bus, you may take the long distance bus to neighbouring Fukang and take local bus from there.
Like most tourist areas in China, management plan is well laid and visiting is well organised. At the visitors entrance there are shuttle buses that brings everyone to The Heavenly Lake (Tianchi) which is at the core zone in an hour. Most tourist groups will just crowd near the bus stop. Venturing further provides places of solitude and hiking around the lake area is possible via the circumferential planks and will take 4-5 hours. There is also an option to take the cable car to Maya Peak which is actually at the buffer zone of the site.
Xinjiang Tianshan is inscribed for its natural phenomena and beauty as well as its biological and ecological processes. It would be hard to appreciate this OUV by just visiting the Heavenly Lake. The snowy peaks of Tiashan viewed over the turquoise water of the lake is indeed pretty, but I think it is typical of an alpine landscape. One of the stronger justification of the OUV is on the stark contrast between the snowy peaks in a desert landscape but this is hard to appreciate on Bogda itself. I only saw the snow peaks of Bogda against the dryness of surroundings during my tour in Turpan visiting the Silk Road Sites there. I do am looking forward to visiting the other components at the south. I think they will be more rewarding and fulfilling.
P.S. Some hotels in Urumqi does not allow foreigners or the government temporarily revoke their license. Even if you booked on legitimate sites, better call the hotel in advance. We were not allowed to billet on a popular chain of boutique hotel when we arrived since their permit was revoked few days earlier. Good thing the booking site reimbursed the payment and even paid the cost delta for our new hotel.
---
Site Info
Visitors
46 Community Members have visited.