Al Zubarah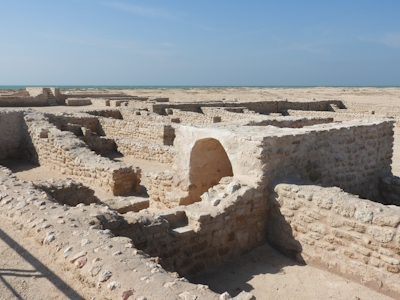 Al Zubarah Archaeological Site is a partly excavated coastal town that flourished due to pearling and trade from 1760 to 1811.
It was newly built by Kuwaiti merchants just for that purpose. The town of about 5,000 inhabitants was mostly destroyed and abandoned after an attack by the Sultan of Oman in 1811. It subsequently got covered by desert sands.
The area contains remains of the town walls, port, cemeteries and fort.
Community Reviews
---
3.50 Netherlands - 12-Sep-20 -
I've visited Al Zubarah twice. The first time was around 2009/2010 when I was living in Qatar for roughly a year. At that time it was not yet a WHS. Substantial parts of that town were uncovered then and it was really fascinating to see the layout and the different houses. When I returned to Qatar in around 2013/2014 I visited again and found that most of the town was covered up again and there were just a few buildings visible, plus a reconstruction. I can imagine that people are disappointed about this as there really is not a lot to see. On the other hand I can understand why this was done: the town is built from beach rock, just right there from the water edge: tower shells and sand grains cemented together by the high calcium content sea water. Just the few rain showers per year would be enough to dissolve the calcite cement and make the town crumble. My high rating is both based on how I experienced this site the first time, and based on the effort taken on preserving this site.

Having explored the desert of Qatar extensively I have to say that there are many archaeological sites, including prehistoric rock carvings (they were fenced off in 2013), potentially pre-islamic and pre-Christian graves all across the desert, burial mounts that looks similar to the Dilmun mounts in Bahrain (though in a very poor state), and lots of other things.
---
On my most recent trip in June 2018, I rented a car and drove to Al Zubarah in northwestern Qatar to visit its fort and archaeological zone, the Persian Gulf nation's only inscription on the list of World Heritage Sites. Most of the site, which flourished as a pearling center in the 18th and 19th centuries, is buried under hundreds of years of desert sand, so I didn't spend too much time in the torrid afternoon exploring the little that has been excavated, instead spending most of my visit inside the fort, which offered a shaded respite.
---
Visited June 2017.
To get to Al Zubarah Fort and the visitors center you can take bus 100 from Doha Al Ghanim bus station; the first one leaves at 9:30 am and it takes 2 hours to get there. There's not any admission fee and all you can see is the fort itself, the small but informative exposition and the adjacent Qal'at Murair Archaeological site. One hour is enough to see all that and catch a return bus at 12:30.
If you want to see the remains of al Zubarah city at the seashore, you have to prearrange the visit for the next day at the Museum of Islamic Art in Doha or at Tourist Information at the airport.
Do not expect anything spectacular!
---
1.00 Switzerland - 18-Jan-16 -
Qatar is not one of these countries that are full of highlights and in other countries Al Zubarah certainly would not count as a highlight. But in Qatar it's the only WHS and I found the first sign on the highway 75! km from the site. It's about an hour driving from Doha. The fort is tiny. I rather qualifies as a bigger house. It's currently being renovated, but work is almost finished. The interior serves as visitor center with information regarding the site.
They also constructed a temporary exhibition close to the fort. I guess the plan to build a small museum there. The archeological site was closed for no reason. The only way to access it would be by car, as the territory is really big. But the pictures of the site showed me that I did not miss out on much. Despite the fort all was destroyed to the ground by the Sultan of Oman. Entrance is free.
---
Site Info
Full Name

Al Zubarah Archaeological Site

Unesco ID

Country

Inscribed

Type

Cultural

Criteria

3

4

5

Categories

Link
Site History
2012

Advisory Body overruled

ICOMOS asked for deferral, referral given
Site Links
Unesco Website
Official Website
In the News
Visitors
74 Community Members have visited.