Chengjiang Fossil Site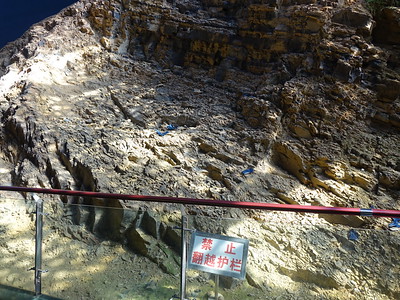 Photo provided by Derek Hudgins
Chengjiang Fossil Site holds marine fossils of a high diversity. They date from the early Cambrian period, 530 million years ago.
In its kind of species, it is complementary to the Burgess Shale and is 10 million years older than that Canadian fossil site. Most of the fossils are that of soft-bodied organisms.
Although fossils from the region have been known from the early part of the twentieth century, Chengjiang was first recognized for its exquisite states of preservation with the 1984 discovery of the naraoiid Misszhouia.
Map of Chengjiang Fossil Site
Legend
Community Reviews
---
Chris, Netherlands 29-Apr-15
I just visited the site yesterday from Kunming. Due to road works had to take another route which took 2 hours by car. The parking was deserted, with 2 people there, one from a shop and the other for cleaning? No entrance fee to be paid and the entrance office looked like it was not manned in a long time. The building of the first dig was open to see. with background information. The signs on the road to main building had great information. Main building closed and looking through some windows it looked like it hadn't been open for a long time. everything very deserted. The person from the shop guaranteed had no key (offered money). with my best Chinese understood something parts had moved to Nanjing? but i cannot confirm this.
HOwever, i do not regret going. after went to Fuxian lake for a nice lunch.
on my site see photo's, GPS map and little more info.
Read more from Chris here.
---
Thanks Thomas, your review was extremaly helpful to reach the site from Kunming. Currently (November-December 2012) the situation changed a bit as there is an entry fee to visit the museum - exhibition (20 Yuan, which is not bad comparing to other places in China). Once you are there insist on opening the place of initial fossil's finding (it is in the separate pavilion, usually closed, so you should ask the girls in the museum to open it for you, no additional fee required as this is part of exhibition).
Of course as a not-at-all Chinese speaking person I did not manage to get as good price for a motorbike as it was stated (For me that was 100 Yuan, I guess normal price for a 3-4 hours journey, that's the time you'll probably devote in the site).
The whole place is interesting, not well known by people in Chengjiang town (there are no signs of the site in the town)
---
Thomas Derek Hudgins, United States 27-Jun-12
I'm currently living in Kunming, so was able to make this a relatively easily day trip (June 27, 2012). I took a cab to Kunming's Southern Bus Station (Nanbu qiche keyun zhan) and from there purchased a bus ticket to Chengjiang (17 kuai). I was the only Westerner on the small bus, though some teenagers on it knew some relatively advanced English and were thrilled to have an opportunity to speak it. Upon arrival at the Chengjiang bus station, three small tri-wheeled taxis argued over getting to take me to Maotianshan (Hat Sky Mountain), the central area of the Chenjiang Fossil Site. I was able to negotiate the initial quote of 100 kuai down to 75 kuai for the 22 kilometer trip with ease. My Chinese is only intermediate, but I think the taxi I took was the only one of the three who knew where Maotianshan was. This may change if Chengjiang receives World Heritage status next week.
The ride up to Maotianshan was beautiful, passing through two farmland areas and two parts of Chengjiang city. The taxi, which, like the others, was an open-doored box with two benches facing each other, had some difficulties getting up Maotianshan, and I had to shift benches to help balance my weight. My taxi driver was incredibly friendly and (unprompted) stopped at a streetside vendor to get me lunch. As we went up the mountain and into the protected area, I could see some phosphate mining and signs of old, now reforested mines.
Upon reaching Maotianshan, the taxi pulled into an empty parking lot beside the road. I quickly asked him to wait, and he agreed to stay for three hours. In the back of the parking lot are some high-quality Western-style bathrooms, as well as some picnic benches and a few signs in both Chinese and English. Next to the parking lot is what appears to be a gate. No one was manning it when I went, and I did not have to pay an entrance fee. However, there may be one if someone is manning the gate. On the other side of the gate is a flat, winding, paved trail of about a third of a mile that ends at the main museum. Lining the path are a variety of signs, all but one of which are in Chinese and English. Pay close attention to these signs, as there are no English translations in the museum. Also, the pyramid-shaped signs have information on all four sides, even if the back side seems difficult to access. Before the main museum, the trail passes a building marking the site of the discovery of the first fossil at Chengjiang (Misszhouia longicaudata, a trilobite). The building was locked and curtained, but from what I could see it may have an exhibit on the history of Maotianshan itself. The trail also passed several exposed cliffs, which, based on the building marking the first discovery, probably show the Chengjiang lagerstätte, though they were unmarked other than a warning to stay on the path.
At the end of the trail is a truly fascinating building, apparently designed to look like one of the Cambrian creatures. It has a nice garden outside, which includes a nice view of the surrounding area, including some terraces and, in the distance, Fuxian Lake. The museum was open, though the girls working there had to turn on the lights in the display room. Though small, it was obvious some money had been spent to make it a state-of-the-art museum. About a hundred fossils from Chengjiang are on display, with labels including the scientific names. There is a lot of information above each display, but other than one news article (worth reading) it is all in Chinese. I would recommend researching what creatures have been found at Chengjiang to maximize the value of the experience. Highlights include Fuxianhuia, one of the earliest insects, Yunnanozoon, likely a very early chordate, and Anomalocalis, an early predator. The display cases are well-made, with magnifying glass inserts in most of them. There also is a tunnel decorated with images of Cambrian life, a giant model of Anomalocalis, and a large section of rock with fossils highlighted by spotlights. There were also two televisions, but they were turned off.
As you leave the museum, there is a cement staircase on your right. This leads up the hill and above the museum, providing good views. However, it is unclear if this is actually open to the public. After my cabbie returned me to the Chengjiang bus station, my total bill for travel to and fro Maotianshan and him waiting for three hours was 80 kuai. However, I think he may have given me a deal, and it may cost more for others; my RA thought having the driver wait would cost between 150 and 300 kuai.
Altogether, the museum was very good and easily worth the three-hour trip (from getting a cab near Cuihu Park for the bus station to arriving at Maotianshan). While the site itself is not as impressive as, say, Joggins, I was unable to go into the building marking the first discovery, so my impression may be incomplete. I also could see some of the lagerstätte; however, like most fossil sites, it is what it contains that is more significant and magnificent than actually looking at it. No other tourists were present throughout my three hours, so it was nice to have the place to myself. The surrounding countryside, though recently replanted, was gorgeous, as was the view of the surrounding mountains and Fuxian Lake. Well worth a day trip, and if you get there early enough you may be able to tie in a trip to the lake itself.
---
Site Info
Full name: Chengjiang Fossil Site
Unesco ID: 1388
Inscribed: 2012
Type: Natural
Criteria: 8
Site Links
Unesco Website
Official Website
Related
Connections
The site has 3 connections.
Ecology
Cambrian Explosion: Chengjiang's fossils present the most complete record of an early Cambrian marine community with exceptionally preserved biota (Brief Description)
Fossils: The property displays excellent quality of fossil preservation including the soft and hard tissues of animals with hard skeletons, along with a wide array of organisms that were entirely soft-bodied, and therefore relatively unrepresented in the fossil record. (OUV, crit viii)
Timeline
Paleozoic: Maotianshan Shales, dated to between 525 and 520 million years ago during the Cambrian explosion (wiki)
Visitors
20 community members have visited Chengjiang Fossil Site. Show all