Rock Islands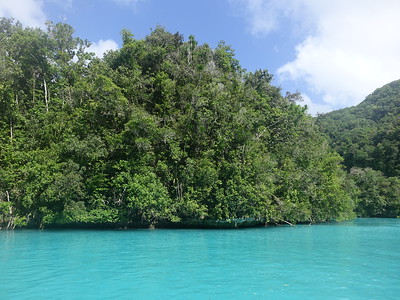 Rock Islands Southern Lagoon is a marine landscape that includes 445 iconically shaped, uninhabited islands.
The archipelago is of volcanic origin. Abundant rainfall has created diverse habitats, including 52 marine lakes.
Some of the islands were periodically settled by Paluans in the past, and they continue to visit. Prehistoric cave burial sites, rock art and remains of later settlements on the island clusters of Ulong and Ngemelis and three islands (Ngeruktabel, Ngeanges, and Chomedokl) testify of that.
Community Reviews
---
5.00 United States - 24-Nov-21 -
Time of visit: August 2018
Duration of visit: 2 days
Mode of transportation: within the WHS - scenic flight, scuba diving, and kayaking; to get to Palau, from Honolulu, via the United Pacific Hopper flights, and then connecting through Guam
Review and experience
Palau is a tiny country by land size and population (albeit its EEZ is quite large), but its only WHS of Rock Islands is well deserving and certainly serves as the country's crown jewel by all means. I was in love with Palau the moment I was in the immigration queue (a rarity... since most immigration experiences are less than pleasant), but the Palau passport stamp was so unique, as stamp is a pledge to protect Palau's environment, signature and all.
In total, I was fortunate to experience Rock Islands 3-ways. And as such, my highlights:
Scuba diving: Day 1 of my time in Palau, I spent a full day scuba diving in the park. The sights were amazing, and highlights were 1) the beautiful coral reefs, 2) the many reef sharks that we spotted along the dives, and 3) the manta ray that graced our 2nd dive. If memory serves right, dive 1 was Blue Corner and dive 2 was German Channel; both are highly popular dive sites.
Kayaking: On Day 2, I spent the morning solo kayaking in Nikko Bay. The same dive shop offered kayaks for a great price, so I took full advantage of it. This was the most relaxing time I've spent over the two weeks hopping along islands of Polynesia and Micronesia, and I wish I had more time. It was also a wake up call to how important it is to protect our environment - even for a WHS and a country that prides itself on environmentalism, Palau's Nikko Bay had a fair share of plastic floating around given its proximity to its largest city Koror. I picked up as much as I could (including a Frozen Elsa doll... oh the irony here - perhaps Elsa drowned b/c of global warming?), but it felt like one grain of sand on a vast beach!
Scenic flight: Day 2's afternoon was the finale - a highly anticipated scenic flight over the Rock Islands. The nerves of flying in a plane without doors took a bit of time to go away, but once it did, I loved having my feet out in the wind while enjoy the breathtaking scenery below. True to the words of UNESCO, the aesthetic beauty of the Rock Islands is world class.
I was frankly unaware of the Mixed classification for Rock Islands, so I did not make an effort to see the cultural aspect, though in retrospect this component may hard to access. Unfortunately but also gratefully, I could not visit the famous Jellyfish Lake either, as it was closed starting in 2017 for rehabilitation - and thankfully so!
Two days in Palau flew by, with Rock Islands as the highlight of my experience. I hope to be back one day (though it may be years or even decades), and I hope when I am back, that the Rock Islands will be teeming with even more life above and below water.
---
4.50 Netherlands - 08-Apr-20 -
I was fortunate to finish my business trip in Taiwan few days before the pandemic reached this nation and the rest of Asia. During my time in Taiwan, I decided to use this opportunity to visit Palau to see its beautiful World Heritage Site, the Rock Islands. Since I only have 3 days in Palau, my schedule was packed with all the package activities. My experience in this tropical paradise was similar to other reviewers. The stunning milky way and jelly fish lake were truly unique and two of the best highlights of Palau. Compared with Vietnam's Ha Long Bay, the Rock Islands, in my opinion, was far better for its nicer tropical climate, stunning clean sea, and better management. I felt more safe to swim here than the polluted Vietnamese one. I also ranked the Rock Islands to be better than Thailand's Phang-Nga Bay, while the islands were less dramatic, it was not overcrowded like in Thailand.
Another interesting thing of Palau was its food, I was surprised that its local delicacy was bat soup which was quite popular among Chinese and Taiwanese tourists, nothing related to those COVID-19 eating bat rumor. With many Japanese influence and cultural link with other pacific islands, I found the local Japanese-Okinawan-Micronesian-American mix food was really unique similar or maybe more complex than Hawaiian food I experienced a month ago before this trip. I ended my Palau trip with air flight to see the famous Rock Islands from the sky. It was an incredible one since my small plane has no door, so I could felt the wind, saw the real color of the sea or even touched the low cloud. I would say seeing Rock Islands from the sky was truly a different experience and totally worth the money.
All in all, Rock Island was a really beautiful place on earth, the place was quite stunning for its environment and as I mentioned the jelly fish lake and the coral clay at Milky Way were one of its kinds. For World Heritage Site criteria, its outstanding universal value maybe questionable as many people will compare this place with bigger Ha Long Bay. With its hard to reach location, Rock Islands was still pristine and Palau did its best to protect this fragile natural wonder, so I only hope that every visitor will understand and protect this place as pledged in the passport before entering this country.
---
The button-shaped, jungle covered islands Rock Islands were nice and interesting to see above the water as we cruised around on our tour, but the real attractions are below the surface. The absolute highlight, of course, was Jellyfish Lake, which, as of our January 2019 visit was back in business and open to the touring public. Snorkeling with these eerie creatures was incredible. We had two days out among the Rock Islands. The first afternoon we went kayaking with a little bit of snorkeling at a couple different spots. Kayaking was a lot of fun and we were glad we'd decided to do it. The next day we did the grand tour, which included: the Milky Way (you cover your skin with smooth limestone mud from the sea floor); snorkeling at several spots such as Clam City (Giant Clams), the "Big Drop", Jellyfish Lake, and more; lunch at the scenic Long Beach (an island with a very long, smooth sand bar); and boating beneath a nice rock natural arch. The snorkeling was fantastic with lots of variety of coral, uncountable colorful tropical fish, sea turtles, rays, starfish,... It was probably worth it even without the jellyfish. But with the jellies included, we were all smiles.
We booked our tour through the Antelope Guest House and were very happy with the service we got. We were the only guests with our guide both days, and had Jellyfish Lake all to ourselves for most of the time we were there, though a bigger group did come along when we were about 3/4 the way through our time there. The price of our tours was about the same as the bigger agencies, but it was nice not being in a big group. Jellyfish permits are currently $100 which is good for exploring the Rock Islands for 10 days. We were told they are considering raising the price. There's a lower cost $50 Rock Island permit to see the rest of the islands if you don't go into Jellyfish Lake. They ask you not to put on sunblock before entering Jellyfish Lake and try to rinse people off a little bit. We had the sunburns to prove our commitment to the survival of the jellies (but they think it was more the natural El Nino effects that caused their decline (down to nearly zero) rather than sunblock chemicals).
The Rock Islands were really a fantastic experience. Palau in general was really great, and the Badrulchau Stone Monoliths at the north end of the main island would probably be of interest to most people on this website and I was happy we made the effort to see them.
---
5.00 Netherlands - 01-Oct-18 -
The Republic of Palau is one of these destinations that isn't frequently visited by tourists. And those that do are mainly Asian (Chinese) tourists. Palau has just 1 WHS site and that's the rock islands. There are many but the most famous is the 70 Islands cluster. You can't go in there anymore. The only way to see them is from the air! I did a helicopter flight over Palau which is an amazing experience. You see much better these rock islands. The next day I also did a Kayak tour where you get closer to other rock islands. Both tours gave me a good view of this WHS. I liked it as it's unique.
Unfortunately, I couldn't visit all the TWHS; I missed the stone money quarry as I ran out of time. But, I did visit Yap and saw the stone money a week later. Will be back to Palau one day I hope as I still want to go diving there.
Read more from Christravelblog here.
---
4.00 The Netherlands - 31-Dec-16 -
Rock Islands Southern Lagoon so far is Palau's only WHS. It encompasses a marine area south of the nation's main islands Babeldaob and Koror. The lagoon is a maze of some 445 karstic islands, of which many show a typical mushroom-like shape. The site is a mixed WHS: some difficult-to-access archaeological sites are part of the core area too, mostly on Ulong and Ngeruktabel islands.
The WHS cannot be visited under your own steam: you have to join a tour, hire private boat transport or step on the state ferry to the outlying island of Peleliu that only runs twice a week. I visited the Rock Islands with Impac Tours – this may be Palau's largest and most professional tour outfitter, aimed especially at a Japanese audience but other nationalities are welcome too. On my tour, an English-speaking guide and a Chinese & Korean-speaking guide supported the Japanese head guide. The cost was 95 USD for the tour, plus 50 USD for a special conservation permit.
I joined 20 other tourists on the 'Rock Islands plus Kayaking' full-day tour. Around 9 a.m. each day, you'll see many boats leaving the tourist resort of Koror – one hardly has the lagoon (which isn't too big by the way) to itself. But it must be said that the Impac guides tried to avoid anchoring at places where there were already other boats. Probably the best part of the day was the hour that we spent kayaking. A kayak gets you up close to the islands. You'll notice the sharpness of their limestone ridges that protrude above sea level, you can touch them with your hands. We kayaked into a small bay, where we were in for a surprise as I spotted a smallish crocodile on the shore! According to the nomination file, only 500-750 saltwater crocodiles inhabit this conservation zone.
For lunch, we stopped at one of the bigger islands, one of the few that has a sandy beach. This also presented an opportunity to have a closer look at the flora of these islands. All Rock Islands are lush and green – it rains a lot here. Huge ferns and palm trees are prominent, but so are exotic-looking flowers and fruit-bearing plants that I do not know the name of.
Most tourists visit Palau and the Rock Islands because of the excellent diving opportunities. On this tour, we had the chance to sample some underwater life at two different snorkeling spots. It was my first time snorkeling and I could not really get much pleasure out of it (I'm not really a 'water person'). But it may be clear that marine life is both colourful and abundant here.
The Rock Islands have been compared to Halong Bay, but Palau's remote location in the Pacific guarantees that this area stays much more pristine than the Vietnamese tourist trap. The shapes of the karst islands are different as well. Unfortunately, the Rock Islands' distinctive marine lakes cannot be visited (the only one that generally is open to tourists, Jellyfish Lake, is still recovering from 2016's El Niño effects).
Read more from Els Slots here.
---
Palau is rather rarely visited and expensive destination, but once someone decides to go, visiting Rock Islands is the must. They are a symbol of the country, their aerial view is presented on postcards, advertising materials, even politicians put their photos on this background on election billboards. Rock Islands are also considered one of the most stunning diving spots on Earth.
Rock Islands are - as the name suggests - a group of hundreds of stone islands and islets, most of them uninhabited and entirely covered by tropical jungle. They are similar to other famous and UNESCO-listed sites, such as Ha Long in Vietnam. First islands may be visited from Koror, the biggest town in this tiny country (17k population total and about 12k lives in Koror), but inscribed area is 'Southern Lagoon' only, so to visit the site properly you have to either take a public ferry to Peleliu (I found no information on that in Koror) or buy one of the organised tours. The tours are very expensive and make this WHS one the most pricey on the list. Basic fare for a ship and snorkeling in the lagoon is 125 USD per person (children under 6 go free) and you have to add an obligatory state permit of 50 USD pp. The permit is valid for 10 days but you cannot buy it for shorter terms, even if you go there for a couple of hours only. So the minimum fee is 175 USD (diving is obviously much more expensive).
The trip we took (me, my wife and our two small kids) was aimed for divers, so they chose a good place for diving but a bit too deep for snorkeling. Nonetheless it was fine, but there are many better snorkeling spots in many places on our planet. It took us about one and a half hour one way to go there with a very high speed, so good wind protection is advised (the boat is open and has only tarp roof).
Unfortunately our experience was messed up by the weather. After some snorkeling, in the middle of the sea, it started to rain heavily. Our older son started crying and demanded to go home. The retreat was terrible and nobody on the boat had a piece of dry cloth or towel.
I have to add that the most interesting part of the Rock Islands, the world famous Jellyfish Lake, due to the dramatic decrease of the Jellyfish population since April 2016 is closed until further notice. Hopefully the jellyfish will recover, as it happened in the past and the Lake will be reopened.
---
Site Info
Full Name

Rock Islands Southern Lagoon

Unesco ID

Country

Inscribed

Type

Mixed

Criteria

3

5

7

9

10

Categories

Link
Site History
2012

Advisory Body overruled

ICOMOS advised referral for cultural criteria (mgt plan, create database), but amendment by Japan was accepted to inscribe it on both natural and cultural criteria immediately
Site Links
Unesco Website
Official Website
Related
In the News
Visitors
41 Community Members have visited.