Fagus Factory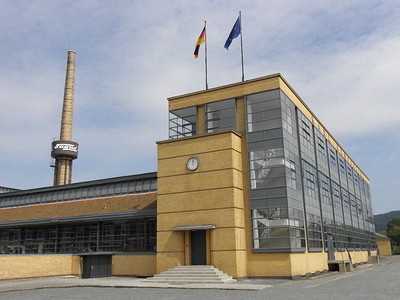 The Fagus Factory, an operational shoe last factory, is an important example of early modern architecture.
The construction of the architectural complex started in 1911. It was built by the architect Walter Gropius. Light was required for work purposes: this lead to an almost entirely glazed building, via the innovative use of "curtain walls" (vast glass panels). It was a major break with the existing architectural and decorative values of the time.
The site contains 10 buildings, including a sawmill. Although constructed with different systems, all of the buildings on the site give a common image and appear as a unified whole. All buildings have a base of about 40cm of black brick and the rest is built of yellow bricks.
Map of Fagus Factory
Legend
Visit July 2011
Two weeks after its WH designation, this still proved to be a pretty low-key site to visit. Alfeld an der Leine is a town somewhat hidden in the land close to the former GDR border, some 50km from the main North-South Autobahn. The Fagus Works is signposted from the town entrance, and indeed at first sight just looks like a factory. A very clean one that is – they develop wooden shoelasts here.
I visited on a Saturday, when no production was going on. By car you enter the complex via the main factory gate. The gate house was also designed by Gropius in the overall style of the complex. I told the guard that I wanted to visit the exhibition, and he sent me on to a grey building at the back of the complex. This was a former storehouse, which was turned into an exhibition building.
There were about 15 other visitors around. One of the caretakers noticed the Dutch license plates on my car and called out - "all the way from Holland!" A foreign visitor clearly still is a rarity here. After paying the small entrance fee (3 EUR) I made my way through the four levels of exhibitions. The lower levels are mostly dedicated to the building's history and architecture, while the upper levels focus on shoemaking. I really liked the historical photos of the factory – while it still was under construction, and the photos by Albert Renger-Patzsch that made this work of modern architecture famous around the world.
All the time I was a little anxious – the exhibition is quite well done, but what I had came for was the architecture. Unfortunately the general public is not allowed to enter the main buildings. You can freely walk around the complex and take pictures, but that's about it. I think a visit to the site would greatly improve with a guided tour around the buildings.
Community Reviews
---
---
---
---
---
---
---
---
Community Rating
Community Rating 2.88. Based on 21 votes.
Site Info
Full name: Fagus Factory in Alfeld
Unesco ID: 1368
Inscribed: 2011
Type: Cultural
Criteria: 2 4
Site Links
Unesco Website
Official Website
Related
Connections
The site has 7 connections.
Visitors
120 community members have visited Fagus Factory. Show all