Selimiye Mosque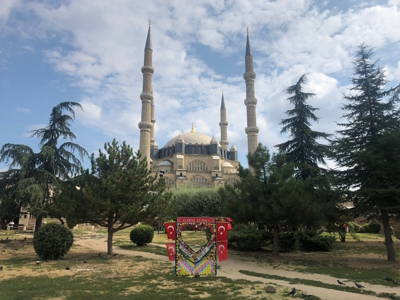 .
The Selimiye Mosque and its social Complex in Edirne is considered the highlight in the career of the most famous Ottoman architect, Sinan. It was built between 1569 and 1575.
Surrounded by four tall minarets, the Mosque has a grand dome atop it. The adjoining Social Complex includes two madrasas, a bazaar, a school, a clock house, a courtyard and a library.
Map of Selimiye Mosque
Legend
Community Reviews
---
Clyde Malta 05-Jan-14
I visited Edirne in January 2014. It is quite off the beaten track due to its geographic position not far from the borders of Bulgaria and Greece. It is around 238km from Istanbul but well worth a visit. The main highlight of this WHS is the squarish Selimiye Mosque built by Mimar Sinan around 1575. The 4 minarets that adorn this mosque are indeed the tallest in the Muslim world. It is built in the centre of a kulliye, ie. a complex including a hospital, an Islam teaching centre, a bazaar, gardens, a courtyard and also a cemetery.
I enjoyed the fact that the locals are the main inhabitants of this town and tourists are a minority (unlike Istanbul). The best mosque interior in Edirne (if not the Islamic world!) can be seen in the old Eski Mosque, with its red and white archways (like Cordoba's mesquita) and the huge black Islamic calligraphy on the walls. Another mosque worth visiting is the Ottaman Üç Şerefeli Mosque with is candy-like spiral minaret. As an aside, do try the Edirne Kofte! Truly delicious!
---
John booth New Zealand 09-Aug-11
Edirne (known as Adrianople until the Ottoman period) is easily accessible by bus from Istanbul and Canakkale.
This fine example of Muslim architecture is regarded as Mimar Koca Sinan's master work, eclipsing that of his Selimiye Mosque in Istanbul. An unusual feature is the statue of Sinan that stands within the gardens of the mosque.
Besides being a Muslim Holy Place, the mosque in Edirne is also regarded as a Baha'i Holy Place. Between 1843 and 1848, Baha'u'llah, founder of the Baha'i faith was exiled to Adrianople by the Ottomans, and during that period he and his family worshipped regularly at the Selimiye Mosque.
---
Community Rating
Community Rating 3.50. Based on 9 votes.
Your Rating
Site Info
Full name: Selimiye Mosque and its social Complex
Unesco ID: 1366
Inscribed: 2011
Type: Cultural
Criteria: 1 4
Site Links
Unesco Website
Official Website
Related
In the News
Connections
The site has 17 connections. Show all
Visitors
86 community members have visited Selimiye Mosque. Show all