Thang Long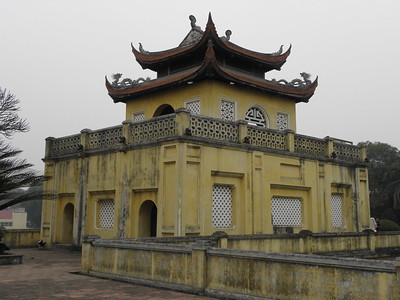 The Central Sector of the Imperial Citadel of Thang Long-Hanoi is the archeological site of the old capital of Vietnam, which originated in 1010.
This makes it one of the oldest centers of power in the world that has been in use without interruption.
Most of the structures were destroyed in the 19th century and are now being restored. They form a unique synthesis of the influence of various Asian cultures.
The site consists of two main parts:
- 18 Hoang Dieu Archeological site
- Citadel, including the Flag Tower, Doan Mon Gate, Kinh Tien Palace, the Dragon Steps, Hau Lau Palace, Bac Mon Gate
Visit February 2011
This is a curious WHS, and I wonder how many westerners have visited it before its designation in 2010. The 2009 Lonely Planet Vietnam describes it as a "militairy base" and "closed to the public". News updates on the web that I had read up on before said that it had opened for a while last year, and then closed again for renovations. So I had no idea of what to expect when I set out to find it.
The entrance to the citadel, the main part of the WHS, turned out to be pretty inconspicuous: you surely would not go in if you weren't looking for it. It is located around the corner from the Red Flag Tower, and most signs pointing to it are in Vietnamese. While the nearby Ho Chi Minh Mausoleum sees thousands of domestic and foreign visitors a day, here I encountered only about a dozen Vietnamese. Entrance is free and a visit (at least my one did) lasts about an hour.
What you'll find here is a number of gates and buildings, all in yellow and most of them originating from the 19th century. The site is hard to date for our "Built in the xth century"-connection, as Thang Long's status as capital lasts from as early as 1010. Most structures here have been rebuilt however during the course of time.
I did not visit the Archeological Site, which is located across the street from the citadel. It has very limited opening hours (a couple of hours a day in weekends), and was closed when I arrived there.
Seeing the state of the remains, it is doubtful if this is a worthy WHS. Hanoi got this status last year as a present for its 1000th birthday, after a clever nomination from the Vietnamese. It compares itself to Nara (Japan) and Xi'an (China), but its remains are much less imposing. The lovely capital of Vietnam surely merits international attention though, especially for its Old Quarter (which is about 2 km away from the citadel).
Community Reviews
---
---
---
---
---
---
Community Rating
Community Rating 1.81. Based on 8 votes.
Your Rating
Site Info
Full name: Central Sector of the Imperial Citadel of Thang Long-Hanoi
Unesco ID: 1328
Inscribed: 2010
Type: Cultural
Criteria: 2 3 6
Site Links
Unesco Website
Official Website
In the News
Connections
The site has 13 connections. Show all
Visitors
97 community members have visited Thang Long. Show all