Grand-Bassam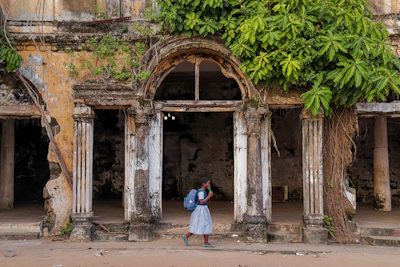 The historic town of Grand-Bassam was a colonial town and seaport. Built in the 19th century, it was the French colonial capital of Cote d'Ivoire.
Europeans and Africans lived here together, divided into separate quarters. It also had important commercial and administrative zones, in which historic buildings in a sober and functional colonial style have been preserved.
Community Reviews
---
Grand Bassam is a beach town about 45 minutes away from Abidjan. Its UNESCO status comes from the fact that it was a French colonial capital for a few years in the late 1800s. The capital was moved inland soon after it was established due to an outbreak of yellow fever, leaving behind a cluster of French colonial buildings that still remain today. Most of the site is on a barrier island. There was significant flooding in Grand Bassam in October 2019. When I visited in mid-November, the water levels were still high on the inland side, but water had cleared from the streets and there were few signs of damage.
As is a theme with some of the sites in Africa, I wish there was better upkeep and more information online. Although a few key buildings (like the costume museum in the former governor's palace) have been preserved, many of the buildings were deteriorating and some were abandoned. The upside is that there certainly were not a lot of tourists, and there seemed to be no tourist infrastructure when we went. But it was safe and easy to walk around. We wandered around for a few hours, gave a boy a tip to show us around one of the abandoned buildings, found one of the few restaurants for lunch, and then headed to one of the beachfront hotels for a drink by the water. All in all, a successful day, and an easy trip.
Rating: Three stars. This is a gem in terms of being easily accessible, and I'd recommend anyone visiting Abidjan to take a day trip out to Grand Bassam. The nice beaches don't hurt either! (Many of the sites in Africa, including the four other sites in Ivory Coast, are national parks that are in remote places that take a lot of effort to get to.) But, the cluster of buildings is quickly deteriorating and I had difficulty learning much about the history of the place, other than from a short article on Wikipedia and the high-level description on the UNESCO website.
Logistics: I was slightly concerned about planning the trip, because I wasn't able to find a lot of information online, but getting there proved to be exceedingly easy. We did this as a day trip from Abidjan. We had no problems finding a taxi to take us there from Abidjan or finding a return taxi to take us back. We paid 10,000 XOF (about $17 USD) there and 12,000 (about $20 USD) to return, which seemed like a fair price. (The hotel doorman tried to get us to pay 40,000 XOF, which seemed ridiculous, and proved to be, considering that the first cab driver we found on the street offered 10,000 XOF. We got dropped off at the main traffic circle in Grand Bassam, and it was about a ten minute walk to the lighthouse, and then another ten minute walk to the island where most of the colonial buildings are located.
The official UNESCO description describes the N'zima African fishing village and the lighthouse as part of the UNESCO site. It wasn't clear to us where the fishing village was and if it was separate from the town. The lighthouse is on the mainland and under construction to be restored (it looks a lot better than the pictures on Google from a few years ago!). We walked by it but there was no signage and it did not appear open.
---
Site Info
Full Name

Historic Town of Grand-Bassam

Unesco ID

Country

Inscribed

Type

Cultural

Criteria

3

4

Categories

Link
Site History
2012

Advisory Body overruled

Referral suggested by ICOMOS
2009

Referred

Include the N'zima village, and legal/operational/management issues
Site Links
Unesco Website
Official Website
In the News
Visitors
21 Community Members have visited.