Rainforests of the Atsinanana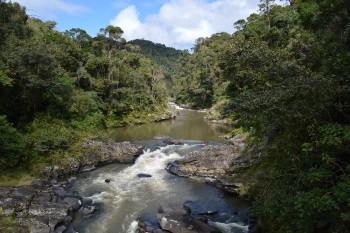 The Rainforests of the Atsinanana are recognized for their very high biodiversity and high level of endemism in both plants and animals.
These are the remaining forests in which Madagascar's unique biodiversity survives. Most of the island's plant and animal life has evolved in isolation over the past 60 million years; up to 90% of the species found here are endemic. At least 25 species of the wholly endemic Malagasy primates, the lemurs, can be found in the forests.
The rainforests are spread across six national parks on steep terrain in the east of the country. 13 specific areas in the following national parks are included:
Marojejy
Masoala
Zahamena
Ranomafana
Andringitra
Andohahela
Map of Rainforests of the Atsinanana
Load map
Community Reviews
---
In August 2016, I decided to stop in Madagascar while traveling from Seychelles to Mayotte so that I could visit one of the national parks in the Rainforests of the Atsinanana WHS, which was inscribed in 2007, two years after my first visit to Madagascar. I began my trip in Antananarivo, where I stayed at Palissandre Hotel (http://www.hotel-restaurant-palissandre.com/), which overlooks Analakely Market, the city's largest. The only WHS national park that is within driving distance of Antananarivo is Ranomafana National Park, around nine hours from the capital. On the way, I visited Antsirabe, the country's third largest city, which still has several buildings from French colonial rule, including Hôtel des Thermes (1922) and the railway station (1923). From Antsirabe, it was around six hours to Ranomafana National Park, one of the national parks in the Rainforests of the Atsinanana WHS. During a very muddy morning hike, I saw several lemurs, including Milne-Edwards' sifaka, red-fronted brown lemur, greater bamboo lemur (which was thought extinct until rediscovered in 1986), eastern lesser bamboo lemur and golden bamboo lemur (which was discovered in 1986). During an evening hike, I saw several chameleons, including two-banded chameleon (♂ and ♀ (photo)), O'Shaugnessy's chameleon (♂ and ♀), short-nosed chameleon and side-striped chameleon, and brown mouse lemur.
---
Madagascan forests provide a wonderful opportunity to see creatures you can see no where else in the world. Not just Lemurs but also other endemics such as the nocturnal "Fossa" or Malagasy Civet (photo). Amazingly, these animals are not so difficult to see!
But I was very concerned when I saw that this inscription consisted only of a number of widely dispersed "representative" areas. For us "WHS Collectors" this approach for defining WHS can lead to problems as to whether one has actually been into the inscribed site even if one has visited the whole area quite comprehensively. In 2000 we had a very successful visit to Madagscar in terms of seeing its endemics. One of our best memories was of wonderful views of the Indri Lemur in the reserve of Perinet (now called Analamazaotra Special Reserve or Andasibe). This is situated within the Atsinanana forest area which runs (or at least used to before Mankind destroyed much of it) along the eastern side of Madagascar. It is a "Special Reserve" adjacent to the Mantadia National Park which was part of the areas nominated in 2007. This reserve is without doubt one of the highlights of a visit to Madagsacar and will be visited by most tourists. You might think that all this would ensure that it would be included! If so you do not understand the ways of UNESCO and its evaluating agent IUCN!!!
IUCN was concerned that the nominated area might not actually be the "best of the best" since other areas had not been adequately studied. Often this sort of concern has led to the deferral of proposed site (seemingly ad infinitum sometimes). Luckily, on this occasion, IUCN/UNESCO have taken a more pragmatic approach:- "In particular it was agreed that the nominated property should be amended by exclusion of …..the whole of Mantadia National Park (and associated Special Reserve)". Furthermore it is intended that this nomination be seen just as a first stage with other areas (not necessarily those excluded this time) being added later when all the appropriate management practices etc have been put in place! I wouldn't hold your breath on this.
But where does that leave my hope to include this inscription in my "seen list"? Well, I am afraid that I can't use my photos of an Indri since they were taken in Perinet (But I would still advise all visitors to Madagascar to try to take in this park even though it is not part of the WHS!). Luckily, however, we also visited the Ranomafana National Park - and IUCN have left this inside the agreed inscribed boundaries. We had a great evening/night visit there and managed to see pygmy and mouse lemurs by shining a torch into bushes and finding the reflections from their eyes. We also saw the Malagasy Civet (with the help of some meaty tit bits put down by the Park staff!). Next morning, a forest walk allowed us to see around half a dozen lemur species including the Golden Bamboo Lemur, first described by Western science as recently as 1987, and on the world's "Critically endangered species" list. This was a great place for wild-life and it really would have been a shame if IUCN had allowed its rather bureaucratic concerns to hold up the inscription of this unique example of the world's biodiversity.
---
Site Info
Full Name

Rainforests of the Atsinanana

Unesco ID

Country

Inscribed

Type

Natural

Criteria

9

10

Categories

Link
Site History
2010

In Danger

"The Committee noted that despite a decree outlawing the exploitation and export of rosewood and ebony, Madagascar continues to provide export permits for illegally logged timber." (Unesco)
2007

Revision

Includes former TWHS Cap Masoala (1985) // Upon recommendation of IUCN, boundary changes have taken place before inscription. These include the removal of Mantadia and Midongy National Park from the nomination.
Site Links
Unesco Website
Official Website
In the News
Visitors
55 Community Members have visited.