Dolomites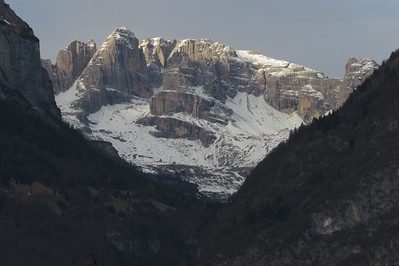 The Dolomites are a limestone mountain range, that is known for its natural beauty in the form of steep cliffs, pinnacles and ravines. They form part of the Alps.
The designated site contains 9 different areas:
1. Pelmo-Croda da Lago
2. Marmolada
3. Pale di San Martino – San Lucano – Dolomiti Bellunesi – Vette Feltrine
4. Dolomiti Friulane / Dolomits Furlanis e d'Oltre Piave
5. Dolomiti Settentrionali / Nördliche Dolomiten
6. Puez-Odle / Puez-Geisler / Pöz-Odles
7. Sciliar-Catinaccio / Schlern-Rosengarten – Latemar
8. Rio delle Foglie / Bletterbach
9. Dolomiti di Brenta
Visit December 2013
As I had planned a full day of driving around the Italian Alps anyway, why not try to reach an inscribed area of the Dolomites? The most easy option is to go for the Brenta Dolomites, a mountain range about half an hour north of the Fiavè Pile Dwellings. As I was travelling in mid-December, I opted out of the drive on the northern mountain passes via Madonna di Campiglio as they surely would be covered in snow. I decided to try a southern loop, starting from Capo di Ponte (Valcamonica WHS!) via Bagolino.
The first 10km went great, the weather being unusually warm and sunny for the time of the year. There was no snow on the ground in the valley either, and only little of it on the mountain peaks. At a turn-off though I was stopped by a sign 'Crocedomini – Closed'. This really is a minor road (SS669), it can be beautiful in summer and I hope someone out will try it out for a review on this website. To me it meant that I had to drive back all the way to Brescia, and go for the full southern approach: driving north on the highway to the Brenner Pass. That was the moment that I lost the tiny bit of time I had left in the itinerary for lunch….
The different approach went well, and I arrived at the "Dolomites viewing destination" Lake Molveno at 2.30 p.m. The core zone of the Brenta Dolomites (area number 9 in the WH nomination) rises up just behind this Lake. I had wondered how I would be able to distinguish them from all the other mountains in this area, but that proved to be no issue at all. Their shapes and colours are so different from the "regular" Alps. Lake Molveno is an excellent viewing location, delivering a kind of image that is popular in jigsaw puzzles. I stopped at various spots around the lake, and saw it once more from a distance near Dorsino.
Of course I would have liked to spent more time exploring these mountains, hiking at high altitude for example. But this short drive-by visit did allow me to take in the OUV (the beauty of the mountain landscape) of the core zone of one of the parts of this WHS.
Community Reviews
---
---
---
---
---
---
Community Rating
Community Rating 4.26. Based on 21 votes.
Site Info
Full name: The Dolomites
Unesco ID: 1237
Inscribed: 2009
Type: Natural
Criteria: 8 9
Site History
2009 - Revision

Reduced from former TWHS Alps, a) Western Alps, b) Dolomites, c) Eastern Alps - later only Dolomites (2005)

2009 - Inscribed

2007 - Deferred

Needs more focussed and coherent nomination (proposed site was called "The Dolomites, Italy")
Site Links
Unesco Website
Official Website
Related
In the News
Locations
The site has 9 locations.
Connections
The site has 20 connections. Show all
Visitors
227 community members have visited Dolomites. Show all