Villa d'Este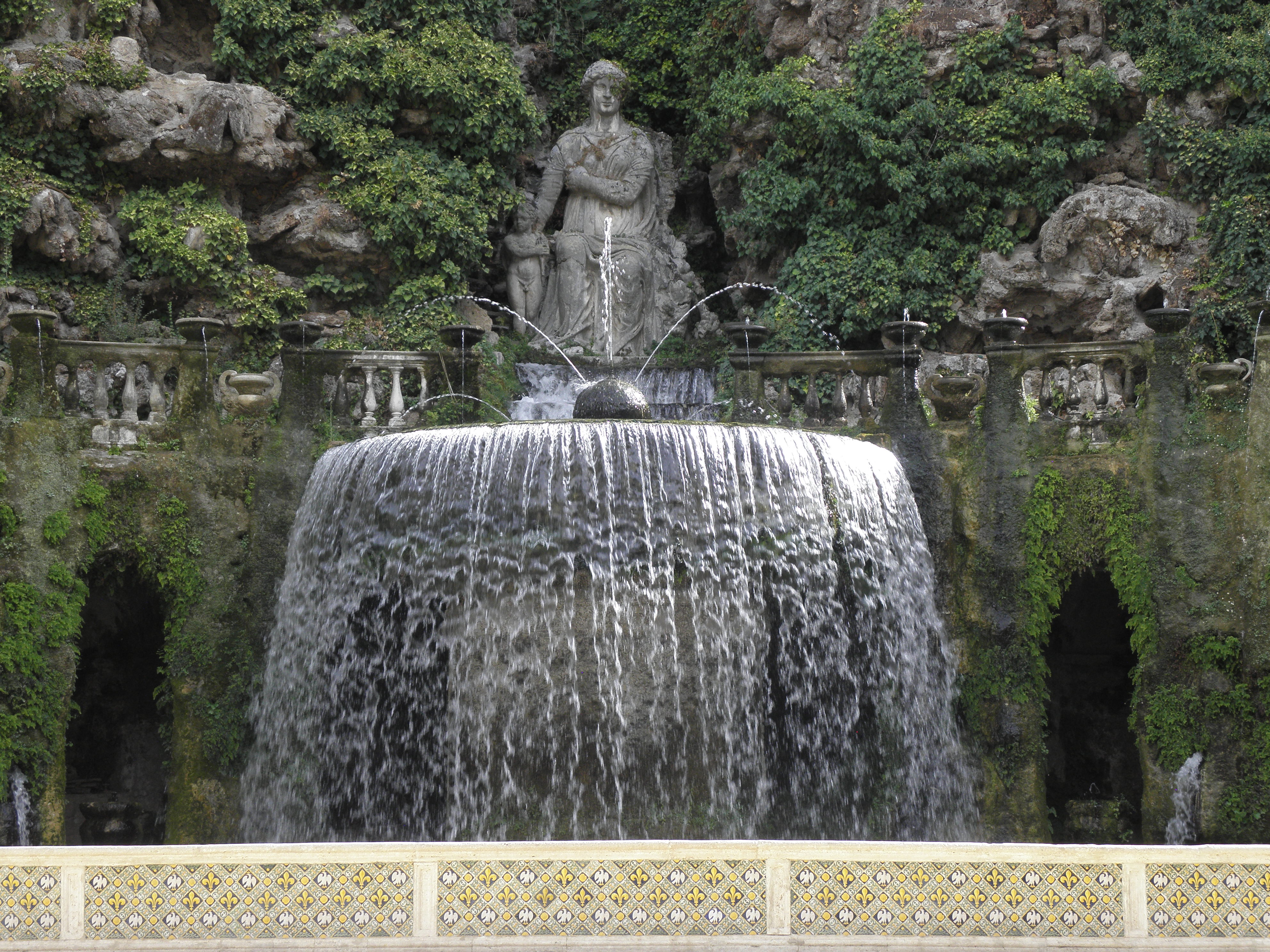 The Villa d'Este in Tivoli is a masterpiece of Italian architecture and especially garden design. Its mixture of architectural elements and water features had an enormous influence on European landscape design.
The villa was commissioned by Cardinal Ippolito II d'Este (1509-1572), son of Alfonso I d'Este and Lucrezia Borgia and grandson of Pope Alexander VI. He had been appointed Governor of Tivoli.
From 1550 until his death in 1572, when the villa was nearing completion, Cardinal d'Este created a palatial setting surrounded by a spectacular terraced garden in the late-Renaissance mannerist style, which took full advantage of the dramatic slope but required innovations in bringing a sufficient water supply, which was employed in cascades, water tanks, troughs and pools, water jets and fountains, giochi d'acqua.
Visit September 2012
3.0
The Villa d'Este lies in the center of Tivoli. Due to its proximity to Rome I guess, it attracts more than half a million visitors a year. It's a bit of an oldfashioned tourist attraction, the main point of interest is its garden with water features. I stayed in a B&B on walking distance, and so was able to get in before 9 a.m. This way I had the whole garden to myself, except for a cat that sought my companionship.
I roamed around for about 1.5 hour. The differences in height make for good excercise, and the site has enough on offer to pleasantly surprise now and then. The most impressive parts I found the Organ Fountain and the one representing Rome. I did a quick tour through the villa as well. Every room is covered in wall paintings.
After a while though I became aware that parts of the site actually are quite run-down, or need more care than they're getting now. About a third of the fountains were not working (especially the smaller ones). I don't know if this is a case of "the tourists will come anyway, so why bother", or that a severe lack of funds is hindering the upkeep of the site. Surely there could be made more out of it than is now.
Community Reviews
---
Tivoli is a relatively short train ride from Rome and has been a popular destination for excursions and a countryside residence for Romans since ancient times. While the Villa Adriana is a few kilometres outside the centre, Villa d'Este is right in the centre. Commissioned by a Renaissance cardinal, it is considered to be the defining masterpiece of Italian landscape architecture and garden design. The garden is indeed very pleasant for a stroll, full of fountains, ponds and other water features, although I visited a bit too early (in early March) to enjoy the full spring bloom. The villa itself, though, was not particularly impressive, and can be skipped if you are short on time. Besides the 2 villas inscribed on the WH list, Tivoli features a third one that is in my opinion the equal of the other 2 - the Villa Gregoriana, famous for its unique combination of a natural landscape and one altered by men since antiquity. I certainly enjoyed my walk down to the valley floor and up again on the other side, always admiring viewpoints, caves, waterfalls, and a number of manmade structures. It has been on Italy's tentative list for a long time, but I doubt that UNESCO would inscribe a third separate site in such a small town - an extension of Villa d'Este would be justified, though.
---
I visited this WHS in March 2014. I went there early to beat the crowds and I enjoyed the Fontana deli Organi at 10.30am. The villa interior reminded me of Ferrara's Castello Estense. The highlights of the Renaissance gardens are the Rometta, Neptune's Fountain and the Cento Fontane. Although I enjoyed my visit, the Villa gardens weren't very well kept for a WHS especially when it costs 8 euros to visit!
---
This villa clearly receives the larger share of visitors to Tivoli. The gardens seem to be the main attraction of course with their flowing waterfalls and fountains. Few visitors seemed to venture inside the villa though, but I found it worthwhile to see the palatial frescoed home of Cardinal d'Este.
I reached Piazza Garibaldi in Tivoli by bus from outside Ponte Mammolo metro station.
---
L. Pivato
We finally got there after many, many past trips to Rome and surroundings. We should have gone sooner!! Breathtaking and really an architectural marvel. It just goes to prove that tourists need to get away from the cities and discover sites on "the roads less travelled" like this one. I now recommend a tour of the Castelli Romani and Villa D'Este/Tivoli, in particular, to all my friends who are heading to Rome. It is well worth the effort to get there.
---
Ben Chester
One of the more breathtaking experiences of my life. The combination of tranquility and chaos that the water features bring about is something everyone should be so lucky to experience.
Villa d'Este will always have a special spot in my memories!
---
Site Info
Full Name

Villa d'Este, Tivoli

Unesco ID

Country

Inscribed

Type

Cultural

Criteria

1

2

3

4

6

Categories

Link
Site History
1995

Revision

Temporarily combined into a single TWHS with Villa Gregoriana until just before inscription in 2001, after having been listed alone from 1984
Site Links
Unesco Website
Official Website
Visitors
245 Community Members have visited.