Niah Caves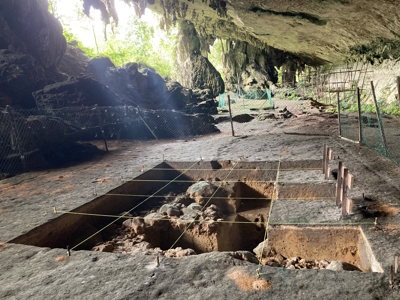 The Archaeological Heritage of Niah National Park's Caves Complex, Sarawak, Malaysia is part of the Tentative list of Malaysia in order to qualify for inclusion in the World Heritage List.
The Niah Caves are a group of limestone caves and archaeological sites. It is known for its prehistoric human burials, stone tools and paintings. It also has evidence for the transition from foraging to farming.
Map of Niah Caves
Load map
The coordinates shown for all tentative sites were produced as a community effort. They are not official and may change on inscription.
Community Reviews
---
With the possible upcoming nomination of Niah Caves by Malaysia in 2024 (having only been added to Malaysia's T List in Jan 2021) it seems worthwhile posting its first review – even if it relates to a visit way back in April 1997!!. To set the scene it might be worth explaining why we visited the site at all during our journey from Kuching across Borneo to Mt Kinabalu, since the visit was self evidently NOT because it was on the UNESCO T List!! As a National Park with caves and "natural sights" it was, and still is, very much "second class" behind Gunung Mulu but we were pushed for time and, to some extent, money. So that wasn't on for us and Niah was easily accessible just off the road between Kuching and Miri. It also had a particular archaeological "claim to fame" for discoveries of late Pleistocene human remains made there in the 1950s. In this respect its star has possibly somewhat waned since those days with reinterpretation of the findings and the making of many more archaeological finds across SE Asia. Its other significant aspects for us were its use by locals for harvesting the nests used to make "Birds Nest soup", for bat guano collection and for the evening flights of Swiftlets back to the cave and Bats going out.
The 1958 discovery in the Great Cave at Niah of what came to be titled "Deep Skull", a c40k year old Homo Sapiens cranium (together with other remains from the period), subsequently became something of an archaeological "cause celebre". My "bible" on "World Pre-history and the Development of Human Societies" is "The Human Past" (pub 2005 by Thames and Hudson). Within its 700+ pages it has a section headed "Multi-regional Evolution and Modern Human Emergence in Asia and Australasia". In it, among a number of references to other WHS (including Zhoukoudian, Willandra and Sangiran), Niah gets a significant mention – and even a photo! The "issue" was whether, how, when and where Homo Sapiens evolved in Asia/Australasia from its "out of Africa" version. Deep Skull was (is?) the oldest anatomically modern human skull discovered in SE Asia. When it was originally found and investigated there were suggestions that it was an example of the peoples who later became "native" Australians/Tasmanians. It is now generally accepted to be ancestral to the modern peoples of Borneo and to be the first example of their arrival into what became island SE Asia. This academic article from 2016 sets out the history and interpretations of the find and indicates that it is still of "significance".
The excavations at Niah in the Great Cave and elsewhere lasted for well over a decade. Although none of the findings ever quite matched "Deep Skull" for fame, they resulted "in the establishment of one of the largest stratified cave sequences in South East Asia" which extended way beyond the Late Pleistocene of "Deep Skull" into the Holocene… "It is clear that the cave complex contains a remarkable sequence of domestic and funerary deposits that probably span more or less the entire history of human settlement on Borneo - from initial colonisation to recent centuries". These excavations uncovered a large number of other skeletons - many of which were sent to USA for investigation as Malaysia didn't then have the skills and equipment to do so. These have recently (2020) been returned and it would seem that the site and its excavation play to an element of national pride in Borneo. It is this long sequence of occupation and what the excavations have shown about the development of human settlement in Island SE Asia which Malaysia is primarily claiming as the site's USP. It appears that the more recent remains from across this long period are regarded as important as the original early ones in that they record the use of the cave after Borneo became an island during the "Sunda shelf inundation" of c14k ybp. This article covers the investigations of these more "recent" uses of the caves and explains the references in the T List description to the site's importance in understanding the "forager-farming transition".
Having traveled up from Bintalu by bus in the morning, we spent half a day in the Park and stayed overnight in a National Park Chalet. Later in our travel "career" we probably wouldn't have given it so long - especially if we had had a rentacar! Although it does really need a "dusk visit" for the bird/bat exchange. I remember that, when dealing with Malaysian NPs a visit/stay wasn't "easy". In those pre Web days one either had to take one's chances by turning up or by visiting an NP office in a nearby major town to obtain "permission" and accommodation. We also had to overcome similar "problems" at Kinabalu. At Niah the rangers didn't want us to stay as there was a "shortage of water"!! But we persisted! The caves are around 3km from the Park HQ along a board walk and require a crossing of a small river by man-powered long boat. The Caves and surrounding area were free to walk around without a guide (also not always a norm in Malaysian NPs!).
When preparing this review I noted that another of the Niah caves is titled "Painted Cave" and gets a mention in the UNESCO introduction as being of importance. This article provides background and detail. All rather annoying as I just couldn't remember having seen it…. except that there, among my fading diapositives (and memories!!) was a photo of some of said paintings - albeit not that "magnificent"!!! More memorable to me (photo) was the size of the Great Cave and the heights which the Bird nest collectors had to reach by climbing up rickety bamboo poles. The photo in the "forager farming" article seems to suggest that the excavation areas are "visible" and fenced off but my complete lack of photos of anything "archaeological" would seem to confirm that there was little or nothing "on view". The walking routes were marked out by wooden walkways and stairs, with such structures seeming puny in comparison with the size of the cave. A number of wooden buildings and areas of tables and chairs were also present inside the cave – though whether these were for the guano/bird nest workers or tourists wasn't clear. We stayed for the "evening exchange" of bats and swiftlets but all I can remember is that it didn't reach the intensity of the famed David Attenborough TV program shot at Gulung Mulu!
If the visible archaeological remains at the site are as minimal as I remember, then that could rather reduce its "value" for visits related specifically to them but I can't say I remember any feelings of "disappointment" with our visit. I note that there is now a museum at the site which I don't believe was there when we visited. According to LP, its exhibits include "an original burial canoe that's at least 1200 years old, a reproduction of the Painted Cave, a case featuring swiftlets' nests, and a replica of the 40,000-year-old 'Deep Skull' discovered in 1958." Mmm – a bit thin?? THE museum of note in Malaysian Borneo is the wonderful Sarawak Museum in Kuching whose original building, housing its Ethnology Collection (not to be missed!), dates from 1891. It has been undergoing long term refurbishment and extension and it appears that it is intended to have a significant display about Niah – though whether it will have the original "Deep Skull" isn't clear.
Malaysia has registered this site as "mixed" for the "Natural values" of its post Sunda Shelf inundation "tidal swamp forest and high-canopy closed rainforest". This would seem to be an unnecessary "complication" for any future nomination (especially one whose title majors so much on its "archaeological" values!). The forest area was pleasant/interesting to walk through and may indeed be a good surviving example of these types of ecosystem but how unique/special are they? Presumably Gunung Mulu adequately covers natural values relating to Karst landscape and cave fauna? It also has its "high canopy forest" - and a walkway to view it! Niah's cultural credentials on the other hand do seem to offer something a bit "special" and enough to justify inscription.
---
Community Likes
Site Info
Full Name

The Archaeological Heritage of Niah National Park's Caves Complex, Sarawak, Malaysia

Country

Added

Nominated for

Type

Cultural

Categories

Link
Site History
2021

Added to Tentative List
Site Links
Visitors
5 Community Members have visited.