Koh Ker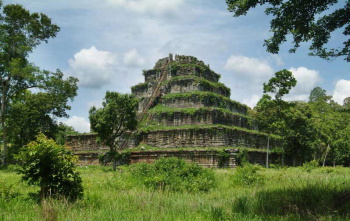 Koh Ker: Archeological site of Ancient Lingapura Or Chok Gargyar is part of the Tentative list of Cambodia in order to qualify for inclusion in the World Heritage List.
Koh Ker ("Chok Gargyar" in old Khmer) is a 10th century former Khmer capital. Its art and architecture had a distinctive, Indian influenced style. A notable structure is the stepped-pyramid temple of Prasat Thom.
Map of Koh Ker
Load map
The coordinates shown for all tentative sites were produced as a community effort. They are not official and may change on inscription.
Community Reviews
---
Koh Ker was our next stop on the day trip to Preah Vihear, after we visited Beng Mealea. Our driver told us this layered pyramid was actually his favourite temple of Cambodia. The multi-day Angkor passes used to cover this site two, however it changed recently and we had to buy separate tickets. Not a problem, it was worth it. On the day of our visit, the site was mostly visited by local tourists - it's obviously a bit off the main fare. There's actually two-in-one ensembles: firstly, you enter through a set of ruins that looks something like three structures of Sambor Prei Kuk thrown together, similarily encircled by tree roots, a bit of a lake and general state of ruin-disrepair. You're already impressed, there are some nice photo ops. And then you walk some more and in the view in front of you a large pyramid appears.
It's square in layout, with layered stories one on top of each other and the best thing is the rickety wooden staircase you can take to the top and enjoy the view. It's couple of hundred steps, wear a hat and have some water, you will need it. But the view were absolutely amazing and the whole detour was definitely worth it! As Nan pointed out, the pyramid provides the most distinctive and unique feature of the whole ensemble.
---
Normally I try to stipulate the full itinerary of a day trip with a driver before I go. This time I didn't and my driver notified me in Preah Vihear that Koh Ker wasn't part of the trip. I was left somewhat annoyed, but couldn't really complain as all I asked for was Preah Vihear. Koh Ker was just mentioned as an alternative when my driver was pitching me potential day trips back in Siem Reap.
Coming down the mountain after my visit of Preah Vihear I had already prepared myself for major haggling. But this being Cambodia my driver asked for less than 20 USD as a starting bid. It was kind of cute and I just had to smile and said yes. Going to Koh Ker is at least a 1h detour and adds some kilometers to the tab.
And I have to say the money was well invested. Koh Ker managed to surprise me as I suddenly felt beamed to Yucatan: a pyramid in the jungle! Thanks to the limited visitors you are even allowed to climb it and get a great view of the surrounding landscape (mostly jungle). It's funny how these classical forms transcend cultures. Admittedly, due to the rather late hour and the tiring heat, I skipped on the other components of the site.
OUV
I had already seen plenty of Khmer architecture when I came to Koh Ker. The site pales in size and artwork compared to Preah Vihear, let alone Angkor, but the pyramid felt different from those in Angkor and sufficiently unique.
Getting There
As stated I combined Koh Ker with Preah Vihear into a day trip with driver from Siem Reap. Looking at the remoteness of the site (at least that's what it felt like) I am not sure how you would get here otherwise. Recommendation is to negotiate the full day trip before you go (Preah Vihear and Koh Ker).
---
Tony Lagrou
I went on a day trip from Siem Reap to 3 remote temples on one day with private car. One of those temples was Koh Ker. The site has several small and bigger stops. From the ticket booth you drive a few kilometres to the main site (with the piramide). First you enter a complex of temples and other buildings, at the end is the piramide you can climb.
After this main site you make a looping to see some small temples with lingas. On the way out many more smaller items, But also a beautifull location with 5 similar temples, two "eaten" by the trees.
---
Antoinette von Moos
I was in Koh Ker in February 2010. The main monuments "Prang" (a huge pyramide)and the annex-temple "Prasat Thom" are really impressive. There are much more temples, some of them with two meter high lingas.(More informations: Koh Ker Wiki Voyage)
---
Community Likes
Site Info
Full Name

Koh Ker: Archeological site of Ancient Lingapura Or Chok Gargyar

Country

Added

Nominated for

Type

Cultural

Categories

Link
Site History
2020

Revision

Renomination of Le site de Koh Ker (1992)
2020

Added to Tentative List
Visitors
10 Community Members have visited.