Frontiers of the Roman Empire - Dacia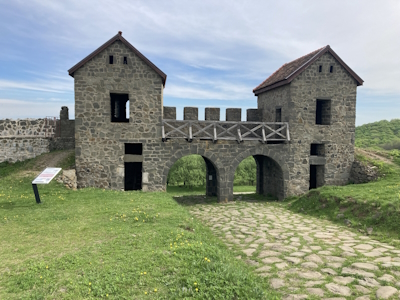 Frontiers of the Roman Empire - Dacia is part of the Tentative list of Romania in order to qualify for inclusion in the World Heritage List.
The Dacian limes is the longest land Roman border sector of Europe, stretching over more than 1000 km. It comprises hundreds of Roman sites all across Romania. Various geographical conditions had to be overcome to create man-made barriers and fortifications.
Map of Frontiers of the Roman Empire - Dacia
Load map
The coordinates shown for all tentative sites were produced as a community effort. They are not official and may change on inscription.
Community Reviews
---
The Roman Empire had it's largest extend under Trajan. He defeated the eternal enemy of Rom, Parthia, and incorporated Mesopotamia as a province into the empire. However, the conquest was short lived. His immediate successor, Hadrian of Hadrian's Wall fame, cut Mesopotamia lose again. It was too far away from the heartland of the empire and consequently too hard to defend.
The second conquest of Trajan, though, remained a Roman province for about 150 years: Dacia, present day Romania. The reason were the Dacian gold mines in and around Rosia Montana (already inscribed). To get a glimpse, you can visit the National Museum of Art of Romania in Bucharest where several gold pieces pre and post Roman are on exhibition.
In comparison to other Limes sites, the Dacian Limes has a very odd form. It does not follow natural features and it does not create a short border. Instead it creates a bulge extending away from the Danube that includes the gold mines.
During my visit to Romania, I managed to visit a few sites. In Cluj, I walked up a local hill in search of a watchtower. I think I made it to the location, but there was nothing to see. Near Rosia Montana in Abrud, I searched for remnants of a castle, but again, there was nothing to see. Best site was in Iulia Alba, a tentative site on it's own, where a ruins of a Roman castle can be visited.
OUV
If Germany manages to inscribe three different Limes sites, all bets are off. The Dacian Limes is by comparison more interesting due to it's rather unique geographical form: the Dacian gold mines are it's sole raison d'etre.
Personally, I prefer extending Rosia Montana to include some defensive structures and towns associated with Roman gold mining. And submitting Iulia Alba and Porolissum on their own merits instead of this cheaper by the dozen approach. But the way Limes sites are going, this will be inscribed eventually, i.e., if the Romanians ever get the paperwork ready.
Getting There
If you look at the map you can see a bulge extend away from the Danube, the main Roman border. The bulge protects the gold mines of Dacia, most notably Rosia Montana, an inscribed site.
The locations are spread all across Northwestern Romania, so pick and choose. Easiest to visit is probably Iulia Alba, a splendid tentative site on it's own. The most renown site is probably Porolissum.
In my case I think I visited the site near Cluj (long walk up the hill to see ?), the site in Iulia Alba and the coordinates in Abrud. I had plans to go to Turda or Gilau, but didn't manage.
---
Site Info
Full Name

Frontiers of the Roman Empire - Dacia

Country

Added

Type

Cultural

Categories

Link
Site History
2020

Added to Tentative List
Visitors
9 Community Members have visited.