Evaporite karst and caves of Emilia Romagna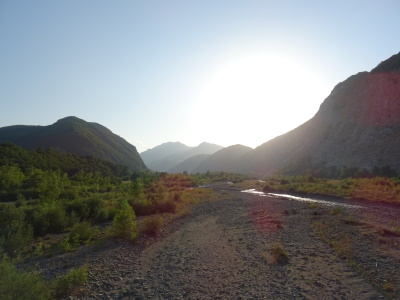 Evaporite karst and caves of Emilia Romagna Region is part of the Tentative list of Italy in order to qualify for inclusion in the World Heritage List.
The Evaporite Karst and Caves of Emilia Romagna Region consist of two different lithologies: Triassic anhydrites and Messinian gypsum. The anhydrite caves are the single epigenic ones in the world; they host the world's deepest anhydrite cave and the largest salt karst spring of Italy; some of the gypsum caves are among the world's deepest and longest epigenetic caves in these lithologies. Over 700 caves have been explored and mapped so far, moreover the rare geologic and karst landscapes are very important from an aesthetic point of view.
Map of Evaporite karst and caves of Emilia Romagna
Load map
The coordinates shown for all tentative sites were produced as a community effort. They are not official and may change on inscription.
Community Reviews
---
Site visited just recently (June, 2022), tentative site, scheduled for inscription in 2023. Since Astraftis described one component - Upper Secchia Valley - I will try to focus on two other areas located close to Bologna - Messinian Gypsum of Bologna and Messinian Gypsum of Zola Predosa. It is always a kind of guessing game for a tentative site, which part will be inscribed (if any) but anyway if in Bologna it may be a nice rest from endless Bolonia's porticoes
Parco Regionale Gessi Bolognesi e Calanchi dell'Abbadessa (Messinian Gypsum of Bologna), located south – east of Bologna is a regional park. Easy accessible with a car, but I guess there is also a public transport available. While preparing for the trip I studied the maps and found that Farneto Cave may be open to the public. Hence I started exploring the area from parking near the cave (google coordinates 44.43253927452703, 11.404740950820656, it is only 10 km from Bologna) just to realize that the cave is closed and may be visited on a guided tour, later on I found info that may be helpful for future visitors - Visits to the cave are organized from March to November, only upon reservation, and are led by authorized speleologists of the Regional Park Gessi Bolognesi. For further info you can contact tel. +39 051 6254821 or use email: info.parcogessi@enteparchi.bo.it
More information available (park official website):
http://www.parks.it/parco.gessi.bolognesi/Eindex.php
Since the cave was closed I decided to have a short hike in the surrounding height – I used San Antonio hiking path (Il Camino di Sant'Antonio) – easy, well marked, leading from parking lot on SP36 to Gaibola Valley. On a way through the forest there are numerous gypsum crystal rocks as well as nice views of surrounding area. Anyway, even if the cave was not visited, the park is interesting, for sure those huge crystals forming different rocks.
Messinian Gypsum of Zola Predosa – located south west of Bologna, with car you can get to Gessi (I started the hike from the turning of Via Carrale and Via Valle – google coordinates 44.460710, 11.231730, but probably better starting point maybe be closer to Gessi village (google coordinates 44.46820168160388, 11.216264938103595). At first glance the area looks less interesting than Messinian Gypsum of Bologna. There are no rocks (at least within a hiking path I used – Itinerario Pedonale dei Gessi). Hole park looks as recently converted to nature (in fact it is an area of former quarry). Map shows also the cave nearby (Grotto dei Gessi) but I could't find it.
Places on the photo, bottom left, than clockwise: hiking path towards Gessi (Messinian Gypsum of Zola Predosa), entrance to Farneto Cave (Messinian Gypsum of Bologna), Crystal gypsum rock (Messinian Gypsum of Bologna), green valley (Messinian Gypsum of Zola Predosa)
---
This is to me a bit of a mysterious (tentative) site, and one that I don't know if it will ever manage to make it on the list, although it has potential. But the main reason I decided to write a review for it is that I have a personal connection with this evaporite karst, since I have been visiting one of its components regularly since my childhood: having descent from one of my parents' side from a small village on the hills of Reggio Emilia (the lesser famous cousin of neighbouring Parma and Modena), the gessi triassici ('Triassic gypsums', or better anhydrites) in the Upper Secchia Valley (in the Alto Appennino Tosco-Emiliano national park) are in fact coterminous with one of the major local attractions, the fonti di Poiano ('Poiano springs' - Poiano is the nearest, minuscule village). So my point of view might be subjective, and it is somewhat odd to think that such a familiar and intimate place might one day bask in universal glory. I hope this might help shed some light on this proposal.
So, I can refer to just one component, the "Triassic anhydrites [or, more currently and also on all signs, 'gypsums'] of the Upper Secchia Valley", which however, from the official description, also seems to be given more relevance than the others (it's the only one that is actually explicitly cited there). They are placed along the course of the Secchia river, which is still young and of torrential character here (its springs are in a a meadow just some 15kms upstream), but already relatively wide, even if still not so destructive as it can become downstream near its outlet into the Po river. This region is characterized by pleasant and soft hills (500-900m) lining parallel valleys, is moderately densely populated and cultivated, but has a quite "difficult" geology, as it is very much subject to erosion (giving rise to extended calanchi 'ravines') and landslides. Historically, it is very interesting for the presence of Romanic parish churches (pievi) and castles (well, ruins) retraceable to the ruling period of margravine Matilda of Tuscany (Matilde di Canossa) in the XI-XIIth c., but this TWHS is all about geology, so such amenities are of no further importance. What is actually geologically relevant is the famous Pietra di Bismantova ('Stone of Bismantova'), a massive flatiron dominating the landscape and the paradise of climbers. But (surprisingly?) even the Stone, as conspicuous as it may be, does not seem to be correlated at all with the evaporite karst and caves.
The Triassic anhydrites have two facets: one visible and enjoyable, and the other hidden and hopelessly unreachable.
The visible one consists of two "locations". On the one hand, the big and spectacular rock faces that enclose the Secchia valley in this tract roughly between the villages of Poiano, Sologno and downhill from Castelnovo ne' Monti (the de facto "capital city" of Reggio's hilly region). They give a sense of incumbentness which is nowhere else seen along the Secchia. Apart from the riverside road and the river bed, the rock faces can be appreciated from some vantage points on both sides of the valley, especially from Vologno and (better) from the (long) road ascending to Sologno from the bridge on the valley floor: from this side, there is some perceived "wilderness" to the area. On the other hand, one can stop at the aforementioned Poiano springs: there is a meadow at the foot of the mountain where the numerous, mineral-laden karstic springs, gushing directly from the rocks, merge into small streams and ponds before flowing into the Secchia. This is a place to lean back on a towel and relax, and is very beloved by locals, so it can get crowded e.g. on weekends. The hill is covered by a lush wood on this side, and there is a small nature trail that goes on the steep slope near and over the raging springs on nice wooden bridges and paths. I am always amazed to see how abundant the water volume is, apparently coming out from nowhere, from deep inside the mountain. The water is very cold (try to put your feet into the stream! Very healthy!) and slightly mineralised. And of course, one can venture onto the nearby river bed to find a swimming spot.
The hidden side, however, is what is probably considered the most valuable by specialists: a complex system of caves, the bowels themselves of the Emilian karst, with its own ecosystem, a dark and inaccessible world. Normally one experiences it only indirectly by means of the karstic streams and the informative boards; I don't know to which extent speleology is possible here for the layman, if at all.
As far as I know, this component of the TWHS is only of natural value and has not yielded any particular archeological results; probably the description refers to the other components on this regard. But this might just be my ignorance on the subject.
How to visit it
This component is most easily reachable by car (there are ample parking opportunities) or similar coming from Reggio Emilia/Modena in the north and taking either the road to Castelnovo ne' Monti and then going downhill passing by the Pietra di Bismantova (nice easy hike to the summit plateau if you don't want to climb...), or the road that goes all along the Secchia passing through Sassuolo and Castellarano: just before the bridge to la Gatta you will have to turn left (there is a sign).The river road in this last part was paved some years ago, not without controversies. If you want to come from Tuscany or Liguria from the south, well, you can, but be prepared for a mountain pass (Cerreto) over an infinitely winding road, and then some kms more! There is a bike trail on the riverside and bicycle is surely an option here, but one needs some training for all the ups and downs. Public transport exists, but is very sparse: your best bet is to find a bus to Castelnovo ne' Monti (timetables might be ungenerous, e.g. there at 7 and back around 13-14) and then do an easy but lengthy (and nice) hike, which is recommended anyway in one of the many possible variants (like this one).
Once you are there, you might take advantage of the restaurant at the springs! Gnocco fritto (~ 'fried dumplings') with cold cuts (salumi) is the regional specialty! And if it is summer, bring a swimsuit with you. Apart from the small trail at the fonti, another nice hike from there goes all the way up and around to the other side of the mountain and the small village of Poiano and beyond (starting right behind the restaurant). And finally, in the last years, the area has been offering more and more accomodation opportunities, such as B&Bs in the countryside, beyond the already existing small hotels in the surrounding "main towns".
Universal value
Now this is probably one of those (T)WHSs whose ultimate value is destined to remain cryptic to non-specialists. An important part of it, the anhydrite caves (no less than world's deepest!!), will probably never be publicly accessible (at least not in the Upper Secchia valley). So we must take it for granted, and the comparative evaluation on the UNESCO website seems to be extensive (interestingly, judging from it, for many similar sites very little seems to be known about their geo- and ecosystems). As for the "perceivable part", it surely is remarkable. The distinctive character of this small area with respect to the rest of the region is clearly felt. There is a kind of majesty coming from these rocky cliffs and the graveled, ample riverbed, and the roaring karstic springs can be quite impressive (and refreshing). The gessi triassici and the fonti di Poiano are surely one of the highlights of the region (not to talk about other kinds of more historical attractions), and this feeling seems to hold also in the academic field (at least locally, this aspect is quite renowned). So, I want to trust them by giving this site thumbs up, and dream of it some day being dug up from the tentative list. Let's bring some geological awareness to the world!
But if it will ever make its way into The List, I suspect something will have to change in its fruition. For example, the meadow in front of the springs is also home to interesting endemic vegetal and animal species, and a part of it should be theoretically off-limits, but this is never respected by the crowd. Some intervention had been carried out to improve the once critical situation, but probably more is needed. Will its current status as a playground and towel field still be compatible with the WHS one?
And finally, I wonder if the whole site might gain value from an extension that also includes the Stone of Bismantova and other geological phenomena in the area.
Photo: the Triassic anhydrites and the valley as seen from the peak of mount Ventasso (1727m) on a summer afternoon (springs are on the right side).
---
Community Likes
Site Info
Full Name

Evaporite karst and caves of Emilia Romagna Region

Country

Added

Nominated for

Type

Natural

Categories

Link
Site History
2018

Added to Tentative List
Visitors
8 Community Members have visited.