The timeless, humanistic architecture of Jože Plečnik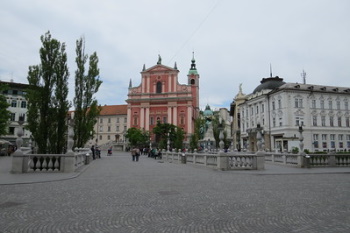 The timeless, humanistic architecture of Jože Plečnik is part of the Tentative list of Slovenia in order to qualify for inclusion in the World Heritage List.
The timeless, humanistic architecture of Jože Plečnik comprises 6 works of this architect in Ljubljana. The bridges, squares, parks and other public spaces date from between the 1920s and 1940s. Architecture and landscape were connected to modernize the city, with respect for the classical elements.
Map of The timeless, humanistic architecture of Jože Plečnik
Load map
The coordinates shown for all tentative sites were produced as a community effort. They are not official and may change on inscription.
Community Reviews
---
The work of Jože Plečnik emanates a special spirit for me, though I am not able to exactly explain what it is and why it is so. I know his work already from Prague as he was the major architect of the first president of Czechoslovakia in 20s-30s of 20th century and reshaped the Prague Castle. Therefore, some of his projects and buildings are parts of WHS Prague. His church built for Prague neighborhood Vinohrady was originally the component of this nomination with Ljubljana, but it has changed after bilateral negotiations and advice of ICOMOS. Now, only several buildings, bridges, squares and one church in Ljubljana are proposed.
Plečnik was active from the break of 19/20th century as a pupil of Otto Wagner in Wiena. After WWI, his work (as well as his personality) radically changed. Thus, his style was no more Art Nouveau, but turned into a weird variation of neoclassicism and autochthonic modernism, and he was active till 50s of 20th century. Plečnik did not like functionalism and architecture with the function at all, which was no architecture in his opinion. He was influenced by theories of architects like Semper (Dresden opera) and Palladio (Vicenza). According him, real architecture should be timeless, beyond function, and it should consist of symbols recognizable for common people - therefore we can find the symbols of ancient Rome, Egypt and Etruscan era in his work (pyramids and columns everywhere). Plečnik was very, almost extremely, spiritual, ascetic and of humanistic nature. He was active in ultraconservative, right-oriented and a bit nationalistic parties in Wien and Slovenia. He believed that Slovenian nation is not of Slavonic but of Etruscan origin. It was quite significant point that can be recognized in his architecture. Nowadays Ljubljana is located in the place of former Roman town Emonia. The reconstruction plan of Ljubljana designed by Plečnik was very complex and run in line with this ancient testimony. Therefore, his style is sometimes called as neoclassicism, but it does not fit. He had also very special attitude towards older buildings and structures: He did not destroy them but recycled, incorporated into new buildings or at least transfer them to other places.
I spent in Ljubljana one week in September 2018, and the impact of Plečnik is visible almost on every corner of the very small city center. From the proposed components, I could enjoy walking along embankments of river Ljubljanica with several bridges and colonnades, and adjacent squares. One can see big difference between central parts designed by Plečnik and quite ordinary streets (further from the cathedral and the river) of historical center. The jump forwards due to the Plečnik is clearly evident. I also visited the National and University Library (considered as his best work in Ljubljana) with typical brick/stone facade with recycled ancient stone pieces from excavations and parts of original baroque palace and with the colonnade-like staircase inside that remind me his work in Prague castle, and also the Žale cemetery in the outskirts of Ljubljana (maybe the most "strange" structure from the series) with monumental entrance (PHOTO) and ensemble of small chapels built in diverse architectonic styles. It is a pity, I could not see the church of S Michael in Ljubljana suburb. Instead I visited S Francesco (not included to TWHS) but it was very strong experience for me anyway (contrast of austere exterior and very fine interior of unique disposition).
I can admit that the influence of Plečnik is a bit overestimated now. I am not sure if he was the best architect of 20th century. I am also not sure if the use of classical columns in totally non-classical position in the middle of main facade is so radical and innovative... (look at small chapel in the middle of PHOTO)
All in all, I can see OUV in his work and it is visible and recognizable directly on site. The Ljubljana components designed by Jože Plečnik should be inscribed regardless what one knows (or thinks) about personality and theories of mister architect. His work is an interesting counterpart to other branches of 20th century architecture such as works of Mies van der Rohe, Adolf Loos, and Le Corbisieur.
Updates, January 2020:
The state party of Slovenia is intensifying an effort to finish and submit the nomination. I am happy that also St Francesco in the suburb of Ljubljana called Šiška has been included. The church is austere from outside, inspired by Palladian calssicism seen on the structure of the doubled attics on the western facade. The strongly monumental interior also has significant Palladian influence: it has central though rectangular disposition with a colonnade on its sides, inspired by palladian Basilica. It is decorated by chandeliars, among other equipment, made by local artists. During my visit in September 2018, we met very friendly priest, a monk of friars minor. he guided us through the church and explained everything we asked and much more. We also climbed the bell tower, which is round with the colonnade on the highest floor with excellent views. Strong experience...
---
After the First World War a first version of Yugoslawia was formed consisting of Croatia, Serbia and Slovenia. As a consequence the importance of Ljubljana grew as it became a regional capital. To reflect the growing importance and to create a distinct national identity in their capital they asked Jože Plečnik to remodel the city.
Jože Plečnik was a successful architect, having made himself a name in Vienna and Prague. In Vienna he was a figure of the Vienna Secession movement . In Prague he redesigned the Prague Castle.
He applied his ideas to the center of Ljubljana. The most notable structure to me were the river banks he constructed.
If you have ever been in Ljubljana you will have seen his work.
OUV
I am not sure that the narrative of the great Jože Plečnik holds. Looking at his wikipedia page I can't shake the feeling that an enthusiastic Slovenian optimized his English page. The German page is far less enthusiastic. Looking only at his CV he seems to be primarily of regional importance.
The buildings I saw in Ljubljana are not ground breaking. Indeed they seem to be watered down Art Deco buildings, nice to look at but inconsequential and a bit late to the party.
The two most distinctive examples of his style are the Roman city gate with the pyramid on top and the Trnovo Bridge. They are not special or great or even unique. Comparisons to Antonin Gaudi are way off target. And it does feel the Slovenians are trying to leverage the world heritage process to bolster the credentials of a national architect into a global star.
And to justify a bit why I say dated, I would point you to Kaunas, a city also redesigned after World War 1. The styles of the two cities could not be more different with Kaunas being ahead of the curve and Ljubljana behind.
Still, I do think Ljubljana overall deserves its place on the list. There is much here to like and I understand all the tourists flocking to the city.
Getting There
Ljubljana being the capital is well connected to all parts of Slovenia. There are direct busses to Idrija and busses and trains to the Skocjan Caves (Divaca). Google maps seemed complete with regards to the connections, schedules and bus stops.
To get out of Slovenia you will find plenty of bus connections. I came from Triest. There are also connections to Zagreb.
---
Slovenia's Tentative List features The timeless, humanistic architecture of Jože Plečnik in Ljubljana and Prague. As the title already implies, this was meant to be a serial transnational nomination by Slovenia and Czechia. Last December however, after consulting ICOMOS, Slovenia decided to continue with the efforts alone: "the transnational bid was assessed as having little chance of success". It is unclear yet whether they made the 1 February 2018 deadline for submitting the dossiers to be nominated for the WHC 2019, but we can safely assume that Slovenia will put this site forward within the next couple of years.
Jože Plečnik was a Slovene architect who made his most important works in the first half of the 20th century. He is nicknamed "the Gaudí of Ljubljana" for this architectural imprint on the city. I visited Ljubljana in 2014 after a few days checking out (T)WHS by rental car around Slovenia. This site wasn't on the Tentative List at the time, so I had to revisit my photo archive of the day to see if I had visited (photographed) any of his buildings anyway.
The city is strong on Art Nouveau as well, and examples of that style stood out more to me in the streets of the Slovenian capital than the works of Plečnik. I spent most of my time at the embankment of the Ljubljanica River, an area in the city centre with lots of cafés and restaurants. This is already Plečnik Central. He was responsible for the masterplan to redesign the riverfront. It resulted for example in a total makeover of two existing bridges and the addition of a colonnaded market building.
The nomination will be a serial site of (at least) 4 locations across Ljubljana. Most iconic is the Slovene National and University Library building. It's huge, with a square ground plan "modelled in the manner of the Italian palazzo". Entrance for tourists is limited, but you can visit it on the twice-weekly "Walking Tour of Plečnik's Ljubljana" organized by the Ljubljana Tourism Organisation.
To me, the story of Plečnik and Ljubljana parallels that of Ödön Lechner's Budapest, which I visited and reviewed a few months ago. These architects have had a large impact on country level, but lack the international exposure and following that for example Le Corbusier or Frank Lloyd Wright have had. Neither have they designed single buildings that are so iconic that they could compete in the league of the Sydney Opera House.
The Czechs were dismissed by the Slovenians and will withdraw their tentative site. At the Church of the Most Sacred Heart of Our Lord in Vinohrady, the single location that was proposed in Czechia, they were actually grateful for the outcome. The commitments resulting from a UNESCO listing would be a burden for the parish: "The church, ..., must first remain a church, a sacred space ..., and almost all the profane tourism of today is not very good".
---
Site Info
Site History
2018

Revision

Successor to former TWHS The timeless, humanistic architecture of Jože Plečnik in Ljubljana and Prague (except for Czech parts)
2018

Added to Tentative List
Visitors
39 Community Members have visited.