Les grandes villes d'eaux d'Europe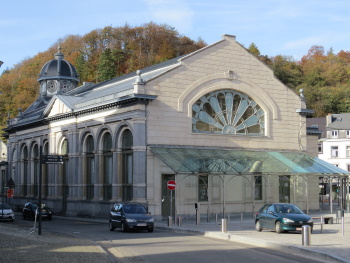 Les grandes villes d'eaux d'Europe is part of the Tentative list of Belgium in order to qualify for inclusion in the World Heritage List.
The Great Spas of Europe comprise a serial transnational site that includes the Walloon town of Spa. Spa gained international fame in the 18th century for its (medical) baths. Its numerous springs, public parks, hotels, casino and other associated buildings have been preserved intact.
Map of Les grandes villes d'eaux d'Europe
Load map
The coordinates shown for all tentative sites were produced as a community effort. They are not official and may change on inscription.
Community Reviews
---
I visited this tentative WHS in March 2017. When I used to live in Belgium, I always visited Spa for automotive reasons rather then for its historic value.
If you visit or live in any of the Benelux countries (especially Belgium), you'll most probably drink Spa bottled water as it is one of the most popular brands. The word spa, meaning natural water source believed to possess special health-giving properties seems to have originated from this village. However, I had never visited Spa to appreciate its historical significance and its link to water.
This time round, I decided to give it a try, as I reckon it would surely be included in any form of WH inscription linked to water. The town is very small and most of the sites are close to the main square with the first casino in the world. The spires of the church dedicated to St Remacle can easily be seen from the main square.
It seems that a lot of money has been invested to favour Spa's inscription on the WH list. There are information boards and signs everywhere now and everything is in tip top condition except maybe for the Bains building.
The tourist office is housed in what I considered as the highlight of my visit - the Pouhon Pierre le Grand which is both a nature site and a monument housing the main natural spring of the town. The word 'pouhon' does not derive from the Walloon 'pouhi' meaning to draw water but rather from the Latin 'potionen' that includes the words potion and poison. Thinking of the sulphur smelling water of the natural spring as poison was not so far-fetched even though several guests have visited Spa throughout history to enjoy its healing properties.
For a token entrance fee of 1 euro you'll be able to visit the building interior and see the natural spring named after the most famous guest to visit town, the Tsar Peter the Great. 92 famous guests are depicted on the Livre d'Or, a 9 metre long painting by Antoine Fontaine. The iron ceiling and columns of the building reminded me a lot of Kew Gardens. Moreover, other water-related items are on display, most important of which are the wooden trinkets or jolites of Spa. I was extra lucky during my visit as the tourist office had just inaugurated a 'permanent' exhibition of Joan Mirò paintings which will be on display till 2020. All in all, I spent a great afternoon exploring the different fountains, springs and buildings related to the importance of water in Spa but without the visit to Pouhon Pierre le Grand. Another site not to be missed is the wonderful Art Nouveau Maison Charlier.
I think that this transnational tentative site has a great chance of being inscribed and it would help to revive some interest in what were very popular sites around 20-30 years ago but are now taken for granted. Apart from Spa, I already visited Bath, Karlovy Vary, Baden Baden and Bad Homburg.
---
There's a rather grand transboundary nomination in the making called Great Spas of Europe. 16 Spa Towns scattered through Germany, Czech Republic, Austria, Italy, France, UK and Belgium are preparing a serial nomination on 19th century European spa culture. The final selection will hold less sites (maybe as little as 7 or 8). Bath, Spa, the West Bohemian Spa Triangle, Baden-Baden and Vichy seem to be the most likely ones to make the cut.
Last weekend I visited the Belgian town of Spa, a safe bet as it is considered the "original" spa after which the other 19th century resorts were named. The site was on Belgium's Tentative List on its own merits between 2008 and 2014, but now is caught up in what might become a cumbersome and messy pan-European nomination process. The failed attempts of the global Corbusier sites come to my mind when I think of the logistics. The nomination date for the Great Spas of Europe has already been postponed from 2015 to 2017.
I did not expect too much from my visit to Spa: the Dutch language Wikipedia-page on the town remarks that it "was" the most popular tourist site in the Ardennes until 1980. What happened then is unclear. I did enjoy my stay however: I spent a short weekend there, staying overnight in the much recommended Herbergue Chatoiment. The sunny autumn weather obviously attributed much to the beauty of the town. There were lots of tourists too, mainly Belgians making the best of a long weekend.
Among Spa's attractions are the oldest Casino in the world (1774) and one of the most fabulous Art Nouveau buildings in Wallonia: the Maison Charlier (1900). Not to be missed also is Peter the Great's Spring, the most efficacious of the springs of Spa named after Tsar Peter the Great who visited in 1717. Only a slow trickle from a modernist structure now remains, and tasting the mineral water is included in the 1 EUR entrance fee. A 1892 group painting in the same building (the Livre d'Or) shows 92 historical figures that visited Spa: lots of royalty and other VIP's ranging from Victor Hugo to Casanova.
Most of the city center's historical buildings seem to be in good repair. Only the original Bath House (a huge Classicist building on the main road) is without use nowadays and looks dilapidated.
The City Museum is worthwhile too. It has a collection of "Jolités", decorated wooden objects typical of Spa, which were often taken home as souvenirs by the many 19th century tourists. One of the most remarkable among those is a small ivory item, that was used to keep track of how many healthy glasses of Spa water one had drunk during the day!
21st century Spa still does have mineral baths. These have been relocated to the "Thermes" on top of the hill above town. You can get there using a self-service funicular. It's a very modern building (2004), and not much different from other wellness centers that have emerged recently all over Western Europe. It lies in a forest where the 19th century guests took healthy walks. I think more could be made of explaining the routes and promenades there. I wandered about for a while but did not really know where to go. Not to be missed in that area is the Spa cemetery, which is built terrace-wise on a steep hill.
Reflecting on my stay in Spa, I find it a pity that the bath culture is not so prominent anymore. The 19th century cityscape is the main attraction now. I guess Health Tourism nowadays is more alive in Eastern Europe, in Serbia for example where last year I visited Vrnjacka Banja. However: with a well-written nomination dossier (there are lots of stories to tell) and not too many discussions among the candidate cities, Spa and the other spas will be a shoo-in WHS in 2017.
Read more from Els Slots here.
---
Community Likes
Site Info
Site History
2014

Revision

Renomination from "L'ensemble thermal de Spa : de la cure mondaine
2008

Added to Tentative List
Visitors
43 Community Members have visited.