Mousa, Old Scatness and Jarlshof: the Zenith of Iron Age Shetland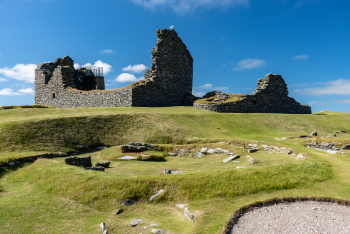 Mousa, Old Scatness and Jarlshof is part of the Tentative list of United Kingdom in order to qualify for inclusion in the World Heritage List.
These three sites spread over southern Shetland provide evidence of a rich Iron Age archaeological heritage. The three sites show various facets of Iron Age life, Mousa is the northernmost site and is on a seperate island and is renowned for its large 2,000 year old Broch (a massive circular drystone tower). Old Scatness and Jarlshof are both remains of villages, and are located a kilometre from each other. Old Scatness shows the evolution of the large roundhouses and the gradual integration of Pictish settlers. Jarlshof is internationally renowned for showing the continuous evolution from Iron Age through Pictish settlement to te viking period. These three sites combine to create an archeological ensemble that is greater than the sum of their parts and demonstrate a highpoint of Iron Age culture in northern Europe.
Map of Mousa, Old Scatness and Jarlshof: the Zenith of Iron Age Shetland
Load map
The coordinates shown for all tentative sites were produced as a community effort. They are not official and may change on inscription.
Community Reviews
---
Following our stay on the Orkneys in Summer 2019 we spent around four days on the Shetland Islands. We took the ferry, which was rather expensive. Mainly for our rental car and for the cabin we booked since the trip is surprisingly long, 8 hours or so, and the trip up north leaves late in the evening and arrives in the morning. If you sleep on the floor or in a chair it is much cheaper, if I remember correctly.
Cultural heritage on the Shetlands is much less numerous then on the Orkneys but they certainly do not disappoint because several of the sites are unique. The greatest site is Jarlshof. It is not quite as old as Skara Brae, let alone the Knap of Howar, but they still reach back 4000 years, which is not bad for a site so far north. But they great thing about Jarlshof is that it was almost continuously inhabited for 4000 years and you find remains of almost all phases. There are late Neolithic houses from different phases, wheelhouses, a broch and a palace from the 17th century which inspired Walter Scott to call the whole site Jarlshof. The largest area is a Viking settlement with the foundations of large longhouses. The different eras are so closely overlapping that it is an attractive challenge to try to figure out which parts belong to which structure and to which era. There is a brochure but it gives a very rough overview and much you have to figure out on your own. When I was there you could walk freely among the ruins but you were asked not to step on anything. Many people did not observe this and I have to admit I did not find it very clear very you were allowed to walk and were not. I fear the site might get damaged in a short time if they do not organize the visits more clearly.
The second site is Old Scatness, next to the airport and in walking distance from the Jarlshof. This contains the remnants of a big broch with several Iron Age round houses around it. Insofar it resembles several sites on the Orkneys like the Broch of Gurness. But here the houses around it are not simple buildings but they are large round wheelhouses. They are so large in diameter that you wonder once more how they built a roof over such a structure. They figure they might have built the roofs with drift wood but there seem to be no holes for a central pole. Therefore they don't know. This site in itself may not have OUV but it is certainly worth a visit if you are on the Shetlands.
The third site is the Broch of Mousa. It lies on a beautiful small island off the coast of Mainland Shetland that is a protected area and you can reach by boat but only in good weather. When you arrive you have a time window of about two hours, which gives you time to circle the island in either direction, and visit the broch. The North of Scotland is quite plastered with brochs, there must be hundreds if not thousands of them. They were probably buildings for the ruling classes but it is not clear if they were living dwellings, defensive structures or if they were gathering places. What is certain is that they are the Scottish structure. And while many brochs have hardly the foundations left, some others have one side standing of the middle original height. Even the well-preserved brochs have only a fraction of the original walls still standing. Except this one, the Broch of Mousa. For that it could even be a WHS alone: The only almost perfectly preserved example of a broch, the most Scottish building type. It reminds a bit of a cooling tower but it is an impressive structure and beautifully situated. Why this broch is preserved nobody knows.

While this site are not obviously linked they are in relative proximity, from a similar period and they may be the three most important archaeological areas on the Shetlands. While Jarlshof and the Broch of Mousa could even claim OUV on the own their combination makes a more attractive package.
Nonetheless are they not the only important excavations on the Shetlands and to shall be further recommended:
On a small rocky peninsula at the southern tip of Mainland Shetland is a promontory fort, the Ness of Burgi. It can be reached by a short, beautiful hike. The location is attractive and the outline of the construction is strange. They are not even exactly sure about its age.
Right outside of the capital Lerwick is a pond with an island with a well preserved, large broch that is not only surrounded by an iron age village but with a second ring of walls, the Clickimin Broch. This I have seen nowhere else and perhaps this should even be added to the Shetland nomination.
In the West of Mainland Shetland you can find a round structure called Stanydale, which recalls a Maltese temple and seems to be unique to this part of the world. It is not clear if it served as a temple or a meeting place. You reach it by a 20-minute walk over the moors, which I will never forget because I did it in heavy rain, and got soaked to my skin.

While all these sites are highly interesting the star on the Shetlands is its landscape. It is wilder and hillier then the Orkneys. Here we made some walks, I will still remember in twenty years:
An easy walk is the very southern tip of the Shetlands around Sumburgh Head Lighthouse, a paradise for birdwatchers.
Less popular, longer and more demanding is a walk around Fitful Head with beautiful grassy peninsulas. You can start this hike at Quendale mill. The views are fantastic but it is exposed to heights and we were even followed by a heard of cows. We fled and did not find out if their intensions were friendly.
While I prefer cliffs to beaches you cant miss the beautiful St Ninian's Beach. It leads to St Ninian's Isle, which was the find spot of a big treasure. If you have the time you should also walk around the island, its coast is gorgeous.
There are several fantastic cliff walks. We enjoyed one starting from Westerwick very much and another one around Eshaness Lighthouse.
Possibly the very best walk we did on the Shetlands was on Unst. Unst is the most northern island of the Shetlands and therefore of the UK. To reach it you have to drive to Toft in the Northeast of Mainland, take a ferry, cross the island of Yell, take another ferry to Unst and drive to the northern tip of the island. This is only possible as a day trip but it is certainly worth it, also because the landscape on the trip is nice. I like ferries as well.
On the northern tip of this most northern island of the most northern archipelago of the UK is another Nature Reserve called Hermaness Nature Reserve. From the parking lot you walk again a good hour to the Northwest coast, which is a real paradise for birds and birdwatchers. Considering its location it is quite popular but it is still never crowded. There are myriads of birth like I have before only seen in on St. Kilda, many of them puffins, sea stacks white with birds (and their excrements), steep, wild cliffs covered with the greenest vegetation wherever possible. In the almost vertical cliffs sheep walk up and down, at the time when we were there were many mother sheep with their lambs. The peak is the northern end with a large green slope with view on the group of rocks before you that are crowned with the Muckle Flugga Lighthouse, built like many lighthouses in Scotland by the Stevenson family. Birds, including puffins are quite trusting, so you can get close to them. But watch out, the cliff edges can be very dangerous.

For bird watchers the Shetlands must be paradise and there are many more places and excursions you can take. The Isle of Noss and Papa Stour must both be very interesting for birdwatchers. The Shetlands and many other places in Scotland have such a stunning landscape that I find it astounding that there are no natural WHS, there is only St. Kilda for a mixed site. I could several places we saw imagine to be inscribed: Above all the Isle of Skye and the Shetlands.
The Shetlands are even more thinly populated then the Orkneys, the capital Lerwick is not as ancient as Kirkwall but still an attractive and lively town with the excellent Shetland Museum and Archives that has good displays about the geology, the archaeology and the history of the Archipelago.

---
Three different sites make this TWHS. Two are easily accessible, south of Shetland Mainland along the main road to Sumburgh lighthouse, and under one-hour drive from Lerwick, the "capital" of Shetland.
Jarlshof is the easiest site to visit; you will find there a small museum and basic information. When we visited in 2015, the entrance ticket for the site was part of the Orkney pass (good to know for those visiting Orkney islands before or after Shetland, as we did on our "tour of Scotland"). Most valuable remains are the iron age constructions with dry stones technique, but the site testifies of thousands years of human activities, including Viking evidences and ruin of a farm from seventeenth century. This is a quite compact site, laying in a nice location, immediately on the shore of the ocean. I read it can be crowded, but there were very few visitors on that morning on August 2015. The visit takes around one hour.
Old Scatness is about 1 km north, on the way back to Lerwick, and immediately before crossing one of the Shetland airport tracks (when driving northwards). This site is attended only one day per week, but the small gate at the entrance is not locked and you can get on site without any difficulty. Remains here are iron age again, and some houses have been reconstructed. It is easy to combine this visit with Jarlshof. As there is no information available on site, it is better to go first to Jarlshof, although you will for sure pass along Old Scatness when driving from Lerwick to Jarlshof.
Third and last component is the Mousa Broch. A broch is a round tower used as a stronghold for people from the Iron age. As says its name, this broch is on the small, uninhabited island of Mousa. It can be accessed via a small ferry, operating one daily (except Saturdays) round trip from April to September, when weather is fine (ie when wind is not too strong, and rain not too heavy). Departure pier is at the small village of Sandwick, a short drive off the road from Lerwick to Jarlshof. Unfortunately, during our three-day stay in Shetland, this tour never operated because of the wind, so we missed that visit. Other brochs (not part of any TWHS) can be visited, in Shetland (one is just out of Lerwick) and in Orkney also. Mousa broch is said to be the tallest of all remaining brochs.
We had arrived in Shetland with the top-quality night ferry from Aberdeen, and left three days later with another ferry to Orkney, where we visited the Neolithic WHS, and spent another few days before returning to Mainland Scotland. We really enjoyed our time in Shetland, quiet and remote islands (birdwatching at Sumburgh Head and Saint Ninian double beach shall not be missed). Jarlshof and Old Scatness were interesting visits, although not breathtaking. Unesco has been inscribing pre historic sites without any difficulties over the last years. We found these Shetland sites more interesting and rewarding than, for example, Caves of the Ice age or Gorham cave that we visited since then.
---
Community Likes
Site Info
Full Name

Mousa, Old Scatness and Jarlshof

Country

Added

Type

Cultural

Categories

Link
Site History
2012

Added to Tentative List
Visitors
10 Community Members have visited.