Prehistoric Cave Sites in Maros-Pangkep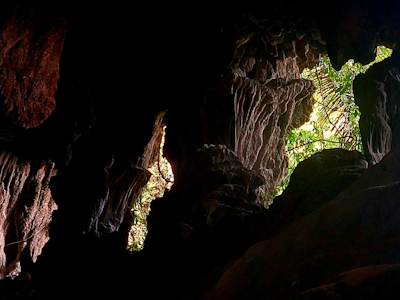 Prehistoric Cave Sites in Maros-Pangkep is part of the Tentative list of Indonesia in order to qualify for inclusion in the World Heritage List.
The Prehistoric Cave Sites in Maros-Pangkep comprise a karst landscape. There are hundreds of caves with stalagtites and stalagmites. In these caves, archeological findings have been done such as prehistoric stone tools and rock paintings. The latter include a 39,900 years old hand stencil and the recently discovered world's oldest animal cave painting - a life-size Celebes warty pig - dating back to 45,500 years ago.
Map of Prehistoric Cave Sites in Maros-Pangkep
Load map
The coordinates shown for all tentative sites were produced as a community effort. They are not official and may change on inscription.
Community Reviews
---
Chinese-Canadian - 26-Jul-18 -
Little do they know that I came here as a little girl, stenciled all over the place and now it's considered prehistoric... Okay so not really. They claim the inverted hand prints are older than anything around the world (read: Spain).
You can easily visit the caves from Makassar by car. From the airport there are hundreds of taxi drivers that want to make a deal with you for a day trip and it saves you going into town. The two places to visit are Leang Leang and Rammang Rammang. What's more striking is that the these caves are at the edge of Balai Taman Nasional Bantimurung Bulusaraung, a huge park known for its fantastic razorsharp karst limestone formations. You can get a glimps of these at both places, with RR being the better due to the boat ride offered. But enough about the park.
Cave art can be found at LL easier. I think the locals don't care so much about it and it has an icon for the place but they don't even point it out much. There are a few hand stencils and a massive hog. There was another closed off cave which apparently had one more. I only found this interesting due to the Karst which makes for a relaxing stroll with plenty of shade and cooler than back in town. The caves are not big and the entrance structures are impressive. All this for 20,000 plus of course the transport. They have guides in Indonesian should one be interested.
One blogger pointed out there is a free cave a few minutes away and has more. There might be but the path to the mountain was grassy and seemed to go through a field directly ending up at a bamboo gate. Additionally there were many farmers at work and they surely don't like a bule randomly wading through their fields. Anyway, the driver didn't want to stop and there is not really any place to stop so I gave up on finding it.
Recommended if you have the spare time on the way to Tana Toraja or Taka Bonerate.
---
Community Likes
Site Info
Full Name

Prehistoric Cave Sites in Maros-Pangkep

Country

Added

2009

Type

Natural

Categories

Link
Site History
2009

Revision

Includes former TWHS Maros Prehistoric Cave (1995)
2009

Added to Tentative List
Visitors
3 Community Members have visited.