Lalbagh Fort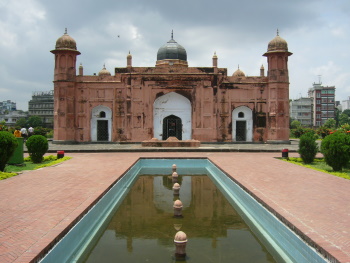 Lalbagh Fort is part of the Tentative list of Bangladesh in order to qualify for inclusion in the World Heritage List.
Lalbagh Fort is a 17th century Mughal palace-fortress in Dhaka. It was built by a son of Aurangzeb, but never completed and rarely used. The complex includes a mosque, a tomb and a residence with a hammam attached (the Diwan-i-Aam).
Map of Lalbagh Fort
Load map
The coordinates shown for all tentative sites were produced as a community effort. They are not official and may change on inscription.
Community Reviews
---
Lonely Planet introduces this site with the comment "This unfinished fort is touted as Dhaka's premier tourist attraction, but if you're expecting another Red Fort you'll be disappointed". And they are about right.
Now I would recommend anyone to visit Bangladesh – it has some wonderful cultural and scenic sights (though perhaps seeing and interacting with the daily life of its people is its main attraction). Dhaka has its interests and Lalbagh is certainly worth a visit whilst you are there but I don't see it as "WHS material". It may be surrounded by a wall but doesn't seem like a "fort". Although Dhaka's ugly "mid rises" crowd in (photo) the main impression is of a serene but smallish garden and some pleasant Moghul architecture. But it is nothing that special – certainly an asset to the people of Dhaka, which should be preserved, but no more. Its historic interest relates partly to its construction in 1678 by the son of Aurangzeb. Like so many Bangladeshi sites it includes a mausoleum
But, for some reason Lalbagh seems to loom large in Bangladeshi priorities for inscription – is it because the metropolitan elite feel that the "Capital" must have site? I don't see why when there are far more meritorious sites elsewhere which should be developed for inscription. In 2007 a private group called the "National Heritage Foundation" (NHF) of Bangladesh was formed to "promote and preserve Bangladeshi culture and heritage" and also to get more Bangladeshi sites inscribed on the World Heritage list. A target of 10 has been identified (Some local newspapers talk of putting 10 new sites on "every year" – but I think we can explain that as a translation error!). See this "link" for more information and a list of the sites it is interested in preserving/getting inscribed - this list includes Lalbagh Fort unfortunately and an inordinately large number of Mosques! However I was particularly pleased to note that the following had also been included :-
"Kantaji Temple" together with "Sonargaon" and "Puthia" (in the form of the Govinda Temple - but the whole of this atmospheric village estate should be preserved).
Note that Kantaji, Sonargaon and Puthia are ALL, at least primarily, Hindu sites or related to the "hated" Zamindar landlords in pre-independence Bengal (a system which was abolished in 1950). As a result they are perhaps in less good condition than more obviously Islamic sites and would need more work to bring to an inscribable condition. The more worrying aspect is that (possibly because of their Hindu/Zamindar background?) NONE of them is currently on Bangladesh's T List even though (in my view) they are more appropriate than the 3 completely new sites which are (Lalbagh, Mahastangarh and Mainamati - see my reviews of these latter 2) and the 2 extensions to Pahapur (Halud and Jaggadala Viharas)!
---
Community Likes
Site Info
Full Name

Lalbagh Fort

Country

Added

Type

Cultural

Categories

Link
Site History
1999

Added to Tentative List
Visitors
15 Community Members have visited.