Sites funéraires et mémoriels de la Première Guerre mondiale (B)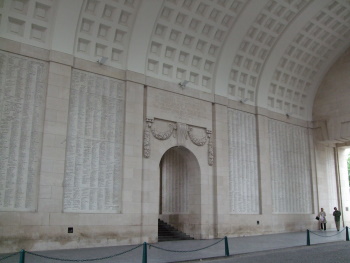 Sites funéraires et mémoriels de la Première Guerre mondiale (Front Ouest) (Belgium) is part of the Tentative list of Belgium in order to qualify for inclusion in the World Heritage List.
The World War I burial and memorial sites comprise 25 main locations in Belgium, part of a transboundary serial proposal together with another 80 sites in France. After this war for the first time the individual victim was remembered. The size and number of the cemeteries express the unprecedented scale of this world war.
Map of Sites funéraires et mémoriels de la Première Guerre mondiale (B)
Load map
The coordinates shown for all tentative sites were produced as a community effort. They are not official and may change on inscription.
Community Reviews
---
Chinese-Canadian - 30-Apr-19 -
There is clearly an opposition to glorify war memorials by the advisory board and I used to agree until I visited the sites in Belgium and France to see the WWI funeral sites. These do not glorify the war at all. They instead remind us how countries bonded together to protect each other, something I don't see as black and white in today's political climate.
Right from the start these sites are pretty grim. They do not talk about "victory", only about the losses of protecting Belgium and France. I am not going to go into the war details, that you can read up online of course, but it clear to me that these sites differ from any war memorial in the world's including Pearl Harbor, funeral sites in Turkey, Normandy beaches, countless others. The main difference is that these sites tend to show their own losses in war and how they won or suffered, not how the world came together to protect from "evil".
The main highlights to visit are Tyne Cot cemetery and Menin Gate. Each doesn't take long to see but gave me lots to think about. If you can time your visit with an event at the gate you are even better off.
---
Our failure ever to visit the WWI sites of the Western Front had long been an "annoying" gap in our travel portfolio – especially as I had voted them for the "Top 50 Missing"! So rectifying this was one of the numerous objectives to be achieved whilst we were over for the 2015 WHS "get together".
An immediate problem facing anyone wanting to see these sites is how to choose from among the many locations listed in the Belgian and French T List entries. Yes - it appears that (unlike the separate nearby Coal Mines inscriptions) this is to be a "transnational" nomination. It is interesting to note that Belgium was first into the field with its T List proposal "Lieux de memoire et monuments de la Grande Guerre: le Westhoek et Regions voisines" from as long ago as 2002. However, in 2014 France decided to get in on the act, and a newly titled combined entry appeared in each country's T List. We spent a day visiting sites in both countries but I will limit this review to the Belgian side. I may review the French memorials later - for us this has been a year of "war memorials", having visited Gallipoli also. I am still resolving my thoughts on the whole subject, on the differences in national approach and on the whole subject of their suitability as WHS.
People visiting these sites will have a vast range of reasons to for doing so - we met Australians and Canadians documenting every grave of their countrymen and other visitors who were tracing military events at a daily level. Yet more come to remember a specific family member or regiment. "WWI tourism" is big business at least in the UK. Whilst my wife and I both have distant relatives who died in WWI, our interest was at a more general level and I will assume that any readers of this are going to be of a similar mind and will not want to give more than a few hours to the site. But Belgium has listed 25 different "components" and many of these have "sub locations" creating a list of over 50 different places. (France lists a further 80 – again with many more sub locations and far more spread out geographically going as far east/south as the Swiss border). The vast majority of the Belgian components are in West Flanders and Hainaut (with only a few further east in Namur, Liege and Luxembourg) and, of those, the majority again are British Commonwealth memorials, though there are also 2 German and some Belgian and French ones. If this might have reduced the "Universal" value of the nomination in its original Belgian form the addition of the French sites should overcome any such problem as, in addition to more French and Commonwealth memorials, it also includes e.g Czech, Polish, Portuguese, Somali, US, Danish, Italian and Russian as well. The biggest concentrations on the Belgian side are around Ieper and Ploegsteert and we found that following them provided a natural route down through Armentieres and Lens permitting a quick transfer to possibly the most significant cluster within the French nomination around Vimy – all within a day by car.
We visited the following (references from the UNESCO Web site T List) and, in seeing these, you would pass many others.
12. Menin Gate Ieper. In my opinion, an essential visit. Every evening at 8pm a ceremony takes place in which Last Post is played and often there are representatives taking part with regimental flags. It can get very busy – on a non-descript Wednesday evening in August there must have been towards a couple of thousand people there. It is solely a memorial (with listed names) to around 55000 soldiers of the then "British Empire" of all races and creeds who were killed round Ieper with no grave. The structure does not therefore follow the rather restrained standard design for Commonwealth war graves and was criticised by some at the time for emphasising victory, heroism, sacrifice and pride in a form of Imperial Propaganda with its lions recumbent etc - a "Sepulchre of Crime" (See "On Passing the New Menin Gate" by Siegfried Sassoon )
8. Tyne Cot Cemetery. This would be my choice of a Cemetery to visit if you have no reason to choose any other (Photo). It contains a recently built (2007), and free, visitors' centre/museum which chronicles both the battles there and the process by which the standard design of the Imperial (later Commonwealth) War Graves was determined, involving such luminaries as Lutyens (Architect of New Delhi etc), Rudyard Kipling (Nobel Laureate) and Gertrude Jekyll (the doyenne of British garden design in the early 20th C). Decisions included such matters as the reasonably democratic way in which all soldiers of whatever rank and nationality were to be identified and commemorated (e,g standard headstones for all). Since the architectural and social aspects of the memorials are presumably going to figure in the OUV of any nomination this is a useful exhibition and Tyne Cot provides an example of all the important aspects. As well as containing around 12000 graves (including 4 of Germans), it also has a memorial listing the names of a further c35000 "missing" soldiers when the Menin Gate was found to be too small to take them.
7. Canadian "Monument to the Brooding Soldier". Not far from Tyne Cot and quite a striking memorial at the location of the first "gas attack" of WWI
17. Island of Ireland Peace Park. We visited this simply because we were passing by and, with its Irish Round Tower design, it is quite striking. I was surprised to discover that it is included in the list of sites likely to be included as it was built as recently as 1998. It is solely a memorial rather than a cemetery although the location was chosen as being near to the Battle of Messines Ridge (1917) where Catholic and Protestant Irish soldiers fought side by side on the same side!
25E and F – Hyde Park Cemetery and Berkshire Cemetery Extension". If you have seen Tyne Cot I wouldn't go out of my way to see these adjacent sites. The latter contains a 1930 memorial to yet more (another 12000) soldiers whose bodies were never found
A couple of days later we also saw No 24 The Military Cemetery of Saint-Symphorien. This very small mixed German and Commonwealth cemetery (it was originally created by the German Army in 1914), situated close to Mons, has 2 particular interests. First – it is only a couple of kms from the WHS of Spiennes! Second – it contains the graves of both the first and last British soldiers to be killed in WWI
So, is a site of War Memorials and Cemeteries appropriate as a WHS? I personally felt that those described above were pretty non triumphant and even-handed in the treatment of different races and creeds. They also largely avoided nationalistic statements and posturing. Every nation has its traditions in these matters and our visit concentrated on sites designed and built very much in the "British" tradition even if they also commemorated the dead from the Indian subcontinent, West Africa, West Indies and the "white" Dominions etc so perhaps I am biased in finding them "tasteful" and acceptable in these respects. If I look at other T List memorial sites I personally begin to find what I instinctively regard as less "acceptable" aspects – which turn (or at least begin to do so) the sites from a universal human statement of horror and grief into something more overtly nationalistic. From significant "Flag flying" - Gallipoli is dominated by what might be the World's largest Turkish flag - through to Stalingrad's Soviet style "Motherland Calls" statue. I don't dispute the right of those countries to commemorate their dead in those more overtly patriotic ways but do suggest that, in so doing, they could thereby exclude themselves from consideration as WHS. But, if the Belgian and French nominations are accepted, can Gallipoli really be excluded – and then, what about Stalingrad? Can it really be held that the Western Font memorials have achieved "universality" as anti-war statements without also being statements of victory and nationalism and, as a result, are more worthy of inscription than the potentially long list of other, rather more divisive, war memorial sites which could be brought forward? Perhaps the length of time which has passed and the fact that the "losers" are not going to complain helps but it could be a slippery slope!
For anyone interested in this Nomination and the above questions, its UNESCO T List justification is well worth reading. It is far more comprehensive than most, and, unusually, covers 2 aspects at length - the selection of the sites and a comparative analysis. We are told that "La série proposée a fait l'objet d'un long processus de sélection. Chacun des éléments retenus exprime une contribution spécifique et bien identifiée à la valeur exceptionnelle de l'ensemble.". Also that the selection had been made from among several thousand potential sites using "la Grille des qualités. Un élément constitutif et son ou ses composants devaient satisfaire à un degré d'exceptionnalité pour au moins l'un des critères suivants, et si possible plusieurs". The trouble is that it must be very difficult to exclude any site where soldiers have died – certainly as far as I could see, every potential site around Ieper and Ploegsteert had been included (as well as around Vimy)! I found the comparison arguments particularly problematic. Among Inscribed and T List sites utilised to demonstrate that defensive lines and "funerary heritage" are both "OK" as WHS and different from this nomination are - the Great Wall of China, The Tomb of Askia and the Taj Mahal!! Waterloo is referred to in passing as a "site de réputation mondiale est l'un des derniers témoins des champs de bataille d'avant le 20ème siècle" - but, so what? Gallipoli gets a mention, but merely to help place the Western Front in a full WWI context with no indication as to whether the nomination should, one day, be expanded to cover other fronts. Stalingrad is notable by the absence of any reference to it at all!
---
Mark S
Im a 32 year old belgian, this review starts with a shame on me. Why? Well today i visited the Westhoek for the first time.
It was a beautiful sunny early autumn day so we wanted to visit the theme park Bellewaerde near Ypres. At arrival we saw that it was overcrowded so we decided to explore the region instead. Our tour brought us from one cemetery to the other. all as confronting as breathtaking. the amazing serenity, the perfect maintenance, the purity of every memorial, the multitude of origins of victims made us realize the global size of horror, trauma, tragedy millions of people from all around the world carried and are still carrying today. After visiting the trenches of Hill 61 and the small but very straight to the bone museum next to it, our feet were finally put in the middle of the reality of the Westhoek inhuman cruelty of 1914 till1918. This Iddillic scenery should not lose its historical importance and contrast.
You see here that people write long reviews. I don't think its because we like to write. I think its just because 'we have to' after visiting this most beautiful region with such a short but oh so important black chapter in history.
I love to travel and with great admiration I have visited many World Heritage Sites already in my life. But I live only 1h from the Westhoek, ignorant and naive. A Theme park with some rollercoasters with too long cues should not be the way I learn about the Westhoek. This should be added in respect of 750 000 people who lost their lives, the millions of families left behind and the billions of people not knowing. Before its too late....
---
I really became aware of this tentative WHS only after the favourable comments made at the 'Top 50 Missing'-topic at the Forum. World War I has largely passed by on the Netherlands and one seldom hears about it here. The first time I really was confronted with what this war meant was when I started studying History at University. There we had to watch the 1916 propagandafilm 'Battle of the Somme' with its graphic portrayal of trench warfare.
So I decided this was a tentative WHS surely to be visited and on a Sunday in June I drove 2,5 hours south to Ieper. The town itself has the usual Flemish charm. What's extra here are the numbers of English tourists and schoolgroups. I started my rounds at the In Flanders Fields-museum. It's a very visual museum with lots of photos, large objects and films. It also draws heavy on the participation of the 'World' in the 'World War'.
The Menin gate is the most important WWI monument in Ieper. It's a British war memorial to the 54.896 missing soldiers. Very impressive to find such a monument in such a small-sized town. I also drove to the British-Canadian Maple Copse cemetery, one of the many that are scattered among the farming fields.
In all, it's an important site to a large part of the world population, almost like a pilgrimage site nowadays. It would be a valuable addition to the List, one even wonders why it takes so long. Maybe it is the lack of physical remains from that period, although there are small parts of trenches left.
---
I have visited these sites on two separate occasions. The first time was on a school trip that visited many of the battlefields and memorials to the First World War (le Grande Guerre) in this region of Europe, this trip included visits to the sites across the boarder in France especially those connected with the battle of the Somme. I would hope that these monuments would be added to the Belgian entry.
The main memories I have are of the rows and rows of immaculately kept graves representing soldiers lost from all over the world. It is a sobering but magnificent site the sheer number of graves is incredible and the fact that they are still so magnificently looked after is a real credit to all involved. The prominence and importance of the sites are obviously derived from the large amounts of lives lost in the fields of this corner of Europe, however the exceptional plans and landscape design are also of significant note.
10 years after my initial visit I returned to the area to visit the Flemish city of Ieper (Ypres) which was almost totally destroyed in the first world war. There are memorials all around the city the most famous and stirring is the Menin gate where the last post bugle call is played every evening, it is a very sobering and sombre occasion but certainly worth witnessing. The Gate itself is covered with thousands of names of those that died fighting for the city and is a very impressive monument. Ieper it self is a worthwhile place to visit as for the massive rebuilt Cloth Hall (part of the Belfries of Belgium and France WHS) and the impressive fortifications laid out by Vauban. the Cloth Hall now houses an impressive museum dedicated to WWI.
These memorials are an exceptional artistic response to the mass loss of life that occurred during the First World War, from all countries and territories involved and are certainly a worthy site to visit, and hopefully deserving of a place on the World Heritage List.
---
Site Info
Full Name

Sites funéraires et mémoriels de la Première Guerre mondiale (Front Ouest) (Belgium)

Country

Added

Type

Cultural

Categories

Link
Site History
2018

Adjourned

Decision adjourned by WHC for 2 years
2014

Revision

Includes and replaces "Le Westhoek, lieu de mémoire et monuments de la Grande Guerre" (on Belgian T List since 2002)
2014

Added to Tentative List
Visitors
64 Community Members have visited.