Coastal Cliffs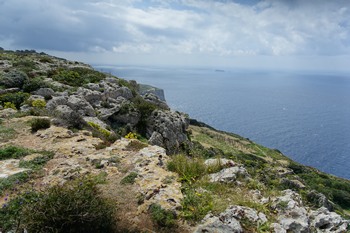 Coastal Cliffs is part of the Tentative list of Malta in order to qualify for inclusion in the World Heritage List.
The Coastal Cliffs include large parts of the coastline of the main islands of Malta and Gozo and also the smaller islands of Fifla and Kemmuna and adjacent islets. The cliffs rise to a height of 70 to 130 m above sea level and continue in some places to a depth of 80 m below. Due to their relative inaccessibility, the cliffs are important breeding grounds for seabirds and provide refuges for many endangered species of flora and fauna, including several endemics.
Map of Coastal Cliffs
Load map
The coordinates shown for all tentative sites were produced as a community effort. They are not official and may change on inscription.
Community Reviews
---
Japan / USA / Europe - 21-Jun-21 -
Coastal Cliffs: Fifla Islet
On my 4th day in Malta, from Valletta I visited Mdina TWHS and Maltese Catacomb Complexes TWHS and then took the bus 201 from Mdina to the bus stop "Panorama" for Blue Grotto, also stopping at Dingli Cliffs on the way for Malta South West Cliffs TWHS.
I have no idea if Blue Grotto, which is located on the South West coast of Malta, is part of the Malta South West Cliffs TWHS. But it's perhaps one of the more scenic parts of the South West coast of Malta.
From both Dingli Cliffs and Blue Grotto, Fifla Islet, which is one of the 5 components of this nomination, is visible, as you can see above the Blue Grotto in this photo.
When I think about cliffs, I typically remember Cliffs of Moher and equally scary cliffs on the Island of Aran in Ireland (which are not even nominated for WHS), so I was wondering if these cliffs are similar to them, but they weren't. But if I look down from the edge of the cliff on Fifla Islet, I would feel different. At no point of my visit was I able to identify any endangered species.
With the bus 201 you can also visit Megalithic Temples WHS at Ħaġar Qim and Mnajdra, which are only 1 km away from the Blue Grotto.
From "Panorama" I took the bus 74 back to Valletta.
Staying in Malta for 4 nights was hardly enough to see all the main attractions in Malta. I did not even get to go to Gozo. I might opt for coming back to Malta for a 3-month stay, as I am finding that "living" (or staying just for 3 months) in wherever I go is much more intriguing than just "visiting."
Read more from Tsunami here.
---
This nomination needs more focus. From the description, it is not clear which cliffs and coasts are included and which are not (and why). The super generic name doesn't help either. As it is, the nomination might include the complete coastline of Malta and the neighbouring islands, including the Dwejra area, that is part of another tentative site. I have wandered around the Dingli cliff area (where the location marker seems to be), have visited the Mnajdra temple (whose cliff area is mentioned in the description) and stared intensely at the coastline of Comino (which has its own section in the description). Have I therefore visisted the site ? Who knows. What I can say is that the cliffs are indeed gorgeous to look at and wander around, although the access can be a bit difficult. Bad for the tourists, good for the nature. The most visited area seems to be the cliffs near Dingli (Dwejra excluded - they can't really have nominated it twice). There is a road with bus stops nearby, although parking spaces are very limited. I discovered that the best views cannot be gotten from the bus stop/parking lot near the radar station, but from the rock outlook further south (at the "Zuta" bus stop). There is also a nice hiking path starting there, but no parking space at all.
Although I had a fun time here, I cannot see how this nomination can get a WHS in the current shape. Even the much better defined Dwejra site has a lot of problems with its WHS justification.

Visited in April 2019.
Importance 2/5 Beauty 3/5 Uniqueness 2/5 Environment 4/5 Experience 4/5
---
Site History
1998

Added to Tentative List
Visitors
94 Community Members have visited.