Aguas Livres Aqueduct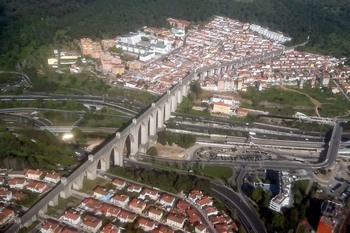 Aguas Livres Aqueduct is part of the Tentative list of Portugal in order to qualify for inclusion in the World Heritage List.
Map of Aguas Livres Aqueduct
Load map
The coordinates shown for all tentative sites were produced as a community effort. They are not official and may change on inscription.
Community Reviews
---
Having just passed under the aqueduct by random chance on a quick subway ride, I must say the Agua Livres Aqueduct had quite an impact. Although it's true that many impressive aqueducts were made around the same time period as it, it is uniquely majestic as being situated in and serving the heart of a world-class city like Lisbon. If not on its own merits, I'd love to see the aqueduct with World Heritage status even as part of a more comprehensive Lisbon site, and I do think that design-wise, its vast arches are really quite a unique and graceful sight to behold.
---
I visited the Aguas Livres Aqueduct, namely its most famous arches over the Alcântara Valley in Lisbon. It is an impressiv structure that crosses a large valley Full of streets an modern buildings. For WHS freaks it is a nice enough walk. Here a few Infos that might help: You can walk this part of the aqueduct only from the southern end, the Museu de Agua in Calçada de Quintinha. There is no entrance or exit on the other side. Therefore you walk the same way twice. Theoretically there is a path on both sides of the aqueduct but there is only on opening that allows you to change sides. You start on the left side. I decided to change to the other side to be on the inner side of the bend to enjoy a better view. Both ways it is more then half an hour to walk but of course you can turn back whenever you choose. Beside this most prominent section the whole aqueduct extends over 18 miles. It starts supposedly at the Mae d'Agua Velha in Belas near Sintra. I couldn't find an address of this though you can see long sections of an aqueduct crisscrossing Belas. The nomination includes also the endpoint within Lisbon, the Mae d'Agua Nova, another branch of the Museu d'Agua, which I did not visit this time. While my walk on the aqueduct was impressiv it is austere and there are no signs or explanations at all, only a brochure at the tiny reception. There is certainly potential to make this site more interesting for the normal visitor. But how interesting is it really and does it have real WHS potential? In the descriptions you can always read two things: the it follows more or less the old Roman aqueduct and that it is one of the most important engineering achievements in Portugal in the 18th century. Both arguments describe it as a site of national but hardly of global importance. If the Romans made a similar construction almost 2000 years earlier and there are comparable achievements in the 18th century they seem not really believe in its singularity.
---
Community Likes
Site History
2017

Added to Tentative List
Visitors
22 Community Members have visited.