Bulwarked Fortifications of the "Raia" (Border)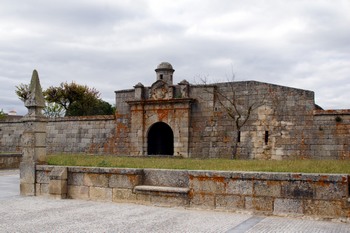 Bulwarked Fortifications of the "Raia" (Border) is part of the Tentative list of Portugal in order to qualify for inclusion in the World Heritage List.
Map of Bulwarked Fortifications of the "Raia" (Border)
Load map
The coordinates shown for all tentative sites were produced as a community effort. They are not official and may change on inscription.
Community Reviews
---
I visited this tentative WHS in July 2020 focusing on the Stronghold of Almeida which is possibly the best bulwarked fortification out of the 4 locations in Portugal. I had already visited and reviewed the Garrison Border Town of Elvas in 2014. Spain also has a separate bulwarked fortification tentative WHS made up of 8 locations, of which I visited Aldea del Obispo and Ciudad Rodrigo (already reviewed in Spain's Romanesque Cultural Enclave tentative WHS) in July 2020 and Pamplona along the Camino Frances in April 2016. I think that with some more trimming from both parties of already inscribed WHS and the weaker locations, this tentative WHS could secure inscription on the WH list if sought as a transnational WHS, following Italy/Kotor/Croatia's footsteps with the Venetian Works of Defence.
Almeida lies only a few kilometres away from the border with Spain, just opposite the fortifications of Ciudad Rodrigo. While the latter fortifications across the border in Spain only protect the highest hill side of Ciudad Rodrigo, the ones in Almeida surround it in a star-like shape and practically are one with the town they protect. I was really positively surprised by the fact that all the narrow gates and streets of Almeida are still accessible by car (although I'd suggest parking for free outside and walking) and fully inhabited by locals not a mere touristic museum town. There are signposted hiking trails around and beneath the fortifications, as well as above them and an interesting small museum next to one of the gates. The fortress was built in a Vaubanesque style, to which the French military engineer is believed to have personally been involved during end of its construction. We were the only visitors around and I had a field day testing my drone from outside Almeida, paying extra attention not to disturb the scores of kites, buzzards and vultures competing against each other to secure the best thermal currents.
---
This site contains four fortified places on the Spanish-Portuguese border. Most of them were built in XVIth century or after. Out of four location of this proposal, one is already on the main list (Elvas), so if the whole proposal is inscribed in this shape, for most it would be an easy tick. We managed to visit another one – stronghold of Almeida and it was one of our biggest surprises in this marvellous country.
What stroke us the most is that the stronghold remained practically untouched for more than four centuries, despite the fact that there is still a living town inside. It means that the town can be accessed through several, quite narrow, historical gates. Stronghold walls, moans, ramparts are in the excellent condition and are really picturesque. Of course it all caused relative closure of the town and favored petrification of its architecture. Almeida is one of the nicest small towns we visited. I have never seen a complete fortified town like this and I think it justifies OUV of the proposal.
---
Community Likes
Site Info
Site History
2017

Revision

Includes part of former TWHS Town of Marvao and the craggy mountain on which it is located (2000)
2017

Revision

includes Conjunto fortificado de Pamplona
2017

Added to Tentative List
2006

Requested by State Party to not be examined

As Town of Marvao and the craggy mountain on which it is located
Visitors
19 Community Members have visited.