Trans-Iranian Railway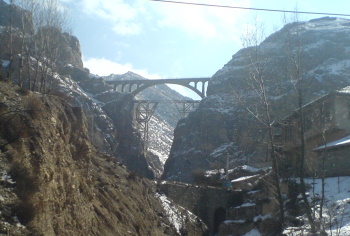 Trans-Iranian Railway is part of the Tentative list of Iran in order to qualify for inclusion in the World Heritage List.
Map of Trans-Iranian Railway
Load map
The coordinates shown for all tentative sites were produced as a community effort. They are not official and may change on inscription.
Community Reviews
---
Chinese-Canadian - 01-Feb-19 -
What does it take for a railway to become heritage? Is it the history, the track building, the engineering, the trains? Italy/Switzerland is the best and arguably the most loved place to enjoy engineering master class with the Bernina Express and Austria has a similar line. The Indian train tracks I wasn't equally impressed with but again they feature the tracks. For Iran I will assume, the famous architecture they mention in the documents is about specific bits here and there that combine into the Trans-Iran railway.
So what does it take to view the "site"? Tehran Railway Station is surely not the place to admire it. I picked a few spots on the way but I wasn't convinced with the inscription attempt. A bridge up in the mountain is impressive, sure, but not unique, and adding many bits together still doesn't make it an attraction.
I didn't ride on the tracks, maybe that helps, but I think it wouldn't give me a better view. Given that I would need to figure out how to ride it, where to ride it to, not knowing which places are the best, and invest at least a day to ride it back and forth made me decide against it, at least not before the exact spots have been defined for an inscription.
---
Community Likes
Site Info
Site History
2019

Incomplete - not examined
2017

Added to Tentative List
Visitors
9 Community Members have visited.